vindicatedd
Articles
→

Because I'm a lazy ass, half of the answers to this are screenshots, haha.

RSS
Partager
23 avr. 2011, 19h38m
Post a picture of your iPod.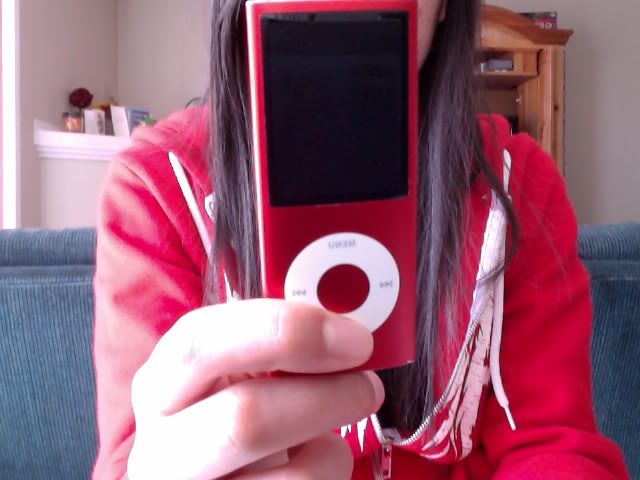 Let's see a screenshot of your iTunes!
I have way more music in the iTunes on my HP. I just bought this Mac recently so I haven't really had time to put much music on the drive.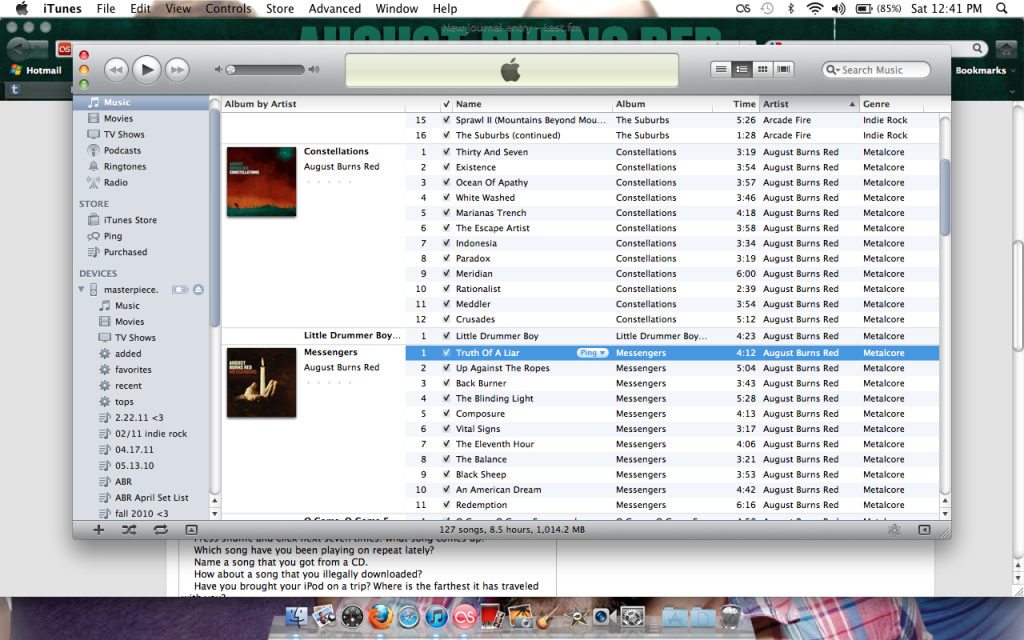 When did you get your iPod? Did you buy it or was it a gift?
I bought it. My old 2nd gen nano was only 4GB and constantly having to delete old music to add new stuff became really inconvenient.
Is it your first iPod? What did your old one look like?
My first iPod was a black 1st gen nano! It was shiny and awesome.
Why did you pick this version and not a different one (iTouch, Nano, Shuffle, or an actual iPod if you're an MP3 kind of person)?
Well, my first iPod nano was a gift. It's all I've ever known so it's all I've stuck to
How many pairs of headphones have you gone through?
COUNTLESS pairs, literally. Most of the time it's the left ear blowing out. One time, I actually slammed them in the car door by accident.
What are your 25 most played songs?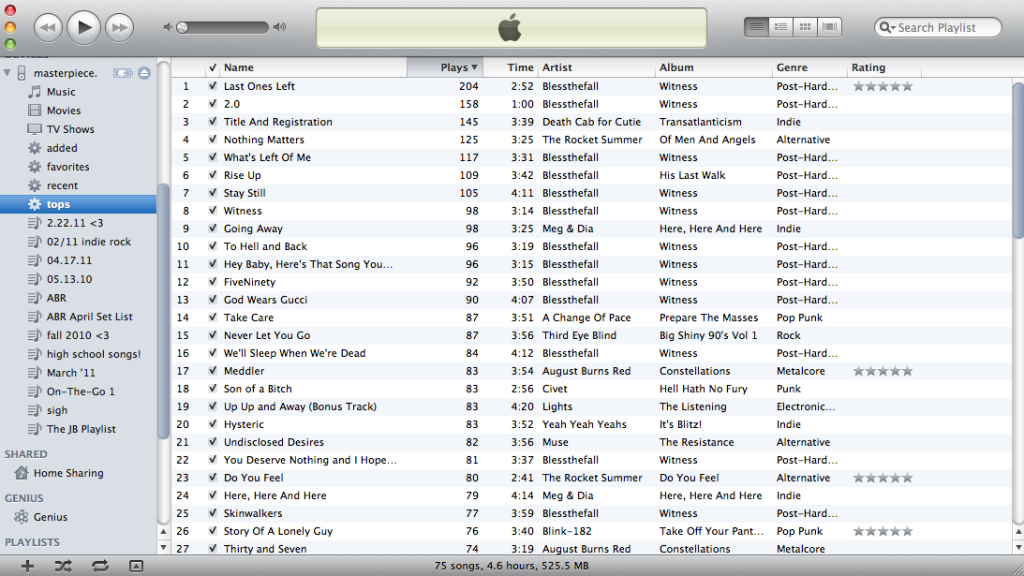 Press shuffle; what song comes up?
Artists Rendering Of Me
Do you have any playlists that you made yourself?

Which playlist do you usually listen to?
Lately, my most recently played or the entire
August Burns Red
catalog.
How many songs are there on your iTunes?
iTunes: 127. iPod: 2092
Have you ever had too many songs that they didn't all fit on your iPod?
Yes. Henceforth why I upgraded to a 16GB nano.
Do you have any videos/movies on your iPod?
Nah, that's not why I bought it.
List your songs alphabetically: Which song is first?
A) the View From Here Is... B) a Brick Wall
List your artists alphabetically: Who is last?
3 Doors Down
lolol
List your albums alphabetically: Which is the fourth from the top?
Age Of Reptiles
Press shuffle and click next seven times. What song comes up?

California Love
Which song have you been playing on repeat lately?
Little Drummer Boy
or
O Come, O Come Emmanuel
Name a song that you got from a CD.
I Was Made for You
How about a song that you illegally downloaded?
That's too many to list =[ haha.
Have you brought your iPod on a trip? Where is the farthest it has traveled with you?
I bring my iPod literally everywhere with me that I go. The farthest it's travelled thus far is Calgary (which is only three hours from here) but soon it's gonna be going to Mexico with me and Toronto!
What is a song people are usually surprised to hear you have on your iPod?
The Across the Universe soundtrack is one; I'm sure people would be turned off from knowing I have David Bowie on there. Hahaha.
Which song is the least played?
I have 351 songs on my iPod with a Play Count of zero.
Which song was the most recently played?
Suburban War
Which game do you play on your iPod?
None. They all suck hahaha.
Have you ever fallen asleep with your headphones in? Re-enact this experience and post a picture.
Um... no thanks!
Find something the same colour as your iPod and take an artsy looking picture.
Put your music player on shuffle again. What song is it this time?
The Show Must Go On
What is a song with your name/ your tumblr URL/ your blog title in it?

Vindicated
,

Cue The Sun
,
Meddler
,
Every Time I Look For You
Find a song title that is the best/ funniest/ most accurate response to the following question: If you knew you had two days to live, what would you spend tomorrow doing?

Carry On Dancing
,

Epic Holiday
, or
Teleport: A & B
.