Klarika, 26, Femme, EstonieDernière visite : Mercredi matin
7

9

7

8

8

écoutes depuis le 12 mars 2007 (réinitialisation le 25 avr. 2008)
953 coups de cœur | 1 241 messages | 0 playlists |

877 shouts

Flux
| | | | | |
| --- | --- | --- | --- | --- |
| 1 | | | | |
| 2 | | | | |
| 3 | | | | |
| 4 | | | | |
| 5 | | | | |
| 6 | | | | |
| 7 | | | | |
| 8 | | | | |
| 9 | | | | |
| 10 | | | | |
| 11 | | | | |
| 12 | | | | |
| 13 | | | | |
| 14 | | | | |
| 15 | | | | |
| 16 | | | | |
| 17 | | | | |
| 18 | | | | |
| 19 | | | | |
| 20 | | | | |
| 21 | | | | |
| 22 | | | | |
| 23 | | | | |
| 24 | | | | |
| 25 | | | | |
| 26 | | | | |
| 27 | | | | |
| 28 | | | | |
| 29 | | | | |
| 30 | | | | |
| 31 | | | | |
| 32 | | | | |
| 33 | | | | |
| 34 | | | | |
| 35 | | | | |
| 36 | | | | |
| 37 | | | | |
| 38 | | | | |
| 39 | | | | |
| 40 | | | | |
| 41 | | | | |
| 42 | | | | |
| 43 | | | | |
| 44 | | | | |
| 45 | | | | |
| 46 | | | | |
| 47 | | | | |
| 48 | | | | |
| 49 | | | | |
| 50 | | | | |

Flux
À propos de moi
I'm a rather open minded person who is always in search of something new. I like challenges and I always speak my mind.
For me it's important that music connects with me, makes me feel something, manages to carry me away or whatever you would like to say. If to mention any genres then doom metal would be my main love. I also love death metal and progressive metal. And if I'm not in mood for growling hairy men then it's time to listen some blues.
I love winter and snow, the stillness of everything around me, the crispy air and night sky - there's nothing in the world that compares to that.
Current obsession: string instruments
Rediscovering:
Also if you love doom/death metal then
please have a listen
to this great band
Somnus Aeternus
Alone by E.A. Poe
From childhood's hour I have not been
As others were; I have not seen
As others saw; I could not bring
My passions from a common spring.
From the same source I have not taken
My sorrow; I could not awaken
My heart to joy at the same tone;
And all I loved, I loved alone.
Then- in my childhood, in the dawn
Of a most stormy life- was drawn
From every depth of good and ill
The mystery which binds me still:
From the torrent, or the fountain,
From the red cliff of the mountain,
From the sun that round me rolled
In its autumn tint of gold,
From the lightning in the sky
As it passed me flying by,
From the thunder and the storm,
And the cloud that took the form
(When the rest of Heaven was blue)
Of a demon in my view.
When the silence beckons,
And the day draws to a close,
When the light of your life sighs,
And love dies in your eyes,
Only then will I realise,
What you mean to me.
(Inner Silence by Anathema)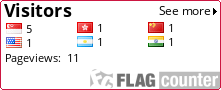 Since 2 September 2010
Game 8 avr. 2009 |

4 commentaires

Seen live 26 jan. 2009 |

9 commentaires