RSS
Partager
12 mai 2008, 2h25m
Holy Mother of Music!*
The Pretenders / "Hymn To Her" / Get Close (10) / Nov 1986
Artist:
The Pretenders
Original Album:
Get Close
Track:
Hymn To Her
*It's Music Mamas & Metal Maidens Week...A week to honor the frontwomen of rock and metal!
Day 1:
Chrissie Hynde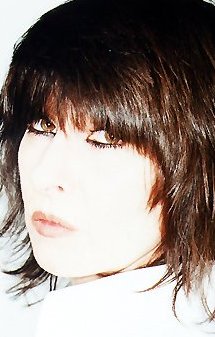 I'm gonna start with The Pretenders because Chrissie Hynde is from just down the road from here, and this is one tough woman that has kept her music career going for a good solid 30 years as the leader of one of rock's most widely beloved bands. After attending Kent State University in the early '70s and forming one of her first bands with future members of Devo, she began leaning toward
proto-punk
music à la
The Stooges
and the
Velvet Underground
. Not getting any satisfaction here in the States, she hopped a one-way trip to London, where she's lived ever since, and became a rock critic for
NME
.
She landed there smack in the middle of Great Britain's full-fledged
punk
revolution, keeping company with the
Sex Pistols
and
The Clash
, which spurred her back into performing. By the late 70s, Hynde had formed the original Pretenders lineup: Hynde on vocals/guitar,
Pete Farndon
on bass,
James Honeyman-Scott
on guitar, and the last member to be added, drummer
Martin Chambers
.
But the Pretenders were never just a punk outfit, and in fact most casual fans would not know of those influences at all from their biggest hits, which take full advantage of Hynde's wide range of influences and musical tastes and skills to match. The first big hit here in America,
Brass in Pocket
, has only the deepest of punk attitude undercurrents, best heard in the delivery of the lyrics, and plays more as an
adult contemporary
song, where it has remained in rotation since 1980.
After two hit albums, Farndon had to be dismissed for drug abuse which prevented him from carrying even the most basic of bass lines. Within two days, Honeyman-Scott died of an overdose himself. Within a year, and only two months after Hynde gave birth to hers and
Ray Davies
' child, Farndon also died of an overdose. The blows would have flattened a lesser performer, but we're talking about a tough, punk-attitude Ohio woman here, and rather than curl up in defeat, she brought the Pretenders back from the brink with the massively-praised and successful
Learning to Crawl
, including hits such as
Middle of the Road
,
Back On The Chain Gang
(in tribute to her fallen bandmates), the scathing indictment of her hometown
My City Was Gone
, and perennial Christmastime favorite
2000 Miles
.
I suppose in a way I'm a bit off-target in choosing today's track as my first Pretenders selection, because it may only reinforce seeing the Pretenders as only a softer, radio-friendly hits band. It's also a cut from the Mark III era of the Pretenders, featuring none of the great founding members of the classic starting lineup discussed above, and in fact is a song that wasn't even written by Chrissie. On top of that, it's not even my favorite from this mid-80s album, that being either the hit
Don't Get Me Wrong
or, more likely, album closer
Room Full of Mirrors
.
Well, those of you who may be surprised to learn that I am a Pretenders' fan will have to wait for me to pick one of the other bigger hits, something more obscure, or one that's got more of the early punk attitude that I'm trying to highlight. Sorry, but just listen to the lyrics, because no other song performed by Chrissie & company could be better suited for today.
Here's to all the mothers, wives, daughters, and women rockers in our lives, all of whom keep us men in line and burning with our own passions!
\m/ (ò_ó) \m/
Commentaires