RSS
Partager
28 jui. 2009, 7h07m
Heartless Bastards - The Mountain
Erike Wennerstrom's distinctive vocals carry this album.
Favorite Tracks:
The Mountain
***,
Could Be So Happy
,
So Quiet
P.O.S. - Never Better
Lyrics and loops. 'Punk-hop' on full display on tracks like Purexed (see: the hook).
Favorite Tracks:
Purexed
***,
Goodbye
,
Optimist (We Are Not for Them)
Grizzly Bear - Veckatimest
Vocal harmonies, steady drumming, crashing cymbals... only thing holding it back is a few weak spots. Some of the best tracks of the year, and some low points.
Favorite Tracks:
Two Weeks
,
Cheerleader
***,
While You Wait for the Others
Dan Auerbach - Keep It Hid
The Black Keys' frontman's solo effort... Very diverse. Can't go into it expecting it to resemble a Keys' album- that's the whole reason to make an individual piece, to try something different that doesn't fit in stylistically with TBK's. Conjures a variety of styles from the mid-20th century.
Favorite Tracks:
Trouble Weighs A Ton
,
Whispered Words
,
Real Desire
Animal Collective - Merriweather Post Pavilion
As a whole, I'm not a huge fan of this album. I do, however, find 3 tracks to be amazing. I would go so far as to call them epic. So, on the strength of these songs, it is one of the top albums of '09.
Favorite Tracks:
In the Flowers
,
My Girls
,
Summertime Clothes
Silversun Pickups - Swoon
Quality followup to Carnavas.
Favorite Tracks:
Growing Old Is Getting Old
The Grouch & Eligh - Say G&E!
This album so far has not stood up to the test of time very well. It has some great marquee tracks, but given the talent throughout it Say G&E! should stand out more. Despite this, it still is a quality record picked up by The Grouch's lyrics and rapid delivery.
Favorite Tracks:
All In (Featuring Gift of Gab & Pigeon John)
,
No Flowers (Featuring Paris Hayes)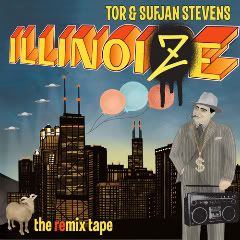 Tor / Sufjan Stevens - Illinoize
A great mashup album, and free at that! Sufjan Stevens is a singer-songwriter/folk artist with a strong Christian foundation... Who would have thought combining his works with rappers like Aesop Rock and Gift of Gab would create a masterpiece?
Favorite Tracks:

The Dress Looks Nice on You / Make You Feel That Way (f. Gift of Gab)
***song of the year candidate
Commentaires