RSS
Partager
19 oct. 2009, 19h20m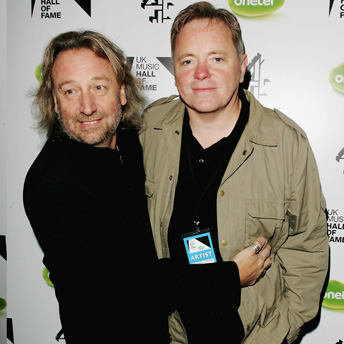 was.
now.
The
Bad Lieutenant
album is surprisingly good. I didn't conceive that a Bernard Sumner album that focused on songwriting over rhythms could be so accomplished and satisfying.
A point in case is to compare
Sink Or Swim
to
New Order
's
Krafty
. The two songs are very similar, both skimming along the surface and replicating
Regret
to some extent. Krafty works best when Bernard isn't singing, the middle section comprising of keyboard riffs, Peter Hook's bass and the guitars sounds effortless and combines a groove with the injection rock riffs brilliantly. Sink or Swim, plays down instrumental passages setting them aside for the outro and even then overlaying them with backing vocals and refrains. The refrains work well because the melody and vocal parts are strong enough to have them. Its simply a better song, and a lot more memorable.
The album has a number of songs that work because the 'song' part of the song is good, workman like perhaps but decent. Songs like
Running Out of Luck
and
Runaway
wouldn't have worked on New Order albums and didn't work on the
Electronic
albums. Both recall Electronic particularly the softer numbers on
Raise The Pressure
, but a greater amount of subtly and greater prominence for vocals lifts them.
Twist Of Fate
and
Poisonous Intent
could have been on
Get Ready
, the former a cousin of
Primitive Notion
and the latter like
Someone Like You
. They are both very-New Order and likely couldn't have been recorded by any one else.
Beyond these songs we have what could be called the Bad Lieutenant songs proper. The contributions of Evans and Cunningham sound more prominent on
Summer Days
,
This Is Home
(both shared vocals),
Dynamo
, and
Walk On Silver Water
. These are all successful songs, and the idea of drafting in another songwriter (Evans) proves a good one on the duets, together they compliment each other well, with the younger man funnily having the lower voice! (BTW Walk on Silver Water sure sounds like Get the Message at first)
However, and I admit bias, it's on the songs where Evans performs solo vocals that the album wanes and seems to wither. I've read descriptions that compare him to a range of 'northern' vocalists. To my mind when his melodies are taken into account with his singing he sounds like Noel Gallagher. This derogatory comparison is not aided by a great number of Oasis-esque riffs and solos that pop up from time to time (Cunningham's contribution I imagine). His singing on
Shine Like The Sun
and
Head Into Tomorrow
is really flat, the lyrics hackneyed and are not lifted in the manner that Sumner's sweet or disaffected delivery often lifts his. Bernard's rhymes may clunk along but at least doesn't deliver such earnest and bald faced banal lines like:
"We'll leave this town in the morning, we'll build our love on the run, we'll reach the sea by the sunset, we'll chase the stars 'til the dawn"
.
I'd take:
"Hey bad man where you gonna go"
over that any day! But seriously, a lot of Bernard's lyrics are good and a step up from the last New Order album.
I don't want to berate Evans too much as he's contributed and he is impart responsible for a good album.
Never Cry Another Tear
is a good album but it is one that can be overshadowed by New Order (and
Joy Division
I suppose), but you shouldn't let it. Taken on its own it is a melodic and generally concise set of songs, that presents Sumner's best work in the indie genre since the 1980s.
Commentaires