RSS
Partager
8 mars 2010, 13h37m
Mon 1 Mar – Karnivool (acoustic)
Mon 1 Mar – Karnivool
Wed 3 Mar – Karnivool, April Divine, Librah
Video clips from Helsinki;
Part 1:
http://www.youtube.com/watch?v=E0lsg41GJGM
(10min)
Part 2:
http://www.youtube.com/watch?v=bzKra7yWEXE
(8min 49s)
Video clips from Stockholm;
Part 1:
http://www.youtube.com/watch?v=s2LalUafEd4
(8min 18s)
Part 2:
http://www.youtube.com/watch?v=NS7jj5yp2yY
(9min 44s)
It's been a week since
Karnivool
started their first headlining tour in Europe and Finland got the honor being the tour starter. I already got too much things to write about, but will try to keep this as the blank version without shit that would make it more juicy and hardcore.
First up was lil' acoustic performance at Ylex Studio B.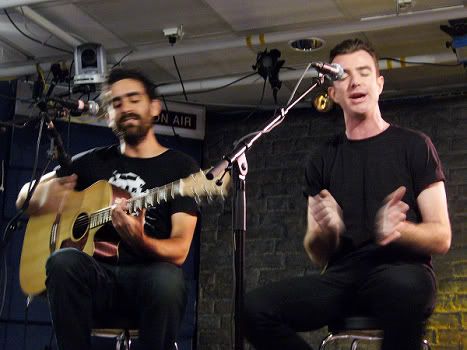 it was beyond words awesome to be there. I was smiling like an idiot through the whole time, appreciating every single second of this rare occasion.
If you somehow have managed to missed the link to the set, check the acoustic versions of
Umbra
,
All I Know
and
Roquefort
here:
http://ylex.yle.fi/ylex-areena/studio-b-videot/studio-b-live-karnivool-132010
Later the same day the real deal. I was happy to see good turn out of people on Monday night and oh boy did Karnivool rule the whole damn place! Set was just perfect for a first show in a country where they hadn't done any ground work beforehand.
Change
as a set closer was the perfect choice and all my expectations for this track's live version truly measured up, too beatiful for words.
After the set Vool boys worked the merchstand and everyone who wished so, had the chance to chat with them and get whatever signed etc. Shirts were selling so good that if they had known this, they would have brought more with them.
I'm glad that the first show was at Tavastia, since the gig in Stockholm (with 50% cheaper tickets) didn't even come close to the same atmosphere that ruled in Finland. Main problem was that the venue, Debaser Medis, had no personality at all and the crowd was rather blah compared to Helsinki. No complains on the behalf of the band though. Few changes to set was that Shutterspeed got cut and Change was played as an encore.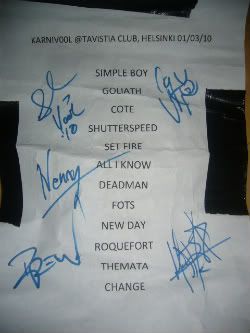 If you still don't have tickets for the upcoming shows near you, go get 'em now!
cheers!!!
Commentaires