Stef Vanstiphout, Homme, États-Unis
www.mutealbino.comDernière visite : février 2013
7

8

2

écoutes depuis le 19 jui. 2007
| | | | | | |
| --- | --- | --- | --- | --- | --- |
| | | Mute Albino – Therapeutic Depression | | | 4 août 2012 |
| | | Mute Albino – Omerta! | | | 4 août 2012 |
| | | Mute Albino – Simmetria_Francese | | | 3 jui. 2012 |
| | | Mute Albino – Nubian She (preview) | | | 7 avr. 2011 |
| | | Mute Albino – Simmetria Francese | | | 7 avr. 2011 |
| | | Liquid Tension Experiment – When the Water Breaks | | | 25 déc. 2010 |
| | | John Petrucci – Jaws of Life | | | 25 déc. 2010 |
| | | John Petrucci – Glasgow Kiss | | | 25 déc. 2010 |
| | | John Petrucci – Damage Control | | | 25 déc. 2010 |
| | | John Petrucci & Jordan Rudess – Bite of the Mosquito (Studio version) | | | 12 déc. 2010 |
Voir plus

Flux
| | | | | |
| --- | --- | --- | --- | --- |
| 1 | | | | |
| 2 | | | | |
| 3 | | | | |
| 4 | | | | |
| 5 | | | | |
| 6 | | | | |
| 6 | | | | |
| 8 | | | | |
| 9 | | | | |
| 10 | | | | |
| 11 | | | | |
| 11 | | | | |
| 11 | | | | |
| 14 | | | | |
| 15 | | | | |

Flux
| | | | | | |
| --- | --- | --- | --- | --- | --- |
| 1 | | | | | |
| 1 | | | | | |
| 3 | | | | | |
| 4 | | | | | |
| 5 | | | | | |
| 6 | | | | | |
| 6 | | | | | |
| 8 | | | | | |
| 8 | | | | | |
| 10 | | | | | |
| 11 | | | | | |
| 12 | | | | | |
| 13 | | | | | |
| 14 | | | | | |
| 14 | | | | | |
À propos de moi
Welcome to my neighborhood of Flies... cup of sugar?
Some call me Stef, some call me Stip, some call me Mute Albino, some call me the space cowboy (not). Graphic designer, Cartoonist, Illustrator, Composer. I'm sort of a perfectionist, but I do like collage-like art and music. But I'm not ready yet for the BIG NOTE or the BIG SPLAT! I don't like academic drawings ...
Interests: Music, Love, Humor, Art, Animals (not Eric Burdon), not necessarily in that order!
Influences: Frank Zappa, Captain Beefheart, Groucho Marx, Monty Python, Robert Crumb, Pink Floyd, Yes, Tetzepi, Henry Cow, Jethro Tull, Steeleye Span, Miles Davis, The Beatles, Steve Vai, Billie Holiday, Duke Ellington, Neil Young, John Coltrane, Morgan Freeman, Brad Pitt, Gary Oldman, Tim Robbins, Ben Kingsley, Clint Eastwood, Bette Davis, Chaplin, The Marx Brothers, W.C. Fields, Laurel & Hardy, Little Brittain, The Young Ones, Third Rock From The Sun, The Chieftains ...
Mute Albino Artist Page Last.fmOfficial Website
http://www.MuteAlbino.com
I INVITE YOU TO LISTEN TO MY DEBUT CD
Track 01 Simmetria Francese
Track 02 Paris In Veil
Track 03 Elsie's Philosophy
Track 04 Proxy Nails
Track 05 Therapeutic Depression
Track 06 Flies On Oranges
Track 07 The Moles Vision
Track 08 Zetafreuh
Track 09 Omerta!
Track 10 Welcome To My Head
Track 11 The Waiting Room
BIOGRAPHY
The one man
Neo-Prog Rock band
"Mute Albino"
originates from
Genk, Belgium
; an individual project in which
Stef "Stip" Vanstiphout
writes original music based on his own life events and plays all instruments with exception to the use of drum and percussion
loops
. Stef's
compositions and arrangements
are profoundly emotional and complex, yet he strives to be as analog/human sounding as possible. Each composition is about life experiences... his philosophy on love, employers, nice people, rebels, events from the past. Hence, the emotional
and sometimes sarcastic
in and output.
Formerly the lead member of a recreational band named
"Dotwood"
, going solo in 2006 was a natural evolution for Stef simply because others can not own the emotional investment of the compositions he writes. Thus far he has yet to encounter other musicians willing and able to translate their technical skills as Stef intends and feels it into the personified "language" which is the essence of
Mute Albino's
instrumental " voice", creating the unique full sensory experience of his music.
All song tracks on
Mute Albino's
debut album
"Flies On Oranges"
are purely Instrumental,
Progressive
,
Experimental
, and
Alternative
forms of
Rock music
.
Reviewers
of the album
"Flies On Oranges"
are often in consensus that
Mute Albino
music makes vocals unnecessary, as the music is highly
"visual"
and lends the mind a view of its own, experiencing a story in a uniquely individual way different from that of a lyrical one where emotions stirred are often queued from a personal response or memory, while this music stirs the emotions on a sensory level and prods you to go on a journey without "
baggage
".
Because
Instrumental Music
is not as deliberate in its intention as music with words, it's more adventurous to comprehend. The suggestion to use your imagination and let the music flow through you is obligatory, promising that no matter the technical intention or from where the ideas for each track began, this music will be a personal experience for the listener.
Stef began drawing at an early age, developing a unique style of his own that is reflected in his
cartoons
,
graphic designs and illustrations
, sculptures and a variety of other artistic outlets.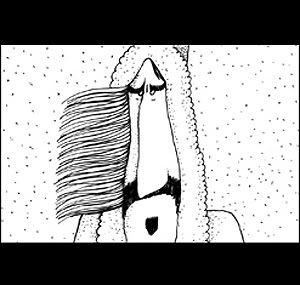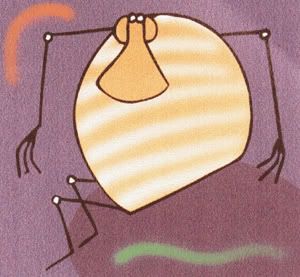 Illustrations by
Play Slideshow
The ability to express himself via multimedia talents lends a strong influence to Stefs' musical creativity in combination with the early musical influences of :
Frank Zappa, 70's British Progressive Rock (Jethro Tull, Yes, early Genesis... ), Steve Vai, Arabian Music, Irish Folk Music, Avant Garde, and Jazz.
TESTIMONIAL
Dynamic, Passionate, Emotive, yet understated and unassuming are just a few words to describe the one man behind the band Mute Albino.

Being an artist of multiple medium is a great part of Stip's ability to advance a certain visual magic into his compositions. Utilizing the multifacets of mind, emotions, and soul in all matters of his life contributes to the cognitive, emotive and at times hauntingly empathic quality of his music. He began expressing himself musically several years ago, setting his pencil aside for a while to pick up the guitar. And so began his path as a masterful painter and sculptor of melodic, yet provocative sound. When it's about being creative, Stip does - has done - or will do it exceptionally well!

The name Mute Albino is an irreverent self-moniker for Stip's musical alter-ego, inspired by his humorous remark to losing hair due to Alopecia. The evolution of such has become a defining embodiment of what this artistic instrumental genius is all about.

Lissa Estrada "

LeStrada

", Seattle USA
..CONTACT INFO:
..…Mute Albino Promotions - USA Liaison
..…Music CD supply / distributions
..…mutealbino.promo@yahoo.com
..…senora.libellule@yahoo.com
Play Video
Play Video
Play Video
Play Video
Play Video
Play Video
Play Video

Activité récente
gasp82 et mutealbino sont maintenant amis.

juillet 2013

LeRiverHawk et mutealbino sont maintenant amis.

février 2013

nanopixel et mutealbino sont maintenant amis.

février 2013

mutealbino a un nouvel ami.

octobre 2012