RSS
Partager
7 juin 2008, 14h56m
BY PABLO CALVI
Wednesday, October 10th 2007, 4:00 AM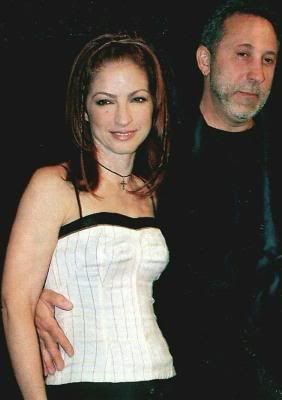 In 20 minutes of conversation, Gloria Estefan has mentioned Fidel Castro's name 17 times. And there she goes again.
"He even ruined my taste for coffee," says Estefan, explaining that a year ago, when she heard news of the Cuban dictator's illness, she made herself a full pot of Cuban coffee to stay awake in front of the TV.
"Emilio [her husband] had to take me to the hospital. I had palpitations. Sadly, after that I couldn't have coffee anymore. This was one of my pleasures in life, but 'this man' even took that away from me," she says.
For Estefan, 50, Castro embodies exactly the opposite of what she treasures most: Latin music, memories of her late father and, of course, Cuba, the country she left at age 2.
"It may very well be that the Cuba I long for doesn't even exist," she says during a visit to Manhattan.
"It's just like [filmmaker/actor] Andy [García] says. Cuba is like an impossible love, someone you long for but you can never have."
Estefan re-creates the sounds of the island's world-popular music in her new CD, "90 Millas," named for the distance between Key West, Fla., and Cuba.
Her first Spanish-language album in seven years, "90 Millas" feels in many ways like a followup to her 1993 nostalgia-filled Grammy winner "Mi Tierra." But in her latest — released last month — she has taken more liberties with traditional Cuban genres.
"It's very percussive; the bass and the drums are up there," says Emilio Estefan, Gloria's husband and the producer. "We realized that, in order for a salsa album to compete with reggaetón, we had to put all the focus on an artillery of percussion."
The album also makes the best out of an A-list of Latin guest stars, including Carlos Santana, La India, Johnny Pacheco, mambo king Israel (Cachao) López and trumpeter Alfredo (Chocolate) Armenteros.
In songs like the salsa "Volveré" (I will return) and the son "Esperando (Cuando Cuba Sea Libre)" [Waiting (For Cuba to be Free)], Estefan sings at her best, displaying her sultry yet resonant voice.
Last week, the CD had reached the No. 1 spot on the Billboard's Top Latin Albums chart, a spot it retains this week.
"90 Millas" will soon have a companion DVD on the making of the album. "Emilio interviewed all the musicians who collaborated," she says, "as a way to preserve also a part of our musical roots."
These roots are dear to Gloria Estefan, who became one of the first Latin crossover stars with hits like "Conga" and "Cuts Both Ways."
"Being in Miami helped me a lot to gain the attention of the public all over the world. I don't think that this would have happened had I started my musical career in Cuba," she said.
But the island remains the central topic in her life and art.
"You know, Fidel took away some things from Cuba, but our music is something we treasure," she says.
"We have neglected it for a long time, and we even needed an American like the guy from Buena Vista Social Club [Ry Cooder], to tell us how amazing our music is."
Gloria Estefan
Envois approuvés
Italo 4ever
,
Pop and RnB
,
80's R&B/soul
,
80s Heaven
,
Dance 80s
,
Gloria!the Diva
,
I Still Buy CDs
,
Bulgaria
,
We Love Last.Fm Painted Black
,
CW One Tree Hill
,
lust.fm
,
The Eighties Habit
,
Johnny Depp
,
Rihanna
,
Michael Jackson
,
Shakira
,
Badge
,
R and B
,
Aaliyah
,
Beyoncé Giselle Knowles
,
Greek Music
,
♥ Janet Jackson
,
MTV Latinoamerica
,
Hard Dance Mania
,
Amerie
,
Sandra
,
Kim Possible
,
Janet_Jackson
,
•Ashanti:The Concrete Rose•
,
Irresistible
,
Shoutbox Cherry Poppers
,
Christina Milian
,
Jennifer Lopez Fans
,
Last.fm's Positive Flow
,
Another Rihanna Group
,
Busty Singers
,
Glamour
,
Tortured Souls
,
TLC
,
Latino Music
,
Marie Claire D'Ubaldo
,
Eternal - UK R&B Girl Group
Envois en attente
Music is my boyfriend.
,
Female Voices
,
Funky Music
,
Pop
,
Ectophiles Guide to Good Music
,
Disney
,
90s R&B
,
The Pussycat Dolls
,
Ciara Fans
,
Pan-Slavic Group
,
Sade
,
Fashion Lovers
,
Jennifer Lopez
,
ShakiraThunder
,
Nicole Scherzinger Fans
,
BRAVE Album
,
Haskovo
,
Mariah POLAND
,
Freestyle FIesta
,
dasoulbase
,
Eros Ramazzotti
,
Gloria Estefan
,
Deborah Cox
,
Vanessa Williams
,
Thalia Desire
Commentaires