Destinee Crystal, 24, Femme, États-Unis
forteikis.tumblr.comDernière visite : Lundi matin
4

5

5

2

0

écoutes depuis le 4 déc. 2006

Flux
| | | | | |
| --- | --- | --- | --- | --- |
| 1 | | | | |
| 2 | | | | |
| 3 | | | | |
| 4 | | | | |
| 5 | | | | |
| 6 | | | | |
| 7 | | | | |
| 8 | | | | |
| 9 | | | | |
| 10 | | | | |
| 11 | | | | |
| 12 | | | | |
| 13 | | | | |
| 14 | | | | |
| 15 | | | | |
| 16 | | | | |
| 17 | | | | |
| 18 | | | | |
| 19 | | | | |
| 20 | | | | |

Flux
| | | | | | |
| --- | --- | --- | --- | --- | --- |
| 1 | | | | | |
| 2 | | | | | |
| 3 | | | | | |
| 4 | | | | | |
| 5 | | | | | |
| 5 | | | | | |
| 7 | | | | | |
| 8 | | | | | |
| 9 | | | | | |
| 9 | | | | | |
| 9 | | | | | |
| 12 | | | | | |
| 12 | | | | | |
| 14 | | | | | |
| 14 | | | | | |
À propos de moi
My name is Destinee. I'm twenty-three years old, my birthday is June 29th, straight edge since '02, & I live in Maine & New Jersey.
Music is & will always be the most important thing in my life. It is my one true love & it's my favorite thing in the whole world. I am truly incapable of living without it; It's my lifeline. Above anything else. Music has always be there for me. A lot of memories from my past include music. I listen to everything & anything. I own over 500 CD's, over 100 records, about 50 tapes, & my iTunes is loaded with over 11,000 songs; they are some of my most prized possessions. I am against letting people even borrow them cause it's a fear of mine that just one album will go missing. I am constantly on YouTube & LastFM on a search for new bands & singers that are just waiting to be heard. I go to more concerts & shows more than any person should. Bon Jovi holds a special place in my heart. I grew up listening to them. I absolutely love anything, tbh. If it has a beat, I'll always listen. I have entirely way too many favorite bands & singers to list them all. All honesty, you truly have no idea. I also have a special place in my heart for boy bands. I don't know where I would be without music in my life & I would rather not think about what that would be like. Oh, & don't be surprised or annoyed when you see that I'm listening to Christmas music at random times of the year - it's the best.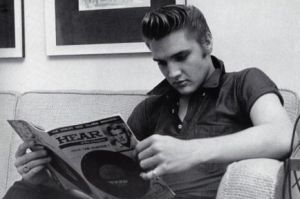 Elvis Presley:
I have en extreme obsession with this man. He is my absolute favorite person to ever walk the earth. He means the world to me. Many people find it weird & funny, cause unlike most younger Elvis fans, I didn't "grow up" listening to him; I found him on my own. I turned on his movie "Jailhouse Rock" in August 1999 during 'Elvis Week' & ever since then I can honestly say that he has complete power over me. In my own way, I worship him. I am soo thankful I found him. He was beyond incredible. He was talented. He was rebellious & daring. Everything he did was just so intense. He wasn't afraid to push limits. I watch videos of his performances, & I envy all the lucky people who have gotten to see him in person. The connection he had with his fans was (& still is) unlike any other. Nobody could ever come close to him. My entire room is decked out in Elvis memorabilia. Everywhere you look, there is more Elvis. I even have an Elvis robot bust that sits on my dresser. He talks & sings to me.. I love it. I asked for it from my mom for Christmas one year & I actually got it. I love it to death :D I have two Elvis tattoos so far & I plan to get more. I have yet to visit Graceland, due to money issues, but when I finally can, it'll be the best week of my life. He will always be my King.
Demi Lovato:
She is my biggest, most inspirational favorite person. I relate to her more than any other celebrity & I love how she talks about her issues & is so supportive of us fans. She's so real. Her imperfections make her perfect to me. I would marry her if I could, ngl. I've seen her live twice so far. Once at Bamboozle 2008 & once at the Camp Rock 2 tour. I have yet to see her since she got out of rehab. But I want to SO bad. I bought Demi's book. It makes me cry. She means so much to me. With all the shit that I've gone through & still struggle with, an inspirational book (written by one of my biggest inspirations, none the less) is just what I needed. She inspires me so much & every time I have a really horrible day, I (try to) ask myself "what would Demi do?". I admit, it doesn't always work & I still have more than enough breakdowns & 'bad days', but she does remind me that I'm not alone & it can ALWAYS get better. It'll always be a struggle, but you can't let your battles, mishaps, & demons control your life. No matter what you're struggling with, you can always have a comfortable life if you try hard enough. It's hard to remember that sometimes. Even when you feel alone in the world, you never truly are. Thank you so much for all you've taught me, Demi ♥ Stay strong, everyone.
One Direction:
I am a very, very proud Directioner. These five weirdos are incredible. I adore everything about them. I was a little late to the fanbase. I became a fan of 1D March 2012. I bought 'Up All Night' & fell in love. My dog/best friend, Cocoa, passed away December 2012. I cried & cried for months. I still get really upset when I think about her. I miss her so much. Their 2nd CD 'Take Me Home' was released just a few weeks before she passed. 1D was all I listened to in those few months, because they were the only thing that would make the tears stop. Their music puts me in the best mood. They make me beyond happy. Yes, I collect their merch & I own all the dolls, & every time something 1D related happens, I get really giddy. I didn't get to go to their 2013 tour, but my brothers girlfriend did & when she told us about the concert, I literally cried for her. TEARS. Just hearing about her experience was enough to make happy tears fall from my eyes. I'll probably never get to meet them, but if I ever
did
get the chance, I would thank them for everything they've done for me & fellow Directioners. I really can't thank those boys enough. They've changed my life for the better & they fill my heart with so much joy. I'll be a proud fan for eternity ♥
Fall Out Boy:
So there's this little band called Fall Out Boy. I've been a fan since 2003; I've been a diehard since 2004. If you know me well you know how much I adore these four wonderful gentlemen with my life. I even used to carry around my Patrick doll.. I brought him to school with me & everything throughout high school. - but my real life friends already know this. Honestly, I don't care how many people mock me for loving them, nor do I care for your opinion. They were there for me at my worst & knew how to drag me out of hell. I wouldn't be who I am today without them & their music. They're hilarious, down to earth, & no matter what people say - fame hasn't changed them. There aren't enough words to describe my love for them. They are one of the few bands who have kept me holding on & sane. Call them sellout's, call them "emo", tell me they are "gay" & a "waste" of time. It won't change how I feel about this band.
Believers never die.
Taylor Momsen & TPR:
I'm kind of head-over-heels in love with Taylor Momsen. She's brilliant & she pretty much speaks to my soul. She is smart, daring, honest, talented, beautiful, & REAL. I adore every fucking thing about her & The Pretty Reckless. I don't know what else to say. She's just amazing.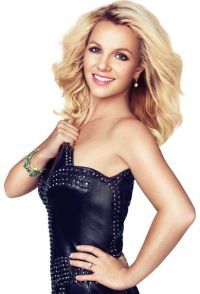 Britney Spears:
I absolutely adore her. Yes, I'm serious. I've loved her from the very beginning. I got the 'Baby One More Time' CD for my 8th birthday & I've been an addict ever since. I pretty much grew up with Britney always being around me in some way, so she's just become such a major part of my life. She has changed my life forever & without her, it wouldn't be the same. I have so much Spears related stuff. I have a scrapbook full of pictures & news articles about her & her family that I started in 1999 & it grows every day. I have every record (and I'm truly proud to say that). I even own all of the dolls.. literally all of them. Yes, I still have them. Brit was my first concert. I saw her for the first time 2 times in just one week for my 10th birthday. We first saw her at PNC.. we waited in the parking lot for the doors to open for what seemed like forever! But then again, everything feels like forever when you're a kid. A few days later, my mom, my brother, & our neighbors went to NYC to watch her perform on the Today Show. I'll never forget that. My neighbors father told the security guards that it was my birthday & they let me go right to the front for 3 songs. I waved to her & she waved back, smiling. It was one of the best things ever. It was one of those things I'll never ever forget. Overall, I've seen her 5 times. She was my idol growing up. Everyone used to call me a "mini-Brit". I wanted to be her.. or in the least, be just like her. As I grew up, I realized I couldn't do either of those things. But I could always support & love her. I am so proud of her & I always will be, no matter what. I'll always be a fan.. ♥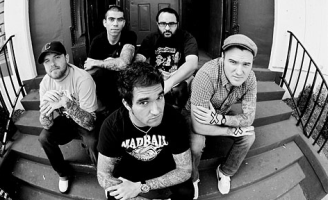 New Found Glory:
I don't even know where to begin with them. I don't think a single person understands my love for these four guys (five if you include Steve).. they mean more to me than you could ever imagine. They have been a major part of my life since 5th grade. I honestly don't know how my life would have turned out without them. They have literally changed my life. They amaze me. They are my heroes & I would do anything for them. They are the perfect band. This is the band who has introduced me to most of the bands I listen to now. About 75% of the music I listen to, I found because of them. Their music makes me happy & I can relate to all of the songs they write. They inspire me & teach me new things everyday. After all these years, these five wonderful boys are still the same people they were years ago. They always put their fans first. They care about us more than anything & they always find time to show it. Their live shows are amazing. They don't do anything extravagant. It's just them, us, & the music. Just watching them perform gives me chills. They are unbelievable & so much fun. Writing all of this makes me want to cry cause it feels as though I'm writing about some of my best friends. I know that sounds stupid, but I have been through so much with them & they truly did change everything for me. New Found Glory are one of the only bands that have been close to my heart for years, still are, & always will be. :) I was lucky enough to meet them, not just once, but twice (8/30/06 & 9/26/08) Best days of my life, by far.
Anthony Raneri / Bayside:
For starters, Anthony Raneri is my hero. He has been since I was fourteen & will more than likely continue to be till the day I die. I own every album, know every song, been to (ALMOST!) every tour, & I've been lucky enough to meet them more times than I probably deserve to.The first time I got to meet them was at Vintage Vinyl on February 6th, 2007. Mind you, I never in a million years thought I would ever get the chance to meet them. I found out about the performance & signing, & I begged my mom to bring me. I got very lucky & she said yes. My little brother came with us as well. It was such a magical day. They were the most down to earth, raddest guys on the planet. They all signed my copy of The Walking Wounded & took pictures with me (I have one with each of them & a group shot). & it was also the day I made my brother a Bayside fan (; I have been lucky enough to meet them on multiple occasions since then, & I have since printed out the group picture & got them all to sign it for me. When they saw it, they remembered us. It now sits in a frame, & I bring it with me every time I leave the state. Anthony has saved my life multiple times & just when I am about to give up, their lyrics push me to do better & keep holding on. I've been through a lot of shit & Anthony has always been there to guide me & show me that I'm not alone. They have changed my life for the better & I can't thank them enough. I wish I could somehow repay them for all they've helped me through & taught me. But I can't do that, nor would I even know where to begin. But thank you Anthony, Nick, Chris, Jack, & Beatz (RIP, us fans miss you every day).
JT Woodruff / Hawthorne Heights:
I've been a Hawthorne Heights fan since 'Silence In Black & White' - I was only 13 when that CD came out & I still to this day love them as a band & they are still one of my absolute favorites. I've met them twice & both times were perfect. Especially the second time though because I got to spend more time with them (the first time was like a legit meet & greet, so we didn't have much time to mingle with the band). Lets start with JT.. what is there to even say. For one, I adore the fact that he's straight edge. I love when I find out my favorite people are also Edge. I just think it's a really cool quality for a person to have. But really, he is just such an amazing person. He's one of the sweetest people I've ever met. He's just so cool & down to earth. I asked him to sign my 'A Day In the Life' CD & I got the whole band to sign my limited edition 'Silence In Black & White; CD. I asked JT to sign both & I told him how much he & HH mean to me & he kept thanking me, at the same time I was thanking him. He said without fans like me, he wouldn't be lucky enough to have the life he has. I couldn't believe that he said that. Here he is, the guy who changed my life telling me I've changed his. It was insane. Then he gave me two big hugs. & Matt.. Matt is such a goof (as you can see in the picture below). He's hilarious & one of the coolest people. Micah is the biggest sweetheart. He's SO nice & he seems very thankful. & Eron.. he's just a fucking all-around awesome guy & he is so friendly. It really was one of the coolest experiences I've ever had meeting one of my favorite bands. They all really do inspire me every single day & I can relate so much to their lyrics. They are seriously one of the most grateful & down to earth bands I've ever met. Hawthorne Heights, as a group, have been through hell & back these past few years; & as sad as it all is, it's made them stronger than ever. I'm so glad they've never really "replaced" Casey & they still include him as part of the band. I just love JT, Micah, Matt, Eron, & Casey SO much. They've changed my life for the better.
Green Day:
I've been a big fan of these three guys for years & years. I don't know what I would have done without them. Without this band, there would be no NFG or Bayside. Guaranteed, your favorite bands wouldn't have existed without these guys. They are absolutely incredible. I have learned so much over the years because of them & their lyrics. They have been one of the bands who have helped me through extremely hard times. In my eyes, they are the ultimate role models & they could do no wrong. Billie Joe isn't afraid to speak the truth with his lyrics & I love that about him. He has proved he's so much more than just a basket case & he's always coming clean with every word he writes (lol, get it?). & seeing them perform live; there is nothing else like it. You can just tell how much love & appreciation Green Day shows for their fans. They're the most interactive band I have ever seen. Billie Joe gets fans on stage & lets them sing the songs; not just a line, but a verse or two. He lets them run the show for those couple of minutes. & most of all, he makes them feel important; like everything they've done for that band has a visible meaning. Green Day brought out something I never knew I had in me: my ability to be myself. They made me realize that being a minority is so much more gratifying than being just another person. They inspired the way I think, the way I feel, the way I handle myself & my beliefs, to the way I look at the world around me. So many people tell me Green Day has sold out. It's a bold faced lie. Sure, they don't have songs like 'Longview' anymore. They've become politically aware & they want to challenge their fans to think of the world as it is today, & just think, in general. They will always be one of my favorite, most influential bands.
Activité récente