Flux
| | | | | |
| --- | --- | --- | --- | --- |
| 1 | | | | |
| 2 | | | | |
| 3 | | | | |
| 4 | | | | |
| 5 | | | | |
| 6 | | | | |
| 7 | | | | |
| 8 | | | | |
| 9 | | | | |
| 10 | | | | |
| 11 | | | | |
| 11 | | | | |
| 13 | | | | |
| 14 | | | | |
| 15 | | | | |
| 15 | | | | |
| 15 | | | | |
| 18 | | | | |
| 19 | | | | |
| 19 | | | | |
| 21 | | | | |
| 22 | | | | |
| 23 | | | | |
| 24 | | | | |
| 24 | | | | |
| 26 | | | | |
| 27 | | | | |
| 28 | | | | |
| 28 | | | | |
| 28 | | | | |
| 31 | | | | |
| 31 | | | | |
| 31 | | | | |
| 31 | | | | |
| 35 | | | | |
| 35 | | | | |
| 35 | | | | |
| 35 | | | | |
| 35 | | | | |
| 40 | | | | |
| 40 | | | | |
| 40 | | | | |
| 43 | | | | |
| 43 | | | | |
| 43 | | | | |
| 46 | | | | |
| 46 | | | | |
| 48 | | | | |
| 48 | | | | |
| 48 | | | | |

Flux
| | | | | | |
| --- | --- | --- | --- | --- | --- |
| 1 | | | | | |
| 2 | | | | | |
| 2 | | | | | |
| 4 | | | | | |
| 5 | | | | | |
| 6 | | | | | |
| 6 | | | | | |
| 6 | | | | | |
| 6 | | | | | |
| 6 | | | | | |
| 6 | | | | | |
| 6 | | | | | |
| 6 | | | | | |
| 14 | | | | | |
| 14 | | | | | |
| 14 | | | | | |
| 14 | | | | | |
| 14 | | | | | |
| 14 | | | | | |
| 14 | | | | | |
| 21 | | | | | |
| 21 | | | | | |
| 21 | | | | | |
| 21 | | | | | |
| 21 | | | | | |
| 21 | | | | | |
| 21 | | | | | |
| 21 | | | | | |
| 21 | | | | | |
| 21 | | | | | |
À propos de moi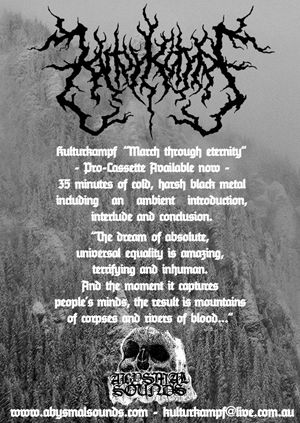 I sought my death, and found it in the womb;
I looked for life, and saw it was a shade;
I trod the earth, and knew it was my tomb;
And now I die, and now I am but made;
The glass is full, and now the glass is run;
And now I live, and now my life is done.
- Так кто же ты, наконец?
- Я - часть той силы, что вечно хочет зла,
И вечно совершает благо
http://www.metal-archives.com/bands/Kulturkampf/3540351348
http://8tracks.com/autumnaurora
http://profile.ultimate-guitar.com/Emenius+Sleepus/
http://www.last.fm/music/Extinguished+Temples
http://www.facebook.com/kulturkampfAustralia
are you an angel?... has the time come?... I,... I've been waiting so long...
at the end of time, a moment will come, when just one man remains.
then the moment will pass, - and the man will be gone...
there will be nothing to show that we were ever here, - but stardust...
the last man, alone with god... - am I that man?...
Activité récente