Homme, Royaume-UniDernière visite : Lundi après-midi
3

1

3

7

écoutes depuis le 21 oct. 2011

Flux
| | | | | |
| --- | --- | --- | --- | --- |
| 1 | | | | |
| 2 | | | | |
| 3 | | | | |
| 3 | | | | |
| 3 | | | | |
| 6 | | | | |
| 6 | | | | |
| 8 | | | | |
| 9 | | | | |
| 10 | | | | |
| 11 | | | | |
| 11 | | | | |
| 11 | | | | |
| 14 | | | | |
| 15 | | | | |

Flux
| | | | | | |
| --- | --- | --- | --- | --- | --- |
| 1 | | | | | |
| 2 | | | | | |
| 3 | | | | | |
| 4 | | | | | |
| 5 | | | | | |
| 5 | | | | | |
| 5 | | | | | |
| 8 | | | | | |
| 8 | | | | | |
| 8 | | | | | |
| 8 | | | | | |
| 8 | | | | | |
| 8 | | | | | |
| 8 | | | | | |
| 8 | | | | | |
À propos de moi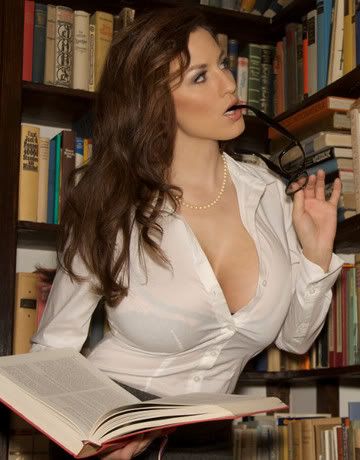 From a very early age, I was read to and encouraged to read. Some of this encouragement was of an unconventional nature, extremely enjoyable and certainly not included in any known educational syllabus....


.....I can remember being much stimulated by this process.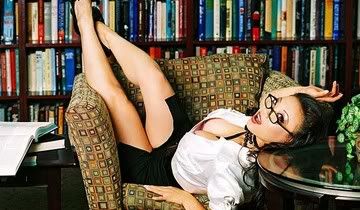 As a result of this, reading, books, libraries and those who work in them have played a big and extremely enjoyable part in my life.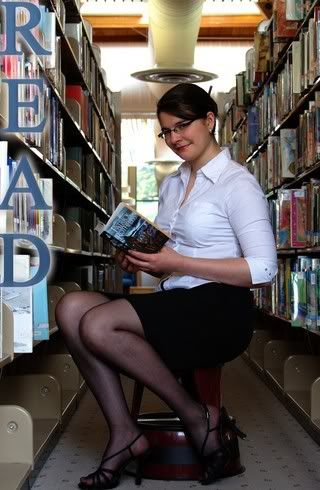 As a result of what I've read, other disciplines have come to my notice and I'm awed by the extent of knowledge that exist in books.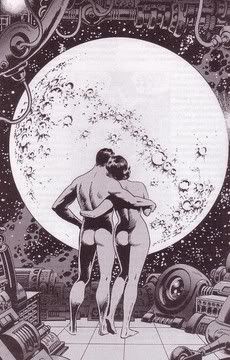 And as a result of this and not having many books of my own, I visited libraries............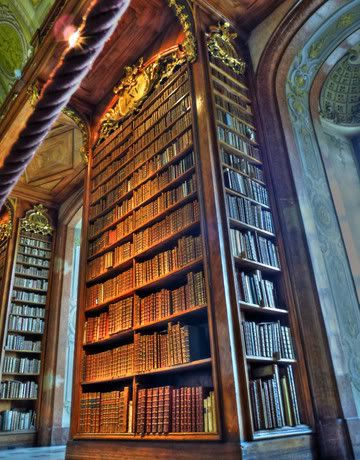 .........I was made welcome and given every encouragement to continue visiting them.


As a result of this, I love libraries and came to love the helpfulness and encouragement of librarians.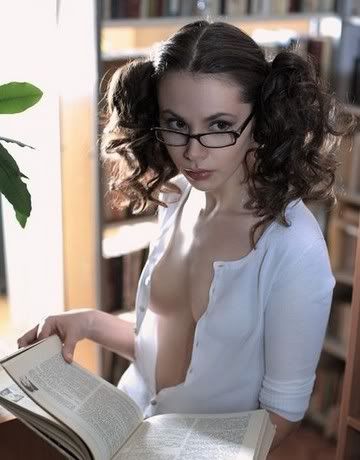 And I'll always make passes at girls who wear glasses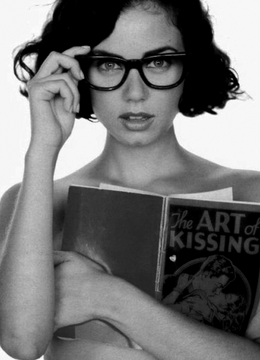 In my turn I have encouraged those younger than me, to seek the value of reading and the beauty and wonder there is to be had there-by....

.....with remarkably good effect....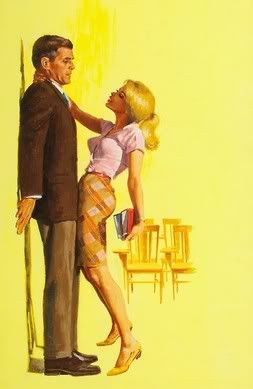 ......but sometimes I've been somewhat taken aback by some of these effects.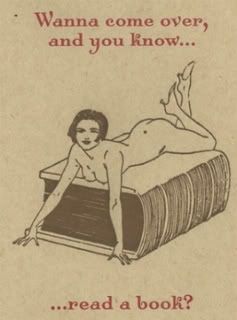 When older, I went to an expensive private school where respect for other peoples property (including books) was to be learned the hard way.
I was given three strokes of the cane, for "dog earing" (turning the corner of the page back) a book...


....But at least I was allowed to keep my trousers on.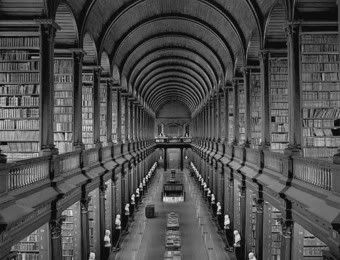 I've spent many a day and I mean all day in a library and had many an interesting encounter.

On several occasions in a bookshop in Teheran, where the lights failed on a regular basis, there was a repeated encounter with a woman whose face I never saw...........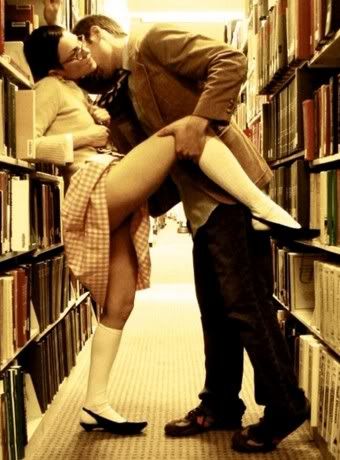 A certain librarian in my home town, always ensured I would want to return there and to her again....often.


In the library of an exclusive Gentlemen's club in Wiltshire, Cheltenham, the most exotic experience occured -but only the one time, she got the sack after that and they renounced my membership - po faced bigots



More than once, have I come across a situation not normally associated with libraries
Libraries are a lot more interesting than many people think, but dropping the books......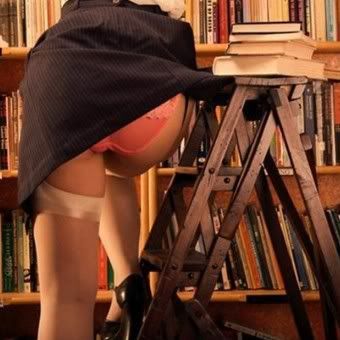 ...........is both noisy and distracting.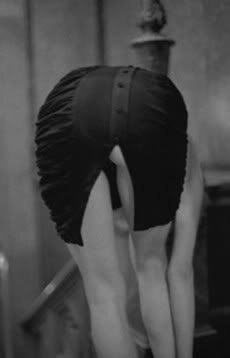 -:o:O:o:-
There's a lot to be said for easing some of the dress code rules libraries impose.
A library is a place where you can lose your innocence without losing your virginity
. - Germaine Greer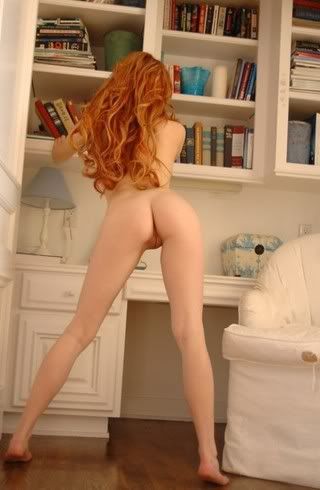 A re-head in the library - (uh-oh - not much reading going to go on now)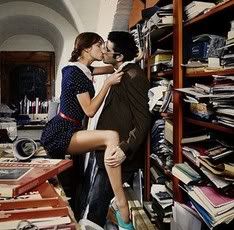 However, I can aver, without equivocation, that librarians make wonderful lovers
So where do I do all this reading when not in the library?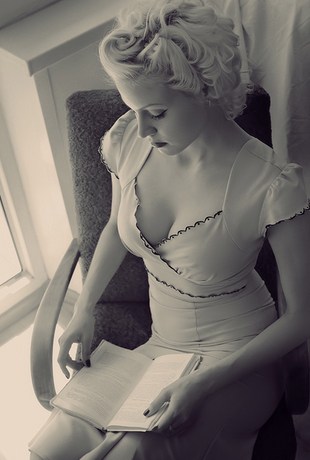 Sometimes like this woman, poised but receptive and concentrating on what I'm reading.


Sometimes with a friend, like these two, discussing what I'm reading about.


Most often in bed, but not with this kind of distraction.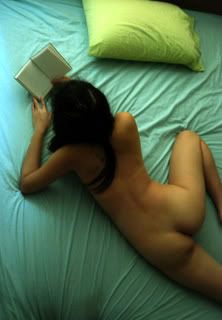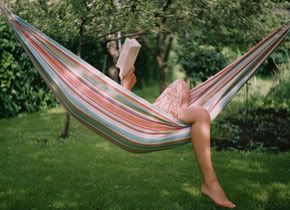 When the weather permits, one of my favourite ways is like this.......


........but this is England, and we have the odd shower....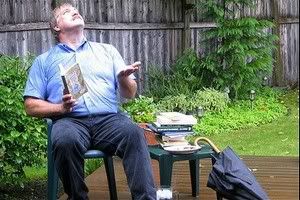 ....so inside we go....

...and read while the rain streams outside the window.

A good book, a fine wine...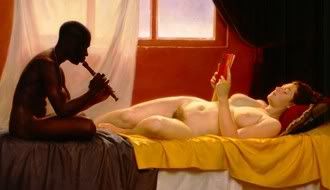 ...and perhaps a little gentle background music.....perfect!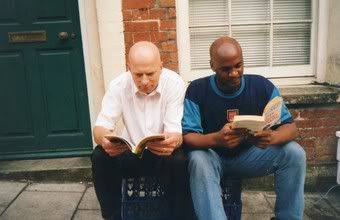 I'll even read in the street. (Yep, that's me - no, the other one)


Many times I read in a sprawl, referring to more than just the book I am reading.

Often I fall asleep reading......


And reading in the bath is a good idea - best not to fall asleep as well - it has happened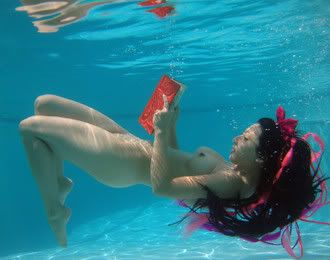 This is an interesting technique - but a carefull choice of reading material is required....



But books by the bedside are a must

I do love books. Many are just lovely to look at......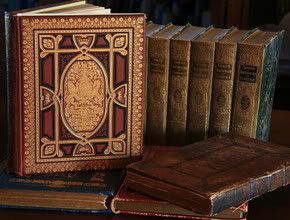 .....touch and smell - and if the content is interesting, so much the better.





And what have I learned with all this reading?


That the mind, once stretched by a new idea, never returns to its original dimensions."
- Ralph Waldo Emerson
That being a bookworm, is not a destructive thing....

And it seemed that all the most interesting material was to be found on the topmost shelves...


.....to begin with, I needed assistance, then
And I've learned that some books, are very, very dangerous.....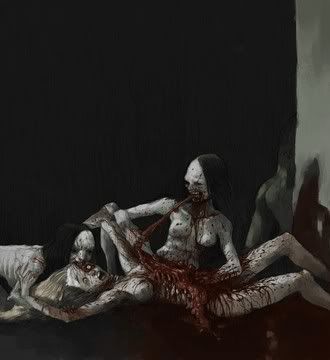 ....and can have unpredictable effects....
Other books can transport you to completely different worlds. Some the most fantastic and pleasurable.....
.....others not quite so.
I've read that all humans are essentially wild creatures and hate confinement. That we need what is wild, and we thrill to it, our wildness bubbling over with an anarchic joie de vivre. We glint when the wild light shines. The more suffocatingly enclosed we are—tamed by television, controlled by mortgages and bureaucracy—the louder our wild genes scream in aggression, anger and depression.
- Jay Griffiths
I have also read....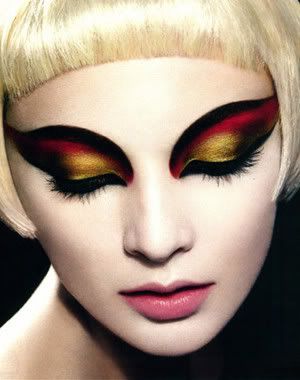 The most beautiful make-up for a woman is passion, but cosmetics are easier to buy.
- Yves St Laurent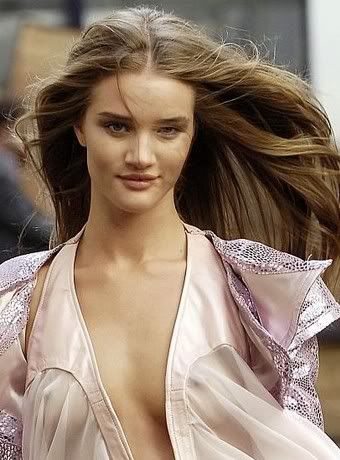 "The expression a woman wears on her face is far more important than the clothes she wears on her back."
- Youaredivine
I like people with depth, I like people with emotion, I like people with a strong mind, an interesting mind, a twisted mind, and also someone that can make me smile.
- Abbey Lee Kershaw
Nature knows no indecencies; man invents them
Perfectionism is a neurosis. It is an illness. And the more you try to become perfect, the more frustrated you will become. The goal of perfection has led the whole of humanity towards madness; the earth has almost become a madhouse.
- Osho
If one is expecting to get through life relatively unscathed You need to believe in things that aren't true.
Whether you think you can or think you can't, you're right - Henry Ford



Quantum physics tells us that nothing that is observed is unaffected by the observer. That statement, from science, holds an enormous and powerful insight. It means that everyone sees a different truth, because everyone is creating what they see

The truth of any situation is not inherent in the situation, but only in the point of view of the viewer - Charles Andress



Don't waste your time with explanations: people only hear what they want to hear - ibib






Reading hard cover has a degree of

classyness

about it I've found.........
....or am I just being snobby?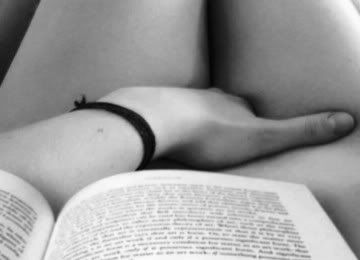 And many books are incredibly "stimulating"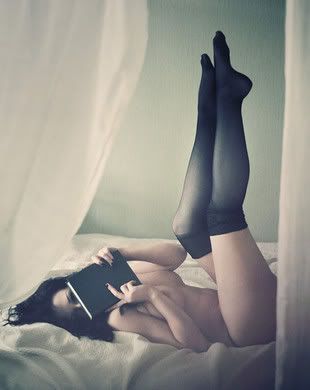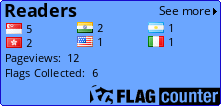 Jack Vance
1916 - 2013. American science fiction writer, reknowned for his discriptions of atmosphere and invention. His command of language, his ear for how an ironic understatement or a bellicose overstatement, couched in elegant exchanges of tenderness, wit, or vitriol, sums up his characters, describes their social differences, and philosophical disposition.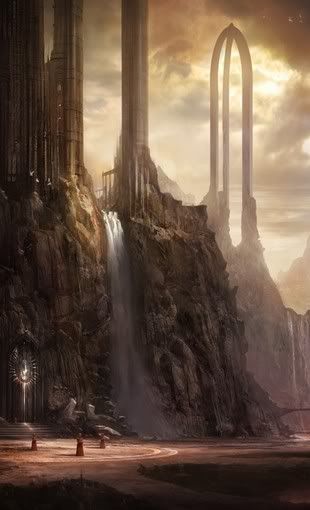 No writer of SF I've read has ever quite equalled Vance in the art of mordant wit, the pithy putdown and the artful epigram or the exploration and narrative cogency of well-chosen words.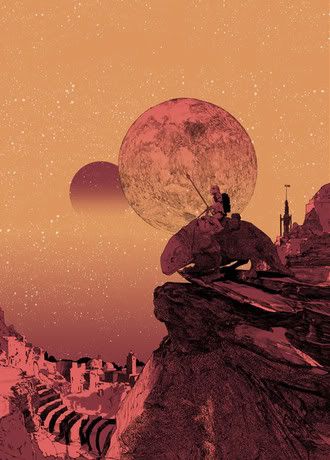 The all pervading detail of his creature creations and fantastical locations make make his surreal situations seem almost normal.
"Human interactions, stimulated as they are by disequilibrium, never achieve balance. In even the most favorable transaction, one party—whether he realizes it or not—must always come out the worse."-
Rhialto the Marvellous
- Jack Vance
Iain Banks
.
&
Iain M Banks
.
1954 – 2013
Carlos Ruiz Zafon
.
Patrick O'Brian - d 2000
Born 1914 in Chalfont St Peter, Buckinghamshire, where I spent much of my childhood, O'Brien is mostly renowned for his Aubrey/Maturin books. The series, some twenty books written before he died, tell of The Royal Navy during the Napoleonic wars and the American war of independence. Written very much in the vernacular of the day, this can be heavy reading for some, for he compromises not with explanations of many arcane and little used words. But for those with an enquiring mind, who will not let a noun pass by without knowing all about it, Dean King's "A Sea of Words" is a useful companion.
Life in those days was brutish and hard and all too often very short.
His descriptions of real naval actions combine fiction and history in a most graphic and believable way.
The main characters, Jack Aubrey, the pugilistic naval officer and his mentor, Stephen Maturin, spy, surgeon and botanist, form the most unlikely of friendships.
The battle scenes are incredibly well written and one call almost smell the powder and feel the shot; where-as Maturin's activities has one reaching for a host of other books on the subjects – thank goodness for Google.
James Clavell
- d 1994
.
Novelist and film director. Born in Australia, served in the Royal Artillery during WW2 where, in Singapore, was captured by the Japanese & suffered in the notorious Changi prison. He survived the ordeal, along with the surviving battalion because of an American fellow prisoner who became the lead character in his novel King Rat.

After the war moved to the US where he wrote the screenplays The Fly, The Great Escape, 633 Squadron and The Satan Bug amongst others.

His "Asia Series" of novels......

King Rat (1962): Set in a Japanese POW camp in Singapore, 1945

Tai-Pan (1966): Set in Hong Kong, 1841

Shōgun (1975): Set in feudal Japan, 1600

Noble House (1981): Set in Hong Kong, 1963

Whirlwind (1986): Set in Iran, 1979

Gai-Jin (1993): Set in Japan, 1862
…..are perhaps the most well researched books written and although fiction, are based on actual events. There is a situation in Whirlwind happening in Teheran in the story, that I can remember being personally involved in.
He is also noted for The Children's Story (1980) & The Art of War, a translation of Sun Tzu's famous book (1983)
He died of a stroke while suffering from cancer in Switzerland one month before his 70th birthday.
J.E. Pournelle
- Jerry Pournelle
.
John Wyndham
- d 1969
Who has not heard of The Day of the Triffids?

This tremendously successful storey first published in 1951 has been regurgitated numerous times on radio and in the movies.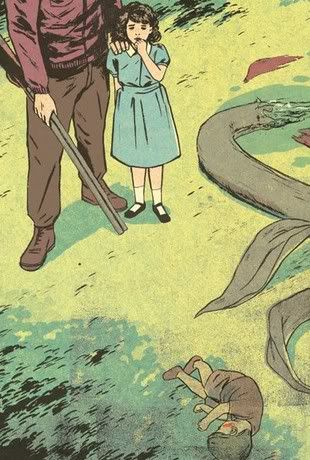 Writing for the first time as John Wyndham - only part of his real and very long name – he went on to write six more novels under this name which made him a major exponent of science fiction in Britain.
The settings of his stories have an invariably English middle-class setting, where ordinary and sensible people are faced with situations far removed from their pedestrian routines. He concentrated more on character and background development, eschewing the shoot-em-up "galactic gangsterism" set almost entirely in space which was more prevalent at the time. Indeed his style of setting disaster to ordinary men and women living in an otherwise civilised and domestic situation, was trend setting.


The theme of most of his novels written under this name, take these "sensible" people, living rational lives in an organised society and introduce an extraordinary factor. Then these ordinary situations, extensions of the present day, become credible nightmares. The results are always grim and much is made of how the human potential reacts when it's back is not only against the wall, but part way through it.
Terry Prachett
.
- d 2015
Pratchett is the second most-read writer in Britain, after Harry Potter author J.K. Rowling.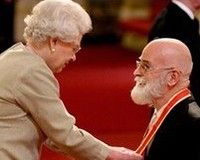 He received an OBE for services to British literature.
He lives in a small village near Salisbury, Wiltshire. Famous for the extremely humorous Diskworld series, full of magic, wizards, dragons and a whole lot more. Incredibly popular, there are 26 books so far, with more coming. These are about a flat world being carried through the universe by four elephants, standing on the back of a turtle.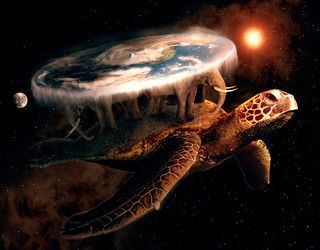 Bizarre? You've read nothing yet.
I was introduced to Terry Prachette by a former lover, an affair that was all too brief. Remarking when giving me 'The Colour of Magic' the first of the series, that "Serious it isn't" was a comment on the state of our relationship.

DEATH, a character that features in many stories SPEAKS IN YOUR HEAD and has a mordent sense of irony


Pratchett's trademark is his sense of humour relying on wordplay, spoofing mythology and popular culture, all skewered on the end of sharp metaphors. His descriptive writing, skilfully and humorously giving life to stories that have a firm basis in reality, produces a flawless and effortless humour


That relationship ended, but since, years later, another love affair, with one who also appreciated Prachett's books in equal measure, was more enduring. In The Colour of Magic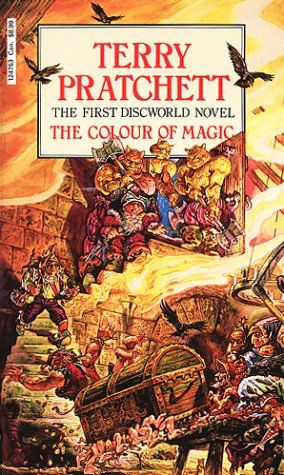 Rincwind is a failed student at the Unseen University for wizards in Ankh-Morpork, and is often described by scholars as "the magical equivalent to the number zero".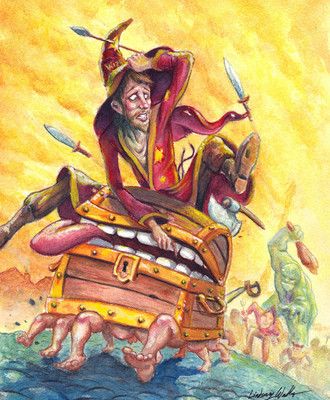 He spends just about all of his time running away from bands of people who want to kill him for various reasons. But the most memorable "character" in the book is "The Luggage"


Sadly, this love affair has also ended, but in the meanwhile she had in turn introduced me to
The Wee Free Men
or, The Nac Mac Feegles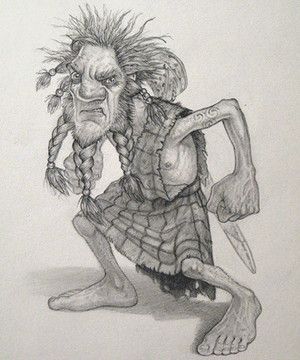 Terry Prachett's spoof of Glaswegian Scots
The Nac Mac Feegles comically fear witches who know about them, with large amounts of dread being reserved for "the Foldin' o' the Arms", "the Pursin' o' the Lips", and the "Tappin' o' the Feets", followed by "the Explainin". One witch nearly panics them when she harangues them in their own dialect, which they called "the knowin' o' the speakin"
- Terry Pratchett
The Wee Free Men
The sort of book that would grab and hold my attention would have an eye opening beginning...


....something unexpected and interesting. Something I'd want to look at again.


The words would just fall of the page, it would be so exciting.


It would have a nailbiting finish and I'd be sorry it was ended


It would be a book I could read anywhere and after having read it the first time...


....want to keep and read over and over again.
I have many books like this.
The village ladies have formed a Book Club. They have original ideas on the club dress code....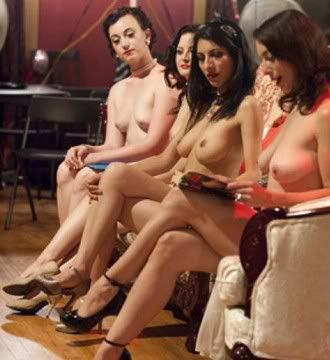 ...shoes only, apparently. And yes, it is open to men...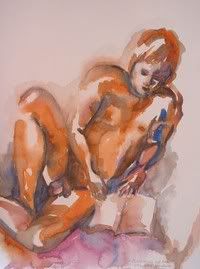 ...provided they "dress" appropriately.
It's a very friendly club, everybody knows everybody...


...and they all seem to get on extremely well.


The annual outdoor event in the summer, where the dress code is relaxed, is always very well attended.

There is a long waiting list to join.....I'm seriously thinking about it.....
But the question is..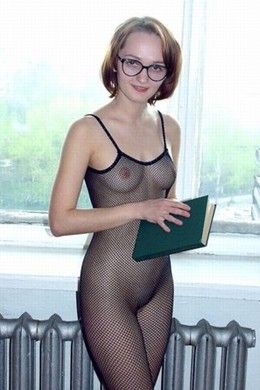 ..... is reading sexy?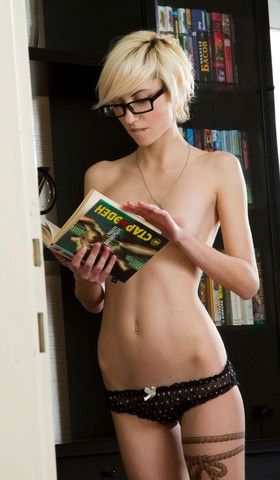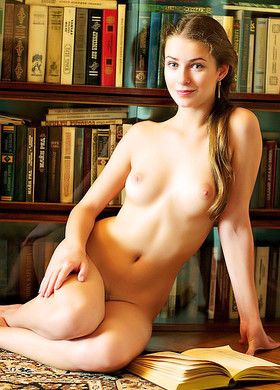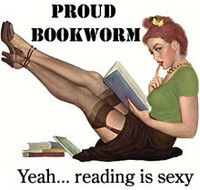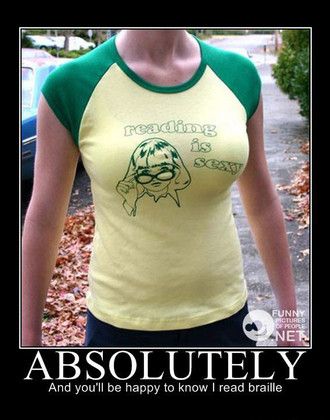 Selected Readers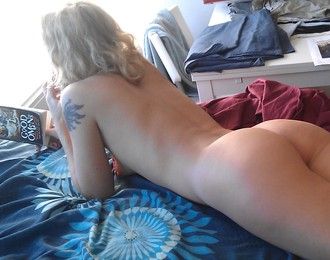 Красивая русская девушка, чтение книги английского, во время отпуска в Испании
"Я всегда стараюсь и думать о приятном, окружать себя приятными мне людьми и вещами (чтобы радовало глаз) и общаться с приятными мне людьми. Тебе желаю того же."




An open book is a mind that speaks; closed, a friend who waits; forgotten, a soul that forgives; destroyed, a heart that weeps.

- Rabindranath Tagore Blatently plagiarised from Songs_of_Myself Profile.