My mind is a mirror, a reflection only known to me...Dernière visite : Vendredi matin
8

0

4

0

0

écoutes depuis le 26 jan. 2005
5 560 coups de cœur | 1 019 messages | 1 playlist |

1 146 shouts

Flux
| | | | | |
| --- | --- | --- | --- | --- |
| 1 | | | | |
| 2 | | | | |
| 3 | | | | |
| 4 | | | | |
| 5 | | | | |
| 6 | | | | |
| 7 | | | | |
| 8 | | | | |
| 9 | | | | |
| 10 | | | | |
| 11 | | | | |
| 11 | | | | |
| 13 | | | | |
| 14 | | | | |
| 15 | | | | |
| 16 | | | | |
| 17 | | | | |
| 18 | | | | |
| 19 | | | | |
| 20 | | | | |

Flux
| | | | | | |
| --- | --- | --- | --- | --- | --- |
| 1 | | | | | |
| 2 | | | | | |
| 3 | | | | | |
| 4 | | | | | |
| 5 | | | | | |
| 6 | | | | | |
| 7 | | | | | |
| 8 | | | | | |
| 9 | | | | | |
| 9 | | | | | |
| 9 | | | | | |
| 12 | | | | | |
| 13 | | | | | |
| 14 | | | | | |
| 14 | | | | | |
À propos de moi
"There's comfort in melancholy."
Joni Mitchell
-----------------------------------
If I showed you my teardrops,
Would you collect them like rain,
Store them in jars,
That are labelled with "Pain",
Would you follow their tracks,
From my eyes to my cheeks,
As they write all the stories,
I'm too scared to speak,
Would you stop them with kisses,
Bring their flow to a stop,
As you teach me that pain,
Isn't always my fault,
Would you hold my face gently,
As you dry both my eyes,
And whisper the words,
"You're too precious to cry",
If I showed you my teardrops,
Would you show me your own,
And learn though we're lonely,
We're never alone.
Feeling water on your brow, if it's healing it hurts
At first a sharpish pain that returns as a thought....
And the riddles in the pages leave at too much to guess
And the worry cracks a fracture from your hip to your chest...
sometimes when i look up
into the star-filled night sky
past the silhouettes of trees
my soul floating up up up
through the branches
through the leaves
towards the heavens
past the Milky Way
around Orion's belt
to the furthest reaches
of space and time
i think of you
and how much
you love me
feel you deep
inside of me
in my heart
in my soul
a part of
everything
i know
and no longer
feel alone...
Popular albums last 7 days:
It's good to feel you are close to me in the night, love,
invisible in your sleep, intently nocturnal,
while I untangle my worries
as if they were twisted nets.
Withdrawn, your heart sails through dream,
but your body, relinquished so, breathes
seeking me without seeing me perfecting my dream
like a plant that seeds itself in the dark.
Rising, you will be that other, alive in the dawn,
but from the frontiers lost in the night,
from the presence and the absence where we meet ourselves,
something remains, drawing us into the light of life
as if the sign of the shadows had sealed
its secret creatures with flame.
Pablo Neruda
"We are all in the gutter, but some of us are looking at the stars."
- Oscar Wilde
Nobody broke your heart. You broke your own because you can't finish what you start
Elliott Smith
Imaginary pains are by far the most real we suffer, since we feel a constant need for them and invent them because there is no way of doing without them
E.M. Cioran
THE SICK ROSE
by: William Blake (1757-1827)
ROSE, thou art sick!
The invisible worm,
That flies in the night,
In the howling storm,
Has found out thy bed
Of crimson joy;
And his dark secret love
Does thy life destroy.
Relax, nothing is under control...
My heart and my soul, they are free...
Stormvogel
"I took the road less traveled by, and that has made all the difference."-Robert Frost
Your Personality is Somewhat Rare (ISFP)
Your personality type is caring, peaceful, artistic, and calm.
Only about 7% of all people have your personality, including 8% of all women and 6% of all men
You are Introverted, Sensing, Feeling, and Perceiving.
How Rare Is Your Personality?
You Are Mild
You get as many thrills as wild people do, however your thrills tend to be more of the laid back variety.
You believe that the deeper you get into something, the more you enjoy it. And you need calm to do that.
You are one of the least superficial people around. You have intense and passionate interests.
You don't get bored easily. How could you? There is so much to learn about and think about!
Are You Wild or Mild?
John William Waterhouse - The Siren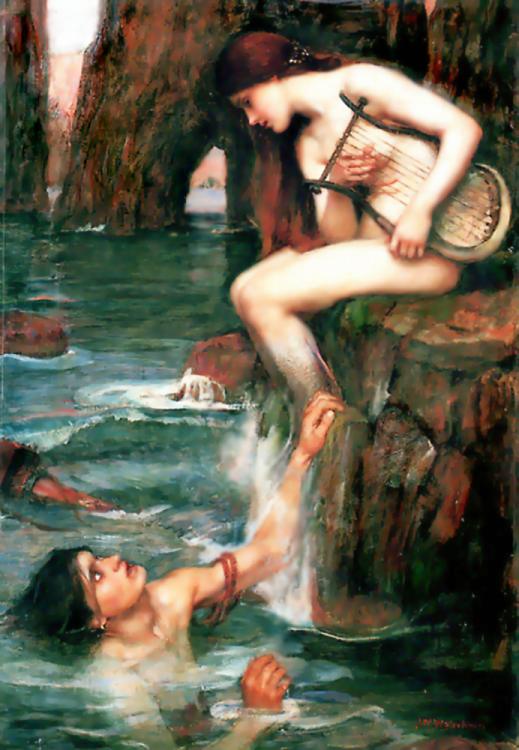 Are you near?
"Alone"
BY EDGAR ALLAN POE
From childhood's hour I have not been
As others were—I have not seen
As others saw—I could not bring
My passions from a common spring—
From the same source I have not taken
My sorrow—I could not awaken
My heart to joy at the same tone—
And all I lov'd—I lov'd alone—
Then—in my childhood—in the dawn
Of a most stormy life—was drawn
From ev'ry depth of good and ill
The mystery which binds me still—
From the torrent, or the fountain—
From the red cliff of the mountain—
From the sun that 'round me roll'd
In its autumn tint of gold—
From the lightning in the sky
As it pass'd me flying by—
From the thunder, and the storm—
And the cloud that took the form
(When the rest of Heaven was blue)
Of a demon in my view—
Melpomene the "Songstress" is the muse of tragedy in spite of her joyous singing and is represented by the tragic mask.