1. Twilight Force - Tales of Ancient Prophecies
Holy shit, where did this come from? Middle of the year and they throw this baby at us. Absolutely amazing power metal; the voice is powerful, the guitarists duel at fantastic speeds and the keyboard solos nuke the record. Number one, without a doubt, but I guess number two was a close contender.
2. Alestorm - Sunset on the Golden Age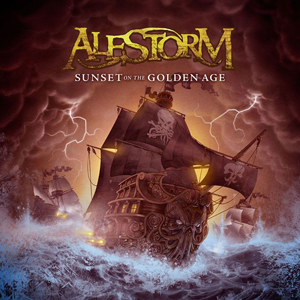 Amazing year for power and folk metal at least. I admit, I'm a huge fan of Alestorm and much of what they release I consider gold, but even the oldest and most Italian (Rhapsody of Fire... achem) bands can't hold a torch to these behemoths. Parody of themselves? Probably. But scraping the barrel seems to be working.
3. Teitanblood - Death
Easy pick for 3rd. Absolute must-have death metal album.
4. Morbus Chron - Sweven
Prog death at its best. Morbus Chron can only evolve and get better.
5. Ea - A Etilla
Thank the heavens of doom for these Americans; you can't decipher what they're spewing forth, but the music is too good to pass up. Funeral doom album of the year and it just adds to their already fantastic and essential discography. 49 min title track imba.
6. Spectral Lore - III
------------------------
7. Conan - Blood Eagle
The almighty riff has come to save the day!
8. Galneryus - Vetelgyus
Power metal really owned it this year.
9. Diocletian - Gesundrian
I'm convinced they can do no wrong.
10. Behemoth -
The
Satanist
Blacken all of the metal (because Neige forgot how to)
Honorable mentions:
Unisonic - Light of Dawn
Vader - Tibi et Igni
Veldes - Skyward
Alcest - Shelter
Volahn - Aq'ab'al
2NE1- CRUSH
The Great Old Ones - Tekeli-li
Falls of Rauros - Believe in No Coming Shore
Dead Congregation - Promulgation of the Fall
Darkest Era - Severance
ClariS - Party Time
2NE1 - CRUSH
Cyntia - Limit Break
Woods of Desolation - As the Stars
Ne Obliviscaris - Citadel
Pallbearer - Foundations of Burden
Unaussprechlichen Kulten - Baphomet Pan Shub-Niggurath
Pilgrim - II: Void Worship
Primordial - Where Greater Men Have Fallen
Black Monolith - Passenger
Sun Worship - Elder Giants
Tengger Cavalry - Ancient Call
Thantifaxath - Sacred White Noise
This Will Destroy You - Another Language
Vaiya - Remnant Light
2NE1 - CRUSH x3
Vindensång - Alpha
Women is the Earth - Depths
YOB - Clearing the Path to Ascend
YAITW - WLCTD
Zaum - Oracles