33, HongrieDernière visite : Mercredi matin
8

0

8

7

6

écoutes depuis le 21 fév. 2010
477 coups de cœur | 3 563 messages | 0 playlists |

109 shouts

Flux
| | | | | |
| --- | --- | --- | --- | --- |
| 1 | | | | |
| 2 | | | | |
| 2 | | | | |
| 4 | | | | |
| 4 | | | | |
| 6 | | | | |
| 6 | | | | |
| 6 | | | | |
| 6 | | | | |
| 6 | | | | |
| 6 | | | | |
| 6 | | | | |
| 6 | | | | |
| 6 | | | | |
| 6 | | | | |
| 6 | | | | |
| 6 | | | | |
| 6 | | | | |
| 6 | | | | |
| 6 | | | | |
| 6 | | | | |
| 6 | | | | |
| 6 | | | | |
| 6 | | | | |
| 6 | | | | |
| 6 | | | | |
| 6 | | | | |
| 6 | | | | |
| 6 | | | | |
| 6 | | | | |
| 6 | | | | |
| 6 | | | | |

Flux
| | | | | | |
| --- | --- | --- | --- | --- | --- |
| 1 | | | | | |
| 2 | | | | | |
| 3 | | | | | |
| 4 | | | | | |
| 5 | | | | | |
| 6 | | | | | |
| 7 | | | | | |
| 8 | | | | | |
| 9 | | | | | |
| 10 | | | | | |
| 10 | | | | | |
| 12 | | | | | |
| 13 | | | | | |
| 14 | | | | | |
| 15 | | | | | |
| 16 | | | | | |
| 16 | | | | | |
| 18 | | | | | |
| 18 | | | | | |
| 18 | | | | | |
À propos de moi
"Dear sir dear lady
This carnival is dead and gone
And never anyway alas this party never yet began"
Greetings Stalker!
Interests & things I like:
Music (obviously), horror, thriller and art-house dramas (psychological ones in particular), anything bizarre and odd, dreams and nightmares, sleeping (a lot), psychology, escapism, solipsism, the anatomy of fear, the amazing world of the subconscious, rpg (p&p or PbF only), traveling, culture and folklore, weird associations and impressions, chasing moods and atmospheres, urban decay, abandoned places and ruins, industrial wastelands, inhumane human experiments, anything thought-provoking, collecting collecting-compulsions, black and/or sick humor, symbols, animals (especially birds, felines and reptiles), werecreatures, illusions and hallucinations, solitude, running clouds, moons, planets and nebulae, underground places and tunnels, clocks moving backwards, frozen time, gemstones, old coins, bones, the sea, mirrors, lanterns, masks, freak-shows, thinking "out of the box", distorted and strange perspectives, flying and floating, daggers and knives, incense, smoking, lighthouses and towers, depths and heights, embracing the joy of life and the beauty of decay, conspiracy theories, and many, many more.
Things I dislike or hate:
Banality and the mundane aspects of life, infants and small children, bureaucracy, boundaries, obligations, dogmatism, fundamentalism, bigotry, flying insects coming inside, insomnia, sentimentalism, "political correctness", censorship and related bullshit, living in a body made of flesh, time (too fast), the systematic brainwashing of people,
judgmental self-righteousness, my lack of artistic talent, and many, many, many more.
***
Please drop me a line or two (message or shout) before sending me a friend request.
***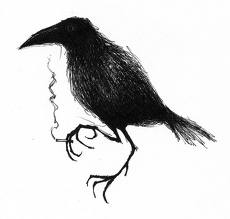 LAST 7 DAYS
OVERALL
Overall Top Albums
Last Month's Top Albums