Flux
| | | | | |
| --- | --- | --- | --- | --- |
| 1 | | | | |
| 2 | | | | |
| 3 | | | | |
| 4 | | | | |
| 5 | | | | |
| 6 | | | | |
| 7 | | | | |
| 8 | | | | |
| 9 | | | | |
| 10 | | | | |
| 11 | | | | |
| 12 | | | | |
| 13 | | | | |
| 14 | | | | |
| 15 | | | | |
| 16 | | | | |
| 17 | | | | |
| 18 | | | | |
| 19 | | | | |
| 20 | | | | |
| 21 | | | | |
| 21 | | | | |
| 23 | | | | |
| 24 | | | | |
| 25 | | | | |
| 26 | | | | |
| 26 | | | | |
| 28 | | | | |
| 29 | | | | |
| 30 | | | | |
| 31 | | | | |
| 31 | | | | |
| 33 | | | | |
| 34 | | | | |
| 35 | | | | |
| 36 | | | | |
| 37 | | | | |
| 37 | | | | |
| 39 | | | | |
| 40 | | | | |
| 41 | | | | |
| 42 | | | | |
| 43 | | | | |
| 43 | | | | |
| 43 | | | | |
| 43 | | | | |
| 47 | | | | |
| 48 | | | | |
| 48 | | | | |
| 50 | | | | |

Flux
| | | | | | |
| --- | --- | --- | --- | --- | --- |
| 1 | | | | | |
| 2 | | | | | |
| 3 | | | | | |
| 3 | | | | | |
| 5 | | | | | |
| 5 | | | | | |
| 5 | | | | | |
| 8 | | | | | |
| 9 | | | | | |
| 9 | | | | | |
| 9 | | | | | |
| 12 | | | | | |
| 12 | | | | | |
| 12 | | | | | |
| 15 | | | | | |
| 15 | | | | | |
| 15 | | | | | |
| 15 | | | | | |
| 19 | | | | | |
| 20 | | | | | |
| 20 | | | | | |
| 22 | | | | | |
| 22 | | | | | |
| 22 | | | | | |
| 25 | | | | | |
| 25 | | | | | |
| 25 | | | | | |
| 25 | | | | | |
| 25 | | | | | |
| 30 | | | | | |
À propos de moi
Hello!
I have quite a diverse taste in music. Mainly Classic Rock, I also like Metal, Punk, New Wave, good old Rock n Roll, even old swing music. Very open minded when it comes to music, Im always looking for new stuff to listen to. Feel free to listen to my library, won't be to everyones taste of course.
Last.FM Milestones
1st track: (17 Jun 2009)
Quiet Riot - Bang Your Head (Metal Health)

100th track: (05 Dec 2009)
Skid Row - 18 and Life

666th track: (14 Feb 2010)
Asia - Time Again

1000th track: (22 Feb 2010)
Frank Sinatra - My Kind of Town

2000th track: (25 Mar 2010)
Tom Petty and The Heartbreakers - American Girl

3000th track: (06 May 2010)
Megadeth - Peace Sells

4000th track: (23 Jul 2010)
Extreme - God Isn't Dead?

5000th track: (18 Sep 2010)
XTC - Making Plans for Nigel

6000th track: (06 Nov 2010)
Uriah Heep - Lady in Black

7000th track: (02 May 2011)
Dead Kennedys - Nazi Punks Fuck Off

8000th track: (19 Aug 2011)
Pérez Prado - The Peanut Vendor

9000th track: (24 Dec 2011)
Dead Kennedys - I Kill Children

10000th track: (21 Mar 2012)
Metallica - Seek and Destroy

11000th track: (14 May 2012)
Gene Pitney - Twenty Four Hours from Tulsa

Generated on 24 May 2012
Get yours here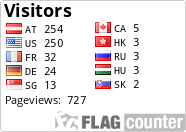 Activité récente