Flux
| | | | | |
| --- | --- | --- | --- | --- |
| 1 | | | | |
| 2 | | | | |
| 3 | | | | |
| 4 | | | | |
| 5 | | | | |
| 6 | | | | |
| 7 | | | | |
| 8 | | | | |
| 9 | | | | |
| 10 | | | | |
| 11 | | | | |
| 12 | | | | |
| 13 | | | | |
| 14 | | | | |
| 15 | | | | |
| 16 | | | | |
| 16 | | | | |
| 18 | | | | |
| 19 | | | | |
| 20 | | | | |

Flux
| | | | | | |
| --- | --- | --- | --- | --- | --- |
| 1 | | | | | |
| 2 | | | | | |
| 3 | | | | | |
| 4 | | | | | |
| 4 | | | | | |
| 6 | | | | | |
| 7 | | | | | |
| 8 | | | | | |
| 9 | | | | | |
| 10 | | | | | |
| 11 | | | | | |
| 12 | | | | | |
| 12 | | | | | |
| 14 | | | | | |
| 14 | | | | | |
| 14 | | | | | |
| 17 | | | | | |
| 18 | | | | | |
| 19 | | | | | |
| 20 | | | | | |
À propos de moi
Tomasz - Weird person. Likes stuff that supposedly doesn't go very well with eachother. Some of those are: Metal - Techno, Partying - Slacking at home, Sleeping long hours - Staying up all night. He also likes typical stuff like: Reading Books, Beer, Animals, Cute girls, LotR, Star Wars, Gym, Computer games. Also he's a big fan of Japanese culture.
Favourite Vocalists:
Tobias Sammet (Avantasia/Edguy)
Jørn Lande
I do not accept random friend adds...
If you really wish to add me at least talk to me before :)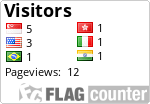 ^ Since 07.08.2010
Last.FM Milestones
1st track: (17 Feb 2010)
Avantasia - Prelude

1000th track: (26 Feb 2010)
Dimmu Borgir - Absolute Sole Right

4000th track: (01 Apr 2010)
Manowar - Revelation (Death's Angel)

8000th track: (07 May 2010)
Tenacious D - Master Exploder

10000th track: (28 May 2010)
Manowar - The Power

20000th track: (25 Sep 2010)
Avantasia - Runaway Train

30000th track: (20 Feb 2011)
Gojira - The Way of All Flesh

40000th track: (21 Jul 2011)
Behemoth - Shemhamforash

50000th track: (04 Jan 2012)
Nightwish - Ghost River

70000th track: (28 Jul 2013)
Trauma - Veil of Obliteration

Generated on 11 Sep 2014
Get yours here