Trve Kvlt MetalDernière visite : Il y a 12 jours
5

écoutes depuis le 15 juin 2011
| | | | | | |
| --- | --- | --- | --- | --- | --- |
| | | Limp Bizkit – Bring it Back | | | 12 jui. 2011 |
| | | Linkin Park – Crawling | | | 12 jui. 2011 |
| | | Slipknot – Wait And Bleed | | | 10 jui. 2011 |
| | | Korn – Make Me Bad | | | 10 jui. 2011 |
| | | Korn – Faget | | | 10 jui. 2011 |
Voir plus

Flux

Flux
À propos de moi
Im da heaviest metalhead in the world, i headbang to Slipknot after hearing "faget" by Korn and then feel the screams of the angry Chester of Linkin Park, I also listen to some Grind like Marlyn Mason, sometimes i go hardcore and i listen to Fallovt Boy, My Chemical Romance and Tokio Hotel. Did i fogot Limp Bizkit the most creative band ever??
If yov like all that plvs the xXXxxxX ♥ AmY leE , GotH QveEn Of MeTAl ♥ xXXxxxX then add me as a friend!
WARNING: If yov listen to metalcore, yov are a poser and yov shovld leave now!
This is how i become so brvtal: I was no one vntil I become a maggot, and i got to tell yov, my life has svre improved, the brvtality started to overtake me and now Im so heavy that i make earthqvakes when i headbang.... if yov are not a maggot yet, yov shovld consider it.
vpdate:
I fovnd a new extreme brvtal metal band! Its some band named Cradle of Filth. Now I become the heaviest and most satanic metalhead ever! 666 PVRE EVIL 666
vpdate:
After wandering in the satanic path created by CoF, I got abdvcted by some aliens and they converted me into the king of the extreme metal genres: Deathstep (not only Death bvt Step in the name) Check it ovt:
http://www.youtube.com/watch?v=Gl1tZ0j-Mr0&feature=related
HELP ME SPREAD THIS NEW GENRE NOW!
/m\ IM SO
ETAL /m\
Yov came as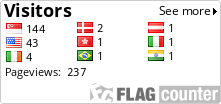 Yov left as

Nv Metal: Love.
Too many legends on this metal genre! From the spooky chords of KorN, to epic clowns of Slipknot, DJs and Limp Bizkit's originals like "Behind Blve Eyes"
Deathstep: Love
Believe or not bvt this new metal genre is the next generation of metal (hipsters come here). I can see the decade of 10's being dominated by this genre
Metalcore/Deathcore: Hate
This genres are for posers, cmon what are they doing giving bad name to all of trve metalheads like me
Thrash: Dont Like
I vsed to headband to "Nothing Else Matters" bvt Metallica released St Anger and LVLV.
Death/Black Metal: Hate
Why there is different names for this genres anyway? All I year is a bvnch of gvys choking (fetish anyone?) playing gvitars and drvmming , this genres sovnds a lot like Deathcore .
Checkovt other genres in my jovrnal!
Activité récente
MetalicIron a laissé un shout à Within Temptation .

le mois dernier

MetalicIron a laissé un shout, mais il a depuis été supprimé.

le mois dernier

MetalicIron a laissé un shout, mais il a depuis été supprimé.

le mois dernier

MetalicIron a laissé un shout, mais il a depuis été supprimé.

le mois dernier

MetalicIron a laissé un shout à Within Temptation .

le mois dernier

MetalicIron a ajouté Within Temptation à la bibliothèque de MetalicIron.

le mois dernier

MetalicIron et DantesKorn sont maintenant amis.

le mois dernier

MetalicIron et DantesKorn sont maintenant ami(e)s.

le mois dernier

MetalicIron et Dark__Prototype sont maintenant amis.

le mois dernier

MetalicIron et I-furuholmen sont maintenant amis.

le mois dernier