RSS
Partager
25 jui. 2006, 19h53m
Personal
Coil
-album reviews: number four,
Gold Is the Metal (With the Broadest Shoulders)
.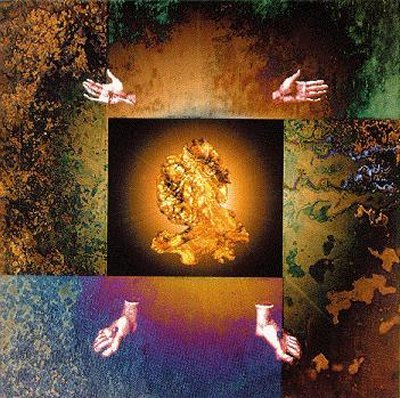 This album was originally released in 1987. The music is recorded in previous years, without a doubt.
1987 was the year that I, as a wee lad visited my first major gig (David Bowie, opening his "Glass Spider Tour', and yes, I liked the show). It was the year of the "Herald of Free Enterprise" disaster. It was the year the Iran-Contra thingy in America surfaced, IBM sold the first PS/2 computers, Macao became Chinese again and the first autographs considering the Channel-tunnel were set.
It was the year of
Official Version
and
Opus Dei
. The year Liberace died, Andy Warhol and Peter Tosh. At that time I was still trying to find a face, a pose... I was still developing my personality ;)
Track list:
[ 1] Last Rites of Spring
[ 2] Paradisiac
[ 3] Thump
[ 4] For Us They Will
[ 5] The Broken Wheel
[ 6] Boy in a Suitcase
[ 7] Golden Hole
[ 8] Cardinal Points
[ 9] Red Slur
[10] ...Of Free Enterprise
[11] Aqua Regalia
[12] Metal in the Head
[13] Either His or Yours
[14] Chickenskin
[15] Soundtrap
[16] Hellraiser
[17] The Wheal
[18] The First Five Minutes After Violent Death
An album that is loosely connected with
Horse Rotorvator
, (according to Coil, that is...) It contains left-overs, out takes and 'remnants of what was'. In other words, a wee look in the kitchen. More an album for you, reading this review because you like Coil then an album to start with. Most of the songs are the "less finished" versions of tracks from Horse Rotorvator, although the album also contains songs that are more related to tracks on the "scatalogy era demo's".
The total feeling is a 'less finished' one, at least... to me. That doesn't make this a bad album, it is more one for the fan, or at least, the people who like Coil. If one only likes them, and learned about Coil through their later work, this is an album that can be missed. Or purchased later anyway. It is more an album that
deepens
ones Coil-collection, instead of broadening it. There are more albums like this ;) Think 'Unnatural History' and 'Stolen and contaminated...'
Over the years the cover has gone through a few changes, and the change from vinyl to CD has caused the addition of two tracks. Mind you, every single version of this album (legal as well as pirated contains a screw up regarding the last three tracks... they are incorrectly cut)
Track by track:
[ 1]
Last Rites of Spring
This track is basically
The Anal Staircase
, but without the lyrics. First time I heard this album, and didn't pay attention to it, the first track had passed and the next began before I realised I was not listening to "Horse Rotorvator".
[ 2]
Paradisiac
A track best fitting on "Scatology' in my opinion. The atmosphere is as dark and hot as that album. I hear hints of "Aqua regis" throughout this track.
[ 3]
Thump
A track with the same feeling as "Penetralia" on "Horse Rotorvator". Less suitable for the mediational purposes I gave to that track, due to the huge amount of shouting people in the first minute, but none the less the feeling is almost the same...
[ 4]
For Us They Will
Once again a track that could have been on "Scatology", that is, as long as you listen to the music. The lyrics and the picture John sketches here is more fitting on "Horse Rotorvator". Since this track is clearly neither fish nor flesh, this album is a fitting place.
[ 5]
The Broken Wheel
One of two versions of this track as they are on this album. A third, which is almost the same as the later version on this album was released as a single that came with this album. This track has, as
this site
claims, a '(weird conversation about fucking)'. Other versions contain more understandable lyrics.
[ 6]
Boy in a Suitcase
A much longer version was recorded during the 'scatology'-era. The demo's from round that time contain a six minute version. This one goes on, without hesitation into..
[ 7]
Golden Hole
Nowadays I spent some time listening to
martial industrial
music. Whilst listening to this track I realise that there is hardly anything new in this world.
[ 8]
Cardinal Points
A track that has a feeling of a horror movie. Not too strange, since this song is one of the tracks Coil recorded for the first Hellraiser movie. (The story goes that Clive Barker found the finished product too scary and released the movie therefore with a different score... my personal idea is that it is a nice story.)
[ 9]
Red Slur
There is quite a number of Coil-tracks with colours in the title. My collection contains 6 of them with the colour 'red'. Apart from the title there is no easy connection between this one and "Slur" on "Horse Rotorvator". Neither the music nor the vocal additions bear any resemblance.
[10]
...Of Free Enterprise
This track has a real connection with "Herald" on "Horse Rotorvator". The 'Herald of Free Enterprise' was a ferryboat that sank just out of the Belgian port of Zeebrugge in 1987. Both tracks spell the name of the boat and are very similar in sound.
[11]
Aqua Regalia
Although the title might lead one to think so, once again, this track is a one off... no relation towards "Aqua Regis", but this a complete different track. Best album to place it is this one.
[12]
Metal in the Head
The trick Coil plays here, will be repeated into perfection on
Love's Secret Domain
when they record "Scatology", searching the airwaves until you find the song you are making. It might be as well we hear the very first piece by
ELpH
here. The end of the track sounds like a piece of pub-talk.
[13]
Either His Or Yours
A little of a vaudeville-tune. It is easy to whistle, easy to listen to, too. It can make a person really happy at times.
[14]
Chickenskin
Early, early Coil, pre-dating
Love's Secret Domain
, can very easily be connected with horror-movies. The title of this track is, when translated into Dutch (which happens to be my mother language), called "kippenvel"... In English that is something like 'goose bumps'.
[15]
Soundtrap
I don't really know what to do with this track... 38 seconds is too short, I guess...
[16]
Hellraiser
CD only
I said so before, this track, and the two to follow are a bit messed up on all the CD's ever made.
This one was meant as the main-theme for the Hellraiser movie. I guess I am not the only one who tried the movie with this playing instead of the official score. It makes the movie a lot more creepy. More about these tracks in my next reviews.
[17]
The Wheal
CD only
Earlier on the album we found another track, 'the Broken Wheel'. Here the circle is repaired and we hear something that is very close to the version that contains the lyrics.
[18]
The First Five Minutes After Violent Death
This song is almost identical to the original. The differences are small. I stay with my earlier remark:
Five minutes... if this is what we have to endure when we die, I wonder what we are living for. This is an inviting tunnel, with lights in the end that are not about to crush you.

When I have died, and my friends and family are there to bury or burn me, please... play this song!
I have to admit, writing these reviews is a little bit more work then I first anticipated at start. It is strange to hear and re-hear an album again and again. Albums like these are even harder, since I try to be sort of complete and try to find tracks that are connected. I don't claim to be complete, and am stating only my own personal opinion.
In the end it turns out that you find small things you had completely forgotten, or never hear anymore. I hope that you, as my reader, find the things I found, or complete other overlooked details.
Earlier reviews are here:
Zos Kia - Transparent
Coil - Scatology
Coil - Horse Rotorvator
Updates are somewhere in my head or on my hard drive... they will emerge here sometime.
Commentaires