RSS
Partager
22 jan. 2010, 0h26m
Mon 18 Jan – John Mayer, Codeine Velvet Club
Starting the party in Hammersmith was
Codeine Velvet Club
, and in fairness they did a fantastic job at keeping the crowd happy in their painful wait for the man of the moment. Fans of
The Fratellis
will know CVC to be the side project of front man John Fratelli, forming a duo with singer Lou Hickey. The band raced through an energetic set, displaying a toe-tapping combination of rock'n'roll and Fratelli-esque guitar riffs. Despite the quality of their half an hour set, there was no denying that the crowd were becoming agitated, and Codeine Velvet Club were denying the inevitable - John Mayer.
As the clock ticked over to 9pm, the Hammersmith Apollo went dark. John Mayer emerged from the darkness, flanked by former Pretenders guitarist Robbie McIntosh, long-time friend/producer/drummer Steve Jordan, as well as the ever-phenomenal guitarist David Ryan Harris, along with a whole entourage of incredibly talented musicians. As with the first two dates on this four-piece UK tour, Mayer opened up with a powerful and resounding version of
Heartbreak Warfare
, a fan-favourite and current single from his latest record
Battle Studies
. After intricately picking his way through
Crossroads
and
Vultures
, he addressed the crowd properly for the first time:
"How many you out there are single? And how many of you consider yourselves to be...perfectly lonely?"
asked Mayer before playing, funnily enough,
Perfectly Lonely
. For his next song, Mayer unexpectedly turned the clocks back, bursting into one of his hallmark tracks.
"Let's get rid of all this completely benign, crap, wasting time...let's lift all the worry off for the rest of the night. Too much worrying...this was at a time where I made worrying into an art form, on the Room for Squares album, check it out."
Whilst strumming out
Why Georgia
, Mayer found himself almost out sung by the 2,000 ecstatic backing vocalists. He metaphorically handed the microphone to the people of London, during the breakdown, "so what so I've got a smile on." Halfway through the song, he smoothly slid into a breakdown, treating the crowd to snippets of 'I Want You Back' by the Jackson 5, and his very own
Clarity
, backed by a guitar riff that he's been playing since his 'Any Given Thursday' days. It was the only song that Mayer played from his critically acclaimed debut album 'Room For Squares', but that fact went virtually unnoticed, as the US singer faultlessly tore though song after song, reaching perfection every time.
After relaying an impeccable version of
I Don't Trust Myself (With Loving You)
, Mayer and his band swept through a mesmerizing blues jam. Initiated by a entrancing, flawless, three-minute drum solo from the fantastic Steve Jordan, Mayer and his cavalry contributed their outstanding talents before gliding into a spellbinding recital of
Continuum
hit
Belief
. The Connecticut-born musician then reached back into his stash of mainstream 'pop' songs, wowing the people of London Town with gorgeous vocals on both
Half of My Heart
and
Waiting on the World to Change
.
"Everything's gon' be alright this evening!"
sung Mayer, before starting another one of his quirky monologues.
"you having a good time so far? We're gonna send you out with a couple more! One more time thank you guys so much, thank you for making us feel like we never left home, this is unbelievable, we hope you're having the time of your life out here."
Mayer appeared to be getting a little sentimental, but quickly showed his jokey side again before playing a standout track from
Heavier Things
,
Bigger Than My Body
. This song held significant importance for me, as it was the first time my ears were blessed with the magic of Mayer.
Mayer closed out the first part of set with the most poignant speech of the night:
"As much I as I goof around, as much as I sound sincere...I'm actually just sincere but extremely nervous,
" as Mayer continued to talk, the opening chords of
Gravity
began to faintly appear in the background.
"So whenever you read something that's a goofy statement or something, that's just me being sensitive but like tucking it behind a whole bunch of layers and bullshit – but I can't ever bullshit this song, so I just have to say that before I play this. This song saved my life."
What succeeded the speech was quite possibly the most intricate, heartfelt and emotional performance of anything I've ever seen in my life (yes, even more so than Bon Iver). John had been on flawless form all night, but this rendition of 'Gravity' really was on another level. I can assure you that the majority of the Apollo was fully aware of John's talent – that said, I'm not sure just how many people were prepared for what was to follow. He had the entirety of the venue in absolute awe, completely still and fixated by his velvet voice, mesmerized by his jaw-dropping guitar playing. I myself have been to countless shows, but never in my life have I been so taken aback by one song, spending the final minutes of it simply standing with my hands on my head in sheer disbelief – I was lost for words. For fourteen and a half minutes, Mayer and guitarist David Ryan Harris serenaded the crowd with their tantalising picking and delicate harmonies, and towards the end of it, in the middle of yet another breathtaking solo, he simply mouthed the words "thank you." His genuineness was incredibly apparent, clearly overwhelmed by the crowd's response. Mayer left the stage to a rapturous applause, only to return 2 minutes later.
After Mayer retook the stage, he played a spectacular version of Tom Petty's
Free Fallin'
, explaining that he sings it differently than Petty because when he first covered it, it was 4am and he didn't want to wake his neighbours by hitting the high note in the chorus (I, for one, would happily be awoken by the sound of John Mayer at 4 in the morning). Mayer also treated us to the first verse of
Stop This Train
, before intelligently melting it into recent single
Who Says
, possible because of the songs being in the same key. Mayer ended his stay in the capital with the most epic of finales, capping off a fantastic evening with a euphoric performance of
Friends, Lovers or Nothing
. The song climaxed with Mayer coming down to the crowd, signing memorabilia with one hand, shredding with the other. He then proceeded to play his guitar with the very items that he'd signed, even using a Sharpie as a slide.
All-in-all, it was a monumental night. Mayer's performance was raw, captivating, and ever so touching. Every note that left both his guitar and his mouth was as pure as can be, sending shivers down the spine of every person in attendance. Never before have I witnessed such musical perfection at such a consistently high level, and never will any of us ever forget that performance, and no account, picture, or video could ever do it enough justice. John returns to the UK on the 27th May to play Wembley Arena – if you were wise, I'd try and get tickets.
John Mayer played:
Heartbreak Warfare
Crossroads (cover)
Vultures
Perfectly Lonely
Why Georgia
I Don't Trust Myself (With Loving You)
Belief
Half of My Heart
Waiting On The World To Change
Bigger Than My Body
Gravity
Free Fallin' (Tom Petty cover)
Stop This Train (up to end of 1st chorus) / Who Says
Friends, Lovers or Nothing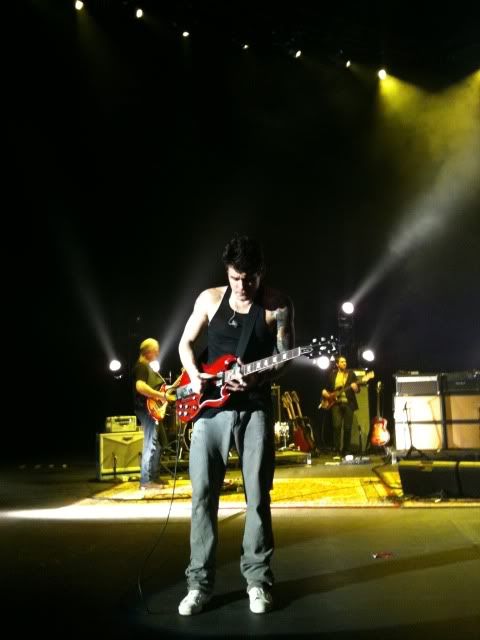 Commentaires