RSS
Partager
15 jan. 2010, 23h11m
Find all these albums, along with to 25 EPs/Demos of 2009 and hundreds more artists and albums on Watch the Tapes! Comments are appreciated!
2009 was quite a year. A lot happened in the world, in my life, and in music. In theory, those all seem like distinct things - but retrospectively, they can be hard to differentiate from one another. Events blur together, timelines become jumbled, memories get obscured by the haze of passing time; memories of how I felt, memories of people I know (or knew), and memories of the music that soundtracked it all. Most people seem content to simply let these things slip into the past, marching merrily into the future, but I'm never able to fully let go, it seems, and this process of archiving my favorite albums of the year reflects that in a big way.
When I look back at this list in the year(s) to come, I'm not going to see an objective list of the best albums of 2009; I'm not even going to see a list I agree with anymore. Even while I was making it, I knew that six months from now I won't feel the same way about it. But hopefully seeing these albums will trigger the memories I have associated with them, and let me drift, at least for a while, amongst my own self-imposed catharsis.
Of course, these associations aren't present for you; you didn't have the same experiences I did, and thus won't feel the same way about many of these albums. This list is wide-ranging in terms of genre, level of exposure, and critical acceptance, because those things don't really matter to me; this is a purely subjective list of my own tastes and preferences, and I don't claim it as anything else. Still, I think that this is all wonderful music, and I hope you think so too.
While this list is a retrospective one, it's also a way to begin closing the door to the past year and decade, and marching, as I put it earlier, merrily into the future. Here's to the new decade ahead of us, and all the crazy times, people, shows and albums it's going to bring us.
Cheers.
100.
Letting Up Despite Great Faults
-
Letting Up Despite Great Faults
This LA indietronica group has drawn a lot of comparison to
New Order
, and that's certainly an applicable comparison to make; I think what keeps them from being simply a nostalgia-obsessed novelty is that there's an almost-overbearing sense of youthful hope present in their fuzzy pop sounds, and this hope makes the listener feel like a kid again. It's music that takes you back to a time when friends don't hurt you, love is perfect, and the world is still a big, scary, exciting place. It's a nice feeling to have.
99.
Dial M for Murder!
-
Fiction Of Her Dreams
The latest group to hop on the post-punk revival train that's been oh-so-popular in the past decade, Dial M for Murder! is a two-piece from Sweden that makes gothic-tinged post-punk reminiscent mostly of recent groups such as
She Wants Revenge
. They don't bring much new to the table with this release, but it's a great escape from the, erm, less-inspired revival bands that get a lot more attention than this group (
Interpol
, anyone?).
98.
Michita
-
Three
Michita is a Japanese DJ who makes mostly instrumental jazz-hop, with small amounts of rapping interspersed throughout. This album is full of beautiful, dreamy sounds that have a consistent feeling of frigid cold and dark nights, and it lets you sit back and contemplate whatever's on your mind. The hour-plus runtime doesn't once enter into my thoughts when listening to this.
97.
Viva Voce
-
Rose City
The terms slowcore and indie pop might seem like they can't exist within the same band, but don't tell that to this married couple from Portland. Their influences are across the board, from psychedelia to shoegaze to twee, and all that results in a dreamy, guitar-driven pop sound that totally envelops any willing listener. Catch them live if you can; they put on a wonderful show.
96.
Over Stars and Gutters
-
Consider This Your Curse
I'm a sucker for a good local band, and I'm an even bigger sucker for
Jawbreaker
hero-worship. Aggressive and catchy and the same time, this Norman, OK group always sounds like they're having a great time with what they're doing, and it's an infectious sentiment, because their music makes you feel a little bit more alive (or at least a little bit more pissed off).
95.
The Joint Chiefs of Math
-
YOU ARE HERE.
The Pennsylvania scene kicked all kinds of ass in 2009, and the Joint Chiefs of Math are a great example of that. This guitar and drum duo makes noisy, chaotic, mathy post-hardcore sounds. I think I read somewhere that they're like a more coherent Lightning Bolt, which is an excellent description. These guys take a tired sound and make it sound fresh and exciting again.
94.
Rodrigo y Gabriela
-
11:11
If you aren't familiar with this duo of Mexican virtuosos by now, this is the time to start. Their music is made entirely with their two acoustic guitars, and they are absolutely incredible on these instruments. They manage to achieve a fuller sound than some bands with five or six people in them, and their technical skill is just unparalleled. But this isn't the mindless, masturbatory tripe most of us (myself especially) expect from the word 'virtuoso'; Rodrigo y Gabriela are excellent songwriters, and don't ever lose my attention. They truly push the boundaries of what can be done with a couple of guitars.
93.
Hiawata!
-
These boys and this band is all i know
This quaint little group from Oslo have spent the last few years charming hearts all over the world with their earthy, powerpop-influenced indie pop sound. There must just be something about Northern Europe that causes people there to make so much of this blissful, cheerful music. Maybe it's in the universal healthcare. Whatever it is, I hope it doesn't change anytime soon.
92.
You Say Party! We Say Die!
-
XXXX
I've never been a big fan of this Canadian dance-punk group, but there's something about this release that caught my attention. Their new wave leanings are either getting stronger or I'm just now noticing them, but this is a deliciously dancey album. Perhaps not a party disc, but, their name should tell you that much.
91.
Polar Bear Club
-
Chasing Hamburg
Ever since I heard their debut release, Sometimes Things Just Disappear in 2008, I've been in love with this New York post-hardcore group and all their catchy pop-punk leanings that provide many sing-a-longs (or shout-a-longs). This album shows them continuing the trend, still filling the listener's ears with lines like "You don't have to be an asshole / to be an artist" that ring especially true coming from a band that sounds so honest and happy with what they're doing.
90.
The Mountain Goats
-
the Life of the World to Come
Singer-songwriter John Darnielle released his 17th album with the Mountain Goats in 2009, with each track being named after a Bible verse, and the lyrics being inspired by the verses the track is named after. It's an interesting approach to be sure, and while it might scare off the less religious among us, there's no reason for it to do so; religion is nothing new on Darnielle's inspirational pallet, and this album is one of the Goats' best in years.
89.
Greenland Is Melting
-
Our Hearts Are Gold, Our Grass Is Blue
The Gainesville scene may be totally oversaturated with folk punk groups, but three-piece Greenland is Melting fit in happily with their banjo/acoustic guitar/bass combo. While a lot of other bands try to pass off anything acoustic and twangy as "folk punk", these guys legitimately make a bouncing, bluegrassy, backwoods ruckus. And it's a lovely one.
88.
Bibio
-
Ambivalence Avenue
Stephen Wilkinson, aka Bibio, switched over to
Warp Records
last year, and it marked (at least on this release) an interesting shift in his style. Previously something of a one-trick folktronica pony, this album has him experimenting significantly with his own sound, turning his ambient musings into pop songs with ambient backlays. This is a beautiful little release, with the sounds and feeling of nature being ever-present.
87.
Fool's Gold
-
Fool's Gold
The 'afro-pop' phenomenon has been gaining ground the past couple of years, and while it's still be to seen whether or not that's a good thing, LA group Fool's Gold existing certainly points towards yes. With shimmering tropical guitars and vocalist Luke Top's Hebrew singing, Fool's Gold sounds like they should be floating on a raft near a beach somewhere, creating the backdrop for playing children and young lovers and open-fire cookouts and whatever else you think about when you think about beaches. Wonderful sounds for all!
86.
Norfolk
-
The 71 Functions of Consciousness
Norfolk is a melodic alt rock band that I found out about on Waffles.fm's artist feature thing, and I'm glad I checked them out. To me, they sound a lot like
Oasis
(when Oasis was good, I mean, not Dig Out Your Soul or whatever), except with more piano and less British accents. I guess you can decide for yourself whether or not that's a good thing.
85.
Dälek
-
Gutter Tactics
Hip-hop, despite what many people think, has always been about experimenting with sounds, putting things together that probably shouldn't be put together, and pushing the boundaries of what's expected (or even allowed) in a genre or scene. So while it may seem like Dälek is hip-hop in name only, realize that in reality they're the perfect example of what it means to be a hip-hop group. This duo makes dense, abstract, industral hip-hop (they've done a collaboration album with Faust - seriously) with strong political overtones, and while it might seem heavy-handed at first, Gutter Tactics becomes, after a few listens, a clear masterpiece by two incredibly talented individuals who are at the top of their game, whatever that game happens to be called this week.
84.
Silversun Pickups
-
Swoon
Swoon is a very apt title for the second album from this shoegaze-leaning alt rock group; this release twists and turns though self-described "nervous breakdowns", but through it all there's a constant mood of a beauty that's almost too much to put words to. Brian Aubert's unique vocals have an ethereal sound that soothes the listener, while at the same time the other members are trying to pummel you with fierce sonic assaults.
83.
The Idle Hands
-
The Hearts We Broke on the Way to the Show
Constantly surrounded by pseudo-sincere, bored-sounding, too-ironic-for-their-own-good indie 'rock' groups, it's not very often these days that we get to hear a genuine, unabashed rock 'n roll record, but the Idle Hands have given us just that with their debut album, The Hearts We Broke on the Way to the Show. Make no mistake - these are not a bunch of kids who've played
Led Zeppelin I
and
Black Sabbath
one too many times. This is far removed from the classic rock worshiping bullshit we've been enduring for the last seven or eight years, and instead shows these lads as a rock band for a new generation. It would be wonderful to see this group hit it big, and my fingers are definitely crossed for their future.
82.
Brother Ali
-
Us
There's a lot of hip-hop out there, both in the mainstream and the underground, that is dishonest and pointless. Brother Ali isn't among that group. On his fourth album, this Minneapolis rapper begins to utilize live instrumentation, and it causes Us to sound organic and fresh all throughout. He's also starting to mellow out, and while for some artists that ends of being the kiss of death, for Ali it just cements that he's a unique talent no matter what he's rapping about.
81.
Bombay Bicycle Club
-
I Had the Blues But I Shook Them Loose
This release got quite a lot of hype in the UK, but over here on the other side of the pond it went nearly unnoticed, which is a shame. Britpop is a sound that's on its last legs, but Bombay Bicycle Club are trying their best to keep it alive by making it not sound like someone dug up a time capsule from fifteen years ago and found unreleased Blur songs. The highlight here is "
Cancel on Me
", which is one of my favorite tracks of the year.
80.
Anamanaguchi
-
Dawn Metropolis
The resurgence and popularization of the chiptunes genre has been one of the strangest things to happen in the past ten years of music. And while its mainstream acceptance seems to have both begun and ended within the span of sixteen months, both thanks to that two-piece shitfest from Toronto who shall go unnamed, there still remain the tireless heroes of a dangerously-kitschy style of music, Anamanaguchi among them. Shredding your face with guitars while pumping out synthy, infectious beats with their old NES system, this group is possibly the best example of a genre that probably never really had a chance to survive. Get your geek on.
79.
Other Lives
-
Other Lives
Seeing this Stillwater group perform a short in-store at my local record shop was one of the surprising live highlights of 2009. I'd heard their name a time or two, but never bothered listening to them until their folksy pop hooked me in at their show. This is a lovingly crafted album of earthen, natural pop gems that shine even though they sound covered by a layer of dirt and leaves.
78.
Pearl Jam
-
Backspacer
Pearl Jam have had a hell of a ride since they released
Ten
back in 1991 - that's almost twenty years ago, if anyone's keeping track - and while most rock groups have trouble making it past their sophomore effort, especially when they're having to contend with the dangers of fame and fortune, this band is still kicking out great music nine albums later. But this isn't just rehash, and it isn't something for only the dedicated fan - it shows this group still sounding like nobody else, even themselves. Full of short-yet-jammy and pointed-yet-thoughtful songs, Backspacer is their best album in over ten years; two decades later, they're still rocking the world and making fresh music, and there's a lot to be said for that.
77.
The Antlers
-
Hospice
When I heard this album the first time, I was summarily unimpressed, especially considering the endless stream of praise it's been receiving for the past ten-odd months. But listening to it again, I realized my initial reaction was because I'd overlooked the crucial element to appreciating this album - the lyrics. Telling a detailed first-person story of a doctor falling in love with a dying cancer patient, their abusive relationship, and her inevitable death, Hospice is an emotional wrecker of an album; it's almost too much to let yourself think about all at once. Let it play in the background, and it will probably bore you; pay attention to it, and it might hit you like a ton of bricks.
76.
múm
-
Sing Along to Songs You Don't Know
This Icelandic group has always been unsure of what kind of band they want to be. Electronic? Post-rock? Pop? I don't think they've figured it out yet, but on their latest album these elements all come together beautifully, to create a relaxing and homely little release of electronic pop.
75.
Adam Lambert
-
For Your Entertainment
I can almost hear the sound of three hundred people removing this blog from their bookmarks in unison. Yes, most "American Idols" are shameless corporate whores. Yes, Adam Lambert is most definitely among them. Yes, I love this album anyway. Lambert is apparently trying to bring back eras of the musical past that most of us spend our time trying to forget. Well, we're all fucked then, because he's great at what he does, and he's just getting started. Swallow your pride, take the plunge into this piece of campy '80s insanity, and just try to keep the grin off your face.
74.
Discovery
-
LP
This duo, made up of
Vampire Weekend
's keyboardist/guitarist/backup vocalist and
Ra Ra Riot
's vocalist, may make the same shiny, ultra-produced electropop we've had shoved down our throats the past decade, but damn if they aren't good at it. Bouncy and shimmering, this album calls you back the summer of '08 when Vampire Weekend was inescapable, and has hipsters everywhere - despite their (our?) best attempts to put on a frown at the sight of repetitive dance music - finding themselves bobbing their heads when the club's PA system starts playing "
Osaka Loop Line
" or "
Orange Shirt
".
73.
Daniel Johnston
-
Is And Always Was
Is their anything that hasn't been said already about Daniel Johnston? He's the quintessential mad genius of the music world, having been praised by some the biggest artists ever (we've all seen Kurt Cobain's t-shirt with Johnston's little alien drawing) despite his reclusive nature. He may not be the most consistent artist around, but his 2009 release is a definite hit. His introspective, sometimes childish lyrics are present here as always, as he sings about love, loss, joy, insanity, and the rock n' roll he so loves.
72.
Coffee & Cigarettes Band
-
Love Thing
I admittedly don't know much about this Japanese jazz group, but I do know that Love Thing proved itself to be my favorite midnight-listening album of the last year. Their lo-fi, downtempo chillout beats provide an incredibly fitting soundtrack to those strange hours when you should probably be asleep but aren't (hours I have a lot of). Entirely instrumental aside from the final track (which happens to be one of my favorites), this is an album that you simply turn on and let yourself drift away with, into the endless labyrinth of late-night thoughts.
71.
Au Revoir Simone
-
Still Night, Still Light
This trio of lovely Brooklyn ladies continued to woo even the deadest, blackest hearts with their third release, Still Night, Still Light. Their synthy indie pop is infectious to say the least. Perhaps one of the most feminine acts in my library, Au Revoir Simone always seems to make their way onto my chillout and happy playlists. Sometimes I get lost in their deceptively-simple music and find myself listening to their albums for hours at a time; I'm not complaining.
70.
The Ghost of a Thousand
-
New Hopes, New Demonstrations
New Hopes, New Demonstrations would like a word with anyone who steadfastly believes in the infallibility of the 'sophomore slump' phenomenon. The second album from this Brighton group is a tight, concise, focused hardcore release, but unrestrained in all the right ways; I don't think it's unwarranted to compare them - favorably - to
Refused
. Tom Lacey belts out his angry, passionate vocals all throughout, and when he shrieks lines like "Fucking new romantics / it's only rock 'n roll / this is our religion / as heaven we'll never know", the temptation to shout them back at your stereo is just too much to resist.
69.
The Swell Season
-
Strict Joy
The Swell Season is a collaborative project between 39 year-old
The Frames
vocalist/guitarist Glen Hansard and 21 year-old Czech vocalist/pianist Markéta Irglová, a duo you may be familiar with from the 2007 film Once (in which they were the stars), which earned them an Academy Award for their song "Falling Slowly". At one point romantically involved, these two have an incredible artistic tension between them, and it floods through every track of this release. It's hard not to feel that many - if not all - of these tired, bitter songs of love and heartbreak are directed at one another. This pair has quite a history behind them already, and it seems they're taking all of their listeners along for the ride, wherever it leads.
68.
Cursive
-
Mama, I'm Swollen
If you're hoping for
The Ugly Organ
Part 2, look elsewhere, because this album isn't it. But that's not to say that it's worse, because it's not - it's just different. The tinges of their past emo rock are certainly discernible, but this album has the band taking a more conventional approach at, as much as I despise the term, indie rock. Closing track "What Have I Done?" is a somber reproach against past mistakes, and ends up being an unexpected highlight in what is, at its core, a rock album.
67. Metric - Fantasies
This Canadian indie pop group has been making waves for the better part of the last ten years, and their latest effort is no exception. Led as always by
Emily Haines
' frail-yet-confident vocals, the band tones down the new wave influence on this album, opting instead for a more in-your-face rock approach. Of course, they're still a pop band, and they don't let you forget that as Haines asks the listener "Who would you rather be? /
The Beatles
or
The Rolling Stones
? / oh seriously / you're gonna make mistakes, you're young / come on baby play me something, like 'Here Comes the Sun'".
66.
Starlight Mints
-
Change Remains
Living in Norman, Oklahoma and not being a fan of Starlight Mints is something akin to living in Green Bay and not loving the Packers. But that's okay, because the Mints are a consistently great band, both live and in the studio, meaning the town-wide worship is certainly deserved. So it's no surprise that Change Remains found its way onto my list, but it's not here because of pride for a local group - it's here because it's a fabulously off-beat album of danceable psychedelic pop. Nobody sounds quite like the Starlight Mints.
65.
Another Breath
-
The God Complex
Syracuse hardcore Another Breath leaped into this list at the last second, with the December release of The God Complex, which is probably their best album to-date. They've been pumping out thrashy, melodic hardcore for most of the decade, and on this album their thought-provoking and personal lyrics, in the words of the band, "dig deep in their search for answers in this world of uncertainty". A lot (read: most) of otherwise-promising hardcore groups have a nasty tendency to sink their own ships by having only the illusion of passion (which in most cases is immediately transparent), but that's never been less of a problem for Another Breath than it is on this album.
64.
The xx
-
xx
People have done a lot of talking and a lot of blogging about this London group who quietly (and successfully) stormed the front gates of the mythical hipster palace in 2009 with their eponymous debut album. Influenced in equal parts by post-punk, goth rock, and electronic music, the xx created a mysterious little gem of an album that feels as if it never really stops hiding in the shadows. An interesting and unique release from a band that sounds like they might have a lot to say, once they find their voices.
63.
U2
-
No Line on the Horizon
Everyone's got their opinions on U2. Some love them, some hate them, and many are totally indifferent to the group's existence (though that may just be the reflection of an apathetic generation). I may not align myself entirely with any of those positions, but they've always been a band I can appreciate. No Line on the Horizon initially struck me as an uninspired effort from aging and largely irrelevant rock stars, not much more than fodder for the SUV stereos of soccer moms everywhere. But there's a lot more to this release, and I don't feel out of line saying it's their best album in twenty years (or, at the least, 12). This album has a surprising amount of nuance and grace, considering it comes from a band who spent the second half of 2009 touring the world with literally the biggest stadium show ever. Love them or hate them, No Line on the Horizon shows that U2 isn't about to be irrelevant anytime soon. And if you're on the fence, this album might pull you over to the side of appreciation, and maybe even love.
62.
Touche Amore
-
...To The Beat of A Dead Horse
This genre-crossing group from Los Angeles made a lot of noise in the screamo world with ...to the Beat of a Dead Horse. Short and to the point, this album screams in your face before retreating quietly back to whimper in a corner (and I say that in the most flattering way possible), then comes back out and does it a few more times. Passion is overflowing from this release, and it's impossible not to get caught up in it.
61. Various Artists -
Ciao My Shining Star: The Songs Of Mark Mulcahy
Twenty-one artists came together to record this tribute album to the frontman of
Polaris
and
Miracle Legion
,
Mark Mulcahy
, after his wife Melissa (pictured on the cover) died unexpectedly, leaving him with twin three year-old daughters and the hope that he can continue to make music despite this new, staggering pressure on his life. There are a lot of big names present on this compilation, which is all the better to bring attention to it. Among them are
Thom Yorke
,
Michael Stipe
,
Pixies
frontman
Frank Black
,
Dinosaur Jr.
,
Mercury Rev
,
Vic Chesnutt
, and
The National
, which leads to a wide variety of styles and genres being present as these artists cover songs from Mulcahy's entire career in unexpected and powerful ways. I highly encourage you to purchase this album if you can, to help a wonderful artist continue to follow his passion.
60.
Roman Candle
-
Oh Tall Tree In The Ear
This charming little alt country band from North Carolina reminds me a lot of what I wish
Wilco
still sounded like, embracing the country twang and label without even a hint of hipster irony. Do you want banjos and stories of drinking, reminiscing with paroled convicts, and horribly failed relationships? You're in the right place.
59.
As Cities Burn
-
Hell Or High Water
It's always such a shame when a band finally finds the sound that works for them, only to break up a short time later. As Cities Burn spent a few years making middling, largely-uninspired post-hardcore records, their continued existence apparently fueled only by the fervent nature of the
Tooth & Nail Records
fanbase. Then in 2009, I checked out what turned out to be their final release on a recommendation from a friend, and was very pleasantly surprised. There's no more mindlessly appealing to their current fans done on this album; Hell or High Water is an album of focused, controlled prog-leaning alt rock that puts to shame their previous efforts (and most of their labelmates as well).
58.
Ghost
-
Freedom Of Thought
This UK producer released his second album in 2009, and it's a gloriously engaging affair, leaving you constantly unsure what exactly it is you're listening to. Sometimes it feels like a trip-hop album, sometimes hip-hop, and sometimes laid-back, loungey jazz. It's a varied album to be sure, but Ghost is such a talent that this doesn't sound scattered, but relaxed and assured of itself.
57.
Sugarplum Fairies
-
Chinese Leftovers
This release was one of my mainstays of 2009. Sugarplum Fairies are a guy/girl duo from LA who make jangly, dreamy, folksy indie pop with a lazy-Sunday-afternoon feel to it (maybe I'm only saying that because of the track "
I Hate Saturdays
"). Some of this calls to mind the slower, mid-career work of
The Velvet Underground
, and I'm not sure how I could give them any higher praise than that.
56.
Bishop Allen
-
Grrr...
There are bands who keep doing the same album over and over, to the point where everyone gets bored, and the band stops mattering. Then there are bands like Bishop Allen, who find a formula that works and stick with it to the great contentment of their fans. There's certainly nothing in this release that hasn't been heard before, but this Brooklyn group isn't concerned with pushing boundaries or jumping on the newest trend. They just want to sit around with their guitars, piano, and maybe a ukulele or two, and do all they can to put a smile on your face. So far, they haven't dropped the ball on that one.
55.
Johnny Foreigner
-
Grace And The Bigger Picture
I've heard some people refer to this band as 'noise-pop', and while I find this term to be downright vile, I suppose it is a fairly good description of what they sound like. Johnny Foreigner draws a lot of comparison to
Los Campesinos!
, except instead of the
Sarah Records
catalog sitting on their shelves, they have an overabundance of
Touch And Go
releases. Chaotic and sarcastic and, yes, noisy, but with a sweet and surprisingly innocent heart, this album throttles you along for roughly 30 minutes, leaving you unsure if you did a line of coke, or just ate a really big bowl of cereal with sugar poured on top.
54.
jj
-
jj n° 2
I'm going to be honest - I've got mad fuckin' respect for any band who can turn
Lil' Wayne
's "Lollipop" into a dream pop song. This media-shy group from Sweden did just that on their second album, and the results are surprisingly awesome. jj n° 2 is barely long enough to be called a full-length, and that - along, of course, with its ethereal sound and obscured lyrics - lends itself very well to repeated plays. This is the type of album you have trouble just spinning once.
53.
Black Moth Super Rainbow
-
Eating Us
I guess this Pittsburg psych group must have gotten tired of making blissed-out releases which are essentially the sonic representations of drug trips, because on Eating Us, their fourth album with the name Black Moth Super Rainbow, they decided to actually make things that can be called songs. It's almost a pop album! Still, this is the BMSR we've all grown to know over the past decade, so don't be turned away if you're one of those odd folks with irrational fears of traditional pop structures in your music.
52.
Urthboy
-
Spitshine
One of the oddest - as well as one of the most oddly consistent - things about my musical taste is that I don't like Australian music. Maybe there's just too much of a culture gap or something, but 80% of what I've heard from that country seems to consist of cheap, quasi-quirky imitation of other bands. Maybe they just assume no one is listening, so no one will notice. But enough about that - Urthboy is a wonderful Australian artist, which is something I always enjoy finding. Spitshine is his third album, and what hooked me in initially was the brilliant video for the brilliant track "
Hellsong
". Try to get it out of your head.
51.
Thrice
-
Beggars
Oh, Thrice. You've always been hit-and-miss for me, but on this newest album, you've gotten a magnificent hit, in my mind at least. Beggars isn't going to please everyone, especially big fans of their older work. This is not a post-hardcore album, in any sense of the term. What it is is the sound of a band who's grown up, matured, and realized they don't need - or want - to stick to any kind of formula or pattern. While this has more in common with their last few albums, I'd say it's much more clear-headed than those releases, and for a band who seems to have turned their back entirely on their past, that can only be a good thing.
50.
Telefon Tel Aviv
-
Immolate Yourself
Immolate Yourself, the third album from this New Orleans electronic duo, was released just a week before Charles Cooper, one half of Telefon Tel Aviv, was found dead in a park after mixing alcohol and sleeping pills. Certainly that adds to the intrigue of this complex, pop-tinged electronic release. On this album, the duo opted to switch to analog tape and synthesizers, which gives their music a dark, hazy, shadowy sense of danger. That this will most likely be their last album is a hell of a heartbreaker.
49.
Afraid!
-
Megaloklift
Afraid! is an Italian screamo band who plays a furious mix of post-punk, psychedelia, and post-hardcore, which means they end up sounding less like a screamo band and more like a strange little hardcore oddity. Regardless of what you want to label it as, Megaloklift is a loud and jammy release with biting vocals and shimmering guitar sounds.
48.
Fanfarlo
-
Reservoir
Arcade Fire didn't release an album in 2009, so Reservoir seems to have taken, at least temporarily, the space reserved in my heart for that third album. But while Fanfarlo's folksy indie pop may bear a lot of resemblance to
Arcade Fire
, they mostly take a more reserved, cautious route, often bordering on twee, but still featuring quite a few moments of larger-than-life, bombastic alt rock.
47.
Alice in Chains
-
Black Gives Way to Blue
Who'd have thought we'd ever actually see this album released? Not me. Who'd have thought it would actually be good? Not me, and probably not you. But Alice in Chains has never been a band to adhere to expectations. Their first album in fourteen years, Black Gives Way to Blue is also their first album to feature William DuVall on lead vocals (a position which he fills brilliantly and powerfully), after the death of Layne Staley that most of us saw to be the final nail in the coffin for this grunge powerhouse. Opening with the lines "Hope / a new beginning / time to start living / like just before we died", this album does exactly that; this isn't a modern radio-rock version of Alice in Chains. It sounds like not a day has passed since the era of
Dirt
and
Jar of Flies
. It's a curious thing that an album bringing me back to the fields of early '90s grunge could sound like such a breath of fresh air.
46.
We Are Hex
-
Gloom Bloom
The first description I ever read of We are Hex was that they were a "messy pile of pop slop", and, well, my hopes couldn't have been higher after hearing that. Luckily, this Indianapolis group didn't disappoint. This album consists of fuzzy, off-the-wall psychedelic madness, with booming drums and pulsating rhythms, and a female vocalist who reminds me in a big way of
PJ Harvey
; in fact, this release isn't a whole lot unlike a more chaotic version of Harvey's early work.
45.
The Pains of Being Pure at Heart
-
The Pains of Being Pure at Heart
The Pains of Being Pure at Heart got a lot of hype in 2009, most of which was deserved. They wear their jangle pop influences on their sleeves, taped up right next to their hearts. I feel like there isn't much to be said about them that hasn't been said already, but this is a lovingly crafted slice of twee revival that shouldn't be passed up by anyone.
44.
Alexisonfire
-
Old Crows / Young Cardinals
Say what you will about the most vocal of their fanbase, but Alexisonfire is one of the best post-hardcore groups around, and has been for quite a while. They continued the trend on Old Crows / Young Cardinals, with dueling vocals swinging between screaming and clean singing dominating the sound as always. This is loud and pissed off and aggressive as fuck, and an essential 2009 release for any punk fan, as long as you're willing to sacrifice a little hipster cred.
43.
P.S. Eliot
-
Introverted Romance in Our Troubled Minds
I've been pimping out this homely little release from Birmingham group P.S. Eliot for the last six months, and I'm not done yet. Made up of three chicks - and one dude on guitar - this band is guaranteed to charm your pants off (literally?). Making cinnamon-sweet, deceptively-innocent lo-fi pop-punk, this four-piece has been making significant waves, especially considering the barren wasteland that is Alabama, and I can only hope they continue to do so.
42.
Mos Def
-
The Ecstatic
A lot of hip-hop tries to get in your face; tries to impress you and wow you by being the biggest and the best. Mos Def decided to do something different. On The Ecstatic, he opts for a low-key, schizophrenic release of patchy coherency but perpetual brilliance. Before this release, I think a lot of us had begun to forget that Mos Def was, in fact, a rapper, and not just an actor. But anyone paying attention to this album won't forget his hip-hop chops anytime soon.
41.
Poison the Well
-
The Tropic Rot
Skirting the dangerous line between metalcore and good music, Poison the Well manage to never fall on the wrong side of that fence, and end up kicking all kinds of ass in the process. The Tropic Rot is an undeniable masterpiece by a group who seems to care less about genres and more about passionate music that pushes the boundaries of a scene and doesn't pull any punches.
40.
MC Lars
-
This Gigantic Robot Kills
How can you not love a guy who decided to make up his own genre and call it post-punk laptop rap? This Berkeley MC is no newcomer to the nerdcore game, and on his newest album he's been pulling in even more well-deserved fans. He raps (sorta) about such crucial topics as his failed attempts at being hyphy, his drummer's messy house, and a kid who gets so tired of being bullied that he builds a giant ska-powered robot to rampage through the city and destroy his enemies (I'm not joking). If you're not already checking this out, you're a lost cause.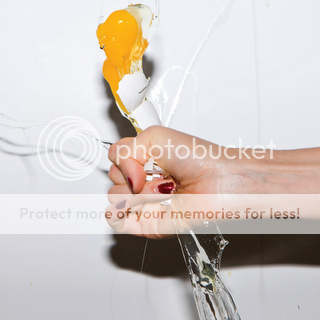 39.
Yeah Yeah Yeahs
-
It's Blitz!
The New York group Yeah Yeah Yeahs took on a more synth-driven approach on It's Blitz!, with fantastic results. No more are the YYYs a disposable indie rock band, churning out little more than a worthwhile single here or there. Their third album is a synth rock materwork of dark, violent artistry. Their new wave overtones have never been more apparent, and they've never sounded more like a band who knows exactly what they're doing.
38.
Deastro
-
Moondagger
This Detroit-based electronic musician makes his music in a basement with children's toys and synthesizers, and while the mood can seem abstract, don't overlook the fact that this album is full of catchy melodies and undeniable pop structure. Deastro creates music with a spacey, psychedelic quality, Moondagger causing a feeling not unlike watching a meteor shower, or riding one of those 3D theme park attractions where you fly around in a spaceship and blow shit up (those are trippy as fuck, aren't they?).
37.
Chinese Telephones
-
Democracy
Chinese Telephones were a short-lived pop-punk band from Milwaukee, Wisconson that nobody outside of the orgcore/beard punk scene (fucking christ, there really need to be some new terms for gruff pop-punk) ever really knew existed. Democracy, aside from being a mocking reference to Chinese Democracy (an album that doesn't really need to be mocked - Axl Rose does most of the work for us), is a career retrospective release, made up of the band's rare tracks that they released on splits and comps throughout their short run, including some alternate versions of tracks on their self-titled full-length release.
36.
Stardeath and White Dwarfs
-
The Birth
Have you spent the last decade bemoaning the loss of the Flaming Lips' earlier, dirtier, more mucked-up psychedelic rock, as opposed to their more recent synth-prog poppiness? You're in luck, because this Oklahoma City band (which just so happens to include Wayne Coyne's nephew Dennis) brings back that sound, albeit with more of a dancey, modern edge. Existing in an apparent haze of acid tablets and marijuana smoke, Stardeath and White Dwarfs have created a catchy, druggy, unforgettable debut album that has them embracing the past in their most obvious influences, while at the same time mastering a new sound all their own. This is a band everyone should be keeping an eye on.
35.
Future of the Left
-
Travels With Myself and Another
Future of the Left is a really, really weird band, which isn't all that surprising considering they rose from the ashes of Cardiff group
mclusky
. With strange, yelping vocals and uneasy, aggressive, jumpy instrumentation, this three-piece keeps the listener on their toes all throughout their second release of noisy, pointed, angry punk rock. When this album ends, you're left there wondering what just happened - no matter how many times you listen to it, you probably won't know. I sure as hell don't.
34.
Weezer
-
Raditude
I'd like you to take a moment to look at this album cover. Just look at it. Next, imagine what kind of music should be behind that cover. Think about it for a moment. Now listen to this album - it's going to be exactly what you expect. From the insanely campy title and album cover, to the advertising campaign wherein you can buy a snuggie adorned with the Weezer logo, to the music itself which features a lot of songs about girls and parties and one about riding escalators at the mall, nothing about Raditude is anything less than totally redonkulous (I went there). Oh, and did I mention there's a collab with Lil' Wayne?
33.
Holly Conlan
-
Fascinator
Holly Conlan is probably the best thing that the iTunes Single of the Week has ever done for me. Two or three years ago I found her single "You are Goodbye", and since then I've been searching the internet up-and-down for the rest of her music. So how pleasantly surprised was I to find that she had a new album? Conlan is a singer-songwriter who makes poppy folk music that haunts and enamors. She sounds like that really talented singer at the restaurant or bar you frequent, who you hear and wonder "when is this girl going to get discovered?". By this I mean that Holly comes across as a classy, honest, no-nonsense girl-next-door artist without any delusions of grandeur or stardom. Instead of churning out over-produced, transient garbage to be the next
Carrie Underwood
(which she could probably do), she's content to make music that lingers in the minds of a few, rather than breezing in one ear and out the other of many.
32.
Phoenix
-
Wolfgang Amadeus Phoenix
Phoenix is a band that I've liked for years without even realizing it. Their track "Too Young" has always been one of my favorites on the Lost in Translation Soundtrack, and it took me months of seeing Wolfgang Amadeus Phoenix being hyped to hell and back to put the pieces together and realize I should probably jump on top of this album. That turned out to be one of the best decisions I made all year, because this album is a a great piece of swooning indie pop. There's a lot of strength in the hit singles we've all heard, but there's also a lot to be said for the album tracks, such as the 7-and-a-half minute "
Love Like a Sunset
", which slowly builds momentum on the basis of a thoughtful ambient soundscape. Phoenix isn't a flavor of the month - they're the real deal.
31.
God Help the Girl
-
God Help The Girl
The soundtrack to a Stuart Murdoch-written film of the same name - which we're all still waiting to see - could probably be written off by many as an unneeded
Belle & Sebastian
side-project, especially since two of the tracks are reworkings of B&S songs. But since God Help the Girl certainly sounds a hell of a lot like the Scottish twee group (how could it not?), it fills the hole in our hearts left by the recent absence of new material from them instead of coming across as little more than a name change.
30.
Mouse on the Keys
-
An Anxious Object
Mouse on the Keys are a math-rocky jazz band from Japan who got together three or four years ago. An Anxious Object is their super-energetic debut full-length, and it's a doozy, full of frantic instrumentation by all members (but down-key and relaxed in all the right places). This three-piece got an an uncomfortably small amount of attention for this album in the past year, so listen to it, and they'll almost certainly be one fan stronger.
29.
The Duckworth Lewis Method
-
The Duckworth Lewis Method
This newly-formed baroque pop duo can't pick an influence and stick with it. On one song, they might want to be
The Beach Boys
, on the next, maybe they want to be
The B-52's
. The most immediate comparison that comes to my mind is that they remind me of an
of Montreal
that smokes pot and occasionally rolls ex, instead of doing lines of coke in the bathroom and dropping acid backstage (no, that's not fair - Kevin Barnes does strike me as a legitimately weird dude, drugs or no drugs). If that doesn't make any sense (it probably doesn't), what I mean is that for the most part they're pretty chilled out, aside from the occasional dance-rock freakout.
28.
mewithoutYou
-
It's All Crazy! It's All False! It's All A Dream! It's Alright
Those familiar with mewithoutYou (which in a better world would be everyone) have spent their career making some of the best post-hardcore music of the decade. Over the last couple of albums, however, they've gotten progressively calmer and more mature, adding a finer touch to their music, and on it's all crazy, they ditch the post-hardcore sound entirely and instead make a straight-up acoustic folk album. That's not to say that there aren't some rockers to be had here, but for the most part this is a relaxed, thoughtful affair. Lyrically, it might be their best effort yet, and musically, it's so different from their previous work that it feels odd to even compare it. Some diehard fans of the group have been disappointed by this release; I think those people just can't handle a little change.
27.
Punch
-
Punch
This thrashy hardcore band from San Francisco make tunes that have no problem ripping your face off and then stapling it back to your head, upside down. With blistering female vocals, pummeling guitars, smothering bass and totally aggressive drumming, this group has been turning a lot of heads the past few months. Their self-titled debut doesn't have much of a run time (half the tracks don't even hit the one-minute mark), but it's a pounding assault from start to finish. Punch is fucking pissed, and they're going to let you know about it.
26.
Andrew Jackson Jihad
-
Can't Maintain
Andrew Jackson Jihad, if you're somehow not aware by now, is undeniably the shit. They're a folk punk group from Phoenix who make frantically cheerful, impossibly charming acoustic rock, usually with no more than an acoustic guitar and a stand-up bass. With personal, heartfelt lyrics, with topics ranging from politics and the evils of smoking to snobbish, no-talent hipsters, and with song titles like "
Love Will Fuck Us Apart
", how can you not fucking love this band? They're getting bigger and bigger with each release; how long until world take-over?
25.
Manic Street Preachers
-
Journal For Plague Lovers
Composed entirely with songs written by original lyricist Richey Edwards, who mysteriously vanished off the face of the earth in 1995, Journal for Plague Lovers is a tour de force by a group that's had varying levels of success and failure since that loss. Not to downplay the triumphs of Nicky Wire, as he's a fine lyricist in his own right, but the re-emergence of the past voice of the Manics feels like a huge return to form. With a confidant and assured sound, this album sinks its teeth in early and doesn't ever let go, dragging you along through all the twists and turns of Edwards' tortured mind. This is what a rock band is supposed to sound like.
24.
Why?
-
Eskimo Snow
Yoni Wolf
's Berkeley group used to be pretty non-debatably hip-hop, albeit an odd, mutant version of it. Well, that's out the door on Eskimo Snow (there was an odd trend in 09 for bands folksing up their sound, eh?). But let's be honest; we're here for the lyrics. Wolf's intricate, unusual wordplay is still in top form here, so no worries there. While some tracks here may lead the listener to view this album as leftovers from 2008's
Alopecia
, that quickly becomes a clear untruth, because there are others such as "Into the Shadows of My Embrace" (one of the best songs in Why?'s entire catalog) that give this album a sound all its own. Eskimo Snow is a hauntingly personal and intimate record, and shows one of my favorite groups dropping a lot of the off-the-wall weirdness that puts some people off in favor of a more straighforward, heart-to-heart approach.
23.
Passion Pit
-
Manners
Passion Pit's 2008
Chunk of Change
EP was a fabulous release, and showed a lot of promise. Their show in support of Ra Ra Riot in early 2009 was equally great, and left me with even more hope about what they could accomplish. But this...well, this is just totally above and beyond what I ever anticipated this unassuming little group from Cambridge was capable of. With soaring falsetto vocals that shouldn't even be possible, and carefree, flowing beats that urge you - no, demand you - to get up and move your ass, Manners is an amazingly crafted debut album of delicious electropop tunes that will stay lodged in your head for weeks at a time. If you've avoided the hype train on these guys until now, it's time to drop the act and get the fuck on board, because the party's in full swing.
22.
Harvey Danger
-
Dead Sea Scrolls
I've made no secret of my love for Harvey Danger, nor of my sadness and disappointment at their recent breakup. But they've left us a wonderful parting gift in the form of Dead Sea Scrolls, a collection of demos, live recordings, and various other rare or unreleased tracks (such as their covers of
The English Beat
's "
Save It For Later
" and
Hall & Oates
' "
Maneate
r", both of which they do justice to). This may not be an 'album' per sey, if you're one of those violently-opposed-to-compilations type, but see if I care.
21.
Portugal. The Man
-
The Satanic Satanist
This experimental rock band has wide-ranging influences, from folk to psychedelic rock to prog, and they've been keeping themselves pretty busy, releasing an album every year (something not many bands do anymore). But instead of churning out a stream of uninspired dribble, Portugal. The Man continues to push their sound in new directions. The Satanic Satanist is a mellow alt rock album drenched in psychedelia, and it warrants repeated plays, over and over and over (it's an awesome roadtrip album - tested and proven). Something of an amorphous blob made up of similar tracks, every listen brings a new song out of the muck to pop out as your favorite.
20.
Tegan and Sara
-
Sainthood
Tegan and Sara reached the height of their girly poppiness with 2007's
The Con
, and on their new album this Canadian twin sister duo remembered how to rock out. Of course, Sainthood is still a pop album, and their new wave guitars and keyboards are still front and center. But this album rattles along at an often breakneck speed, exploring their most common theme of love - and all its emotional twists and turns - frantically searching for answers and usually just finding more questions and complications. C'est la vie.
19.
Brand New
-
Daisy
Brand New's fanbase seems to be divided in an odd, three-way split. There are people who love their 2006 epic
The Devil and God Are Raging Inside Me
, and see its brilliance as an excuse to discount their two earlier albums. There are other people, caught up in the nostalgia of their youth, who like to claim that
Deja Entendu
is basically the greatest album ever made, while The Devil and God simply tried - and failed - to emulate it. Then in the third group are the tattooed pop-punk kids who worship the band's debut
Your Favorite Weapon
, bemoaning the (fairly accurate) assumption that Brand New sorta grew out of their own music. Well, fuck all those people. The band's newest album apparently has gotten caught up in the dust of this never-ending conflict, because no one really seems to care about it. So let me join the lone and scattered voices recognizing Daisy for what it is - a massive, complex, thundering addition to an incredible catalog of an incredible band. No matter your opinion on this band, you should experience this album.
18.
A Place to Bury Strangers
-
Exploding Head
This noisy, psychedelic group of Brooklyn shoegazers bring a gritty and dirty sound to a genre that is far too often obsessed with sounding pretty. I'd recommend seeing them live to really get a full appreciation for how great they are, but until your next opportunity to do so rolls around, make do with drowning yourself in their dense, layered wall of sound. While their debut was more abstract and spacey, on Exploding Head A Place to Bury Strangers heap mountains of noise and distortion onto things that if you strip everything away, could probably make it as pop songs. They're one hell of a band, and they're just getting better and better.
17.
John Parish and Polly Jean Harvey
-
A Woman A Man Walked By
When two artists as brilliant as PJ Harvey and
John Parish
collide into one another, it's hard for the resulting record to even contain the artistic strength that results from that collision. The first - and until now, last - time that the two artists did a collaboration together was almost fifteen years ago, with Dance Hall at Louse Point. If you thought that album was great (it was), get ready to have your mind blown by A Woman A Man Walked By. With Harvey writing all lyrics and performing all vocals, and most instrumentation being handled by Parish, this album highlights the contrasts between these two very different artists. There are times when John's strange, out-there instrumental interludes flourish, and in other moments (such as the downright-frightening "
Pig Will Not
") the trademark freeform insanity and rock experimentation present on PJ's earlier work (an era that echoes strongly throughout the entire release) is allowed to dominate. This album is playful, dangerous, powerful, and totally unlike just about anything else you've ever heard.
16.
My Heart To Joy
-
Seasons In Verse
This jammy, emotional, intense post-hardcore album has been getting a fair amount of attention in certain circles, and seems poised to even have some potential breakthrough success. The debut full-length of Connecticut group My Heart to Joy, Seasons in Verse is a rollercoaster ride of pain and heartbreak that knows how to keep its own spirits up, never ceasing to be, for lack of a more poignant term, fun. There are a lot of bands like this that are essentially faceless and nameless and soundless, but My Heart to Joy is a group that might really be headed somewhere.
15.
Eels
-
Hombre Lobo: 12 songs of desire
It took four years for Mark Oliver Everett's band Eels to follow up 2005's mammoth double-album
Blinking Lights And Other Revelations
, but it's finally here and it doesn't disappoint. Hombre Lobo, a contrast album about desire, shows the group contrasting their ballsy rock 'n roll with the slow, sad songs of longing and loss that have arguably put Eels where they are. A lot of you probably have very limited exposure to this band, an album or two or perhaps only a song or two, so if you're looking for more, this isn't a bad place to start.
14.
Eyedea & Abilities
-
By the Throat
By the Throat shows this hip-hop duo making a pretty large shift stylistically, leading to it being called by some "Eyedea & Abilities'
Radiohead
album". While I, admittedly, do not really know what the fuck this means, perhaps it means something to you, or at least motivates you to check out the album, which is of course the goal of me writing this at all. I suppose it has something to do with the abstract feel given to a lot of the album, carried along by
Abilities
' incredible production skills and
Eyedea
's passionate verses about women and pain and death. But don't worry, because it's not all gloom and doom - "Smile" is an uplifting call-to-arms for happiness and contentment, and it's remained one of my favorite songs of the year since the first time I heard it.
13.
Danger Mouse & Sparklehorse
-
Dark Night of The Soul
This album has been tragically caught up in a legal standstill brought about by record label bullshit, a situation which will probably keep it from ever being officially released, but which hasn't kept it from being spread wildly across the internet (especially after this was not-so-subtly encouraged by
Danger Mouse
). A curious and haunting collaboration, Dark Night of the Soul features an all-star cast of guest vocalists, among them
Wayne Coyne
, Frank Black,
Iggy Pop
, Vic Chesnutt,
Julian Casablancas
,
James Mercer
and
David Lynch
(yeah, that David Lynch - he also contributed a 100-page book of photos to the album's doomed release). Almost impossible to pin down in a genre, this album is a far-reaching affair of lush, artsy alternative rock, taken again and again in different directions by the myriad of performers and styles that all came together for this unbelievable release.
12.
Say Anything
-
Say Anything
Is this album
...Is a Real Boy
? No, it's not. Do I care? No, not really. Say Anything's self-titled fourth album may be a disappointment to some, but to me it's a sign that one of my favorite bands is coming back down to earth, after swimming around in the mucks of obnoxious bloat that plagued their last album. Full of ripping guitars, catchy hooks and the awesome lines we can always count on from
Max Bemis
, Say Anything is one of the most addicting albums I've heard in a long time (this would be even higher on the list if I were going by playcount, perhaps at the top). If you've written this band off as mindless pop-punk, listen to them. If you've written this album off as not worth the time, stop being a jackass and listen to it.
11.
John Frusciante
-
The Empyrean
For those of you who don't understand John Frusciante's recent announcement that he has officially left
Red Hot Chili Peppers
, I'll put it pretty plainly; he left because with the Chilis, he could never make music like this. The Empyrean is a sprawling psychedelic adventure into the mind of one of music's most unique and unwavering talents. Whether he's covering Tim Buckley or crafting roaring, anthemic epics like "Central", Frusciante never - NEVER - falters on this album. His previous solo work has all been incredible, but there's always been a sense that he's been torn between that work and his commitment to RHCP. Without that restraint upon him, his creativity has been totally unleashed, and he's given us the first glimpse into what he can achieve without anything tying him down. John Frusciante is in the process of turning from a celebrated guitarist into nothing short of a modern artistic legend.
10.
Slow Club
-
Yeah So
"
We wrote these songs / and we lost our minds / and all our most brilliant friends / are doubting themselves
"
Well, Slow Club certainly took their sweet time releasing their debut album after a string of EPs and singles, but it was worth the wait. This duo from Sheffield, if you don't know by now, make lovely twee pop that is simply impossible to resist. Taking on the harsh realities of love from the naive, hopeful perspective of youthful optimists, Charles Watson and Rebecca Taylor are simply impossible to resist. Yeah So is a magnificently joyous album of brave, raucous, heartfelt tunes that strike a chord with everyone who hears them.
9.
The Matches
-
the Matches album 4, unreleased; graphics? title? or not needed?
"
Either someone shot the duke / or I'm talking scrambled eggs / either I been let down easy / or these shoes done stole my legs
"
The high placement of this album might seem biased after the ubiquitous praise I've heaped onto the Matches, especially in the last four or five months, but dammit, it deserves to be here. As a 'final' farewell to their fans, this Oakland pop-punk (this term still feels lacking for them and probably always will) group gathered together the remains of their unfinished fourth album and quickly gave it a digital release through Bandcamp. A grower like all their others, album 4 contains the first material the band recorded new bassist Dylan Rowe, and the kid fits right in, bringing out a jamminess in the group's sound that hasn't been there since the were called the Locals and played ska punk. I'm pretty sure I listened to this album more than any other last year, thanks in no small part to its near-constant rotation during an 18-hour road trip. I've done enough singing of the Matches' praises in the past, so I'll try to not turn this little blurb into a sprawling mess; if this really does turn out to be the final release from the Matches, I think I'll be okay with it, because I can't think of a more satisfying end-piece to their fabulous career.
8.
P.O.S
-
Never Better
"
Sugar in the gas tank / nothing in the cash box / thought that we were so sick, looking like it's small pox / The bullets are still on the shelves / but when the armory empties, we're melting down the bells
"
It's always a fun ride to see an artist go from good to great, which is what happened between P.O.S's debut and sophomore releases. But it's really something special when that same artist then proceeds to get even better, which is exactly what this Minneapolis rapper of the
Doomtree
collective did on Never Better, his third album - he's never been better than this, and he knows it. Intelligent, politicized, humanistic hip-hop, this album is the type of artistic statement that's getting rarer and rarer; not very often is an artist's music so simultaneously honest, meaningful, and overwhelmingly passionate. With lyrics that will continually floor you and beats that will make sure you don't forget his words anytime soon, Never Better is the kind of album that turns up the heat on that flickering little flame buried deep down in everyone's chest.
7.
The Flaming Lips
-
Embryonic
"
See, the sun's gonna rise / and take your fears away
"
Music like this is why it's almost cool to live in Oklahoma. Just when we thought we were starting to figure these guys out, they go and drop an album like Embryonic on us, and force us to throw out all our expectations. So it goes. Gone are the pretty synth-prog sounds of their past few albums; this double-album is an absolutely mammoth release of dirty psych rock. While this is certainly their most inaccessible album to date, and is totally overwhelming even after multiple listens, it's also one of their best. The sheer density of this release is enough to scare away a lot of listeners, who might skim through it once and run back to Yoshimi and The Soft Bulletin, but when you take the time to absorb it, soak it in and embrace it, this album proves itself to be almost endlessly rewarding. Every listen tunes you in to a whole new set of quirks and little sonic experiments that went totally unnoticed the last time around. This is really an album for the ages.
6.
fun.
-
Aim and Ignite
"
Come on with me, sing along with me / let the wind catch your feet / If you love somebody / you better let them know
"
If
Freddie Mercury
rose from the dead and reformed
Queen
for a new generation (none of that Paul Rodgers shit), this might be what they'd sound like. Defining the term 'anthemic', Aim and Ignite is, to put it simply, a bombastic masterpiece of orchestral pop. Shamelessly ostentatious and gloriously over the top, this album lives up to its band's name and then some; it's probably the most fun I've had listening to music in the past year. From the roaring opener of "
Be Calm
" to the heart-stopping eight-minute closer "
Take Your Time (Coming Home)
", the band urges you to not get caught up in a lot of unnecessary bullshit, but instead of sounding mindlessly optimistic and shallow, there's something about their message that strikes home and you can't help but want to do what they say. This album makes you want to stop and feel the breeze rush over your face, slow down and smell the the scents of the trees, stroll through the halls of the world holding onto the friends who are with you on this crazy journey of life. Life-affirming doesn't even begin to cover it.
5.
Bomb the Music Industry!
-
Scrambles
"
I'm twenty-five / and I still act like I am TEN GODDAMN YEARS OLD
"
Jeff Rosenstock
, will you ever stop being great? I don't believe so. Who'd have thought that this band that basically consists of a bunch of assholes who like to do drunken singalongs instead of actual shows could make one of the best albums of the year? Okay, I probably would have thought that, but that's just me. Scrambles is the best Bomb the Music Industry! album yet, released as always for free on
Quote Unquote Records
. On this album, they drop all the hints of their ska past, and go for broke (literally) with piano and ballads and pseudo-death growls about shitty bands. The dosage of charming personality that holds together BtMI!'s drunken insanity is stronger than ever here, which is what makes this album such a cut above their previous work (which, for the record, I loved). Sloppy and silly and heartwarmingly honest, Scrambles is what punk rock is all about. Punk is dead? Not fucking quite.
4.
Tommy Sparks
-
Tommy Sparks
"
Well these things happen / when you look at someone / and it gets too precious to you / This must be love again / I feel much better than I have in a long, long time
"
It wasn't really that long ago that I was driving around in the middle of the night to and from who knows where, blasting this album with the windows down and my shitty stereo system hissing at me threateningly, wondering why the hell nobody but me seemed to be paying attention to Tommy Sparks. I guess that didn't last long though, because now I can't go two days without hearing "
She's Got Me Dancing
" on an iTouch commercial. Unfortunately the rest of the album hasn't quite caught up with that song's hype, so here I am doing my small part to help the cause. This Swedish newcomer has released a debut album of insanely dancey, '80s-worshiping new wave pop that will have you bobbing your head and tapping your feet and singing along for days. Turn it up, and get down.
3.
k-os
-
Yes!
"
I'm just a man / who spent a hundred grand / on a bottle of wine / I'm just a man / who knows a plan / to get rid of time
"
On his latest album, k-os is equal parts soulful, longing crooner and rapid-fire rhyme-spitter. Yes! is an album that revels in these contrasts, speeding along unexplored paths and maintaining a sense of coherency despite the many directions he takes. People who are bored with the typical hip-hop sound would be wise to indulge themselves this album, with its incorporation of funk, soul, reggae, pop and rock that blend together into a mature, focused, polished work that stands shoulder to shoulder with the strongest hip-hop albums of the past decade.
2.
Eminem
-
Relapse
"
I know some shit's so tough to swallow / but I can't just sit back and wallow in my own sorrow / but I know one fact / I'll be one tough act to follow
"
After disappearing into drug addiction and personal demons for five years, Eminem came back in 2009 with Relapse to tell us all about it, and also to catch the tail-end of a decade in which he was the most consistent and most important hip-hop artist in music - a statement I say without hyperbole. Gone are the politics and self-righteousness that dragged down his most recent album
Encore
, replaced with the return of his Slim Shady alter-ago. Eminem is back to writing songs about doing drugs and killing people, and while it's a welcome return, the difference is that this album also offers some clear insight into Mathers' life, especially in the second half, where the accented lunatic largely takes a backseat once again to the 'real' Marshall. Relapse is an album of contrasts that Eminem typically has avoided in the past, because rather than splitting the Slim tracks and the Marshall tracks into two albums like he would have done seven or eight years ago, he lines them up right next to each other and celebrates the comparisons that can be drawn and highlights where the real-life inspiration for his alter-ego tracks comes from. Some artists can't ever return from such a long break and be intact, and while Eminem has certainly had some falters and mistakes, this album proves that he's not even close to being done. Shady's back.
1.
Manchester Orchestra
-
Mean Everything To Nothing
"
I am but a clean man, stable and alone man / make it so I won't have to try / The faces always stay the same / so I face the fact that I'm just fine / I said that I'm just fine
"
There was a lot of great music released in 2009. It was one of the best years of music that I remember, possibly the best. There were literally hundreds of albums that I listened to and enjoyed, and out of the 100 that I chose to include in this list, I initially agonized over what to place at number one. There were so many albums that I absolutely loved, that I could tell from the first moment I heard them would be sticking with me far past the end of 2009. But then it hit me; of all the album placements on this list, number one was actually the easiest of them all. There was no other option. It couldn't be anything else.
It's almost hard to believe that this is only Manchester Orchestra's second album. It sounds like a fearless release from a band who's been at this game for decades, rather than a sophomore album from a bunch of college-aged kids from Georgia. But it just proves that a classic album can come from anywhere and anyone. That's what this is destined to become, by the way - a classic.
Mean Everything to Nothing is the kind of album that really doesn't come around very often. From Andy Hull's opening squeal of "I am the only one that thinks I'm going crazy", it's obvious that you're in for something really, really special. This album is a thundering, triumphant rock record, with raw emotion that ranges from angry hellfire to overpowering, all-consuming love and everything in between. It's an album that leaves the listener not just winded, but completely exhausted from the unconstrained passion that runs thick through every song. This album flows seamlessly from furious screams of rage to soft, subtle, touching moments of beauty and compassion.
It's an album about friends, about enemies, about lovers, about family, about passion and sadness and love and heartbreak and joy. This is an album about life, and it doesn't shy away from the pain or the happiness. It's not an inherently optimistic album, but it's not pessimistic, either; I've rarely heard an album that so totally encapsulates the ups and downs of life, the twists and turns, the triumphs and failures, simply allowing the listener to decide for themselves. At the end of the day, this album is going to reinforce whatever worldview you already hold, and it will do so powerfully and without flinching. It will get in your face, it will scream at you and burst your eardrums, it will cry on your shoulder, it will hold your hand and bring you close. Mean Everything to Nothing won't take over your life; if will become part of it.
Find all these albums, along with to 25 EPs/Demos of 2009 and hundreds more artists and albums on Watch the Tapes! Comments are appreciated!
Envois approuvés
LYRICS WILL NOT REACH
,
Watch the Tapes
,
Girls and Drugs and Existentialism
,
We like Pablo Honey!
,
i'm not anti-social, i just enjoy my music.
,
What.cd
,
destroying bedtime one hour at a time
,
those who go to gigs alone and might actually like it but aren't too sure, but end…
,
/r9k/
,
Punk My Pop!
,
I Found This Song In The Road
,
Music Is Making Me Deaf
,
Euphonos
,
Oklahoma Cool
,
The New mu Mix Crew
,
Best of 2009
Commentaires