Dunja Sateenkaari, 23, Femme, Serbie
sateenkaari.tumblr.comDernière visite : Lundi soir
1

3

7

4

9

1

écoutes depuis le 9 fév. 2007
1 807 coups de cœur | 79 messages | 1 playlist |

1 001 shouts

Flux
| | | | | |
| --- | --- | --- | --- | --- |
| 1 | | | | |
| 2 | | | | |
| 3 | | | | |
| 4 | | | | |
| 5 | | | | |
| 6 | | | | |
| 7 | | | | |
| 8 | | | | |
| 9 | | | | |
| 10 | | | | |
| 11 | | | | |
| 12 | | | | |
| 13 | | | | |
| 14 | | | | |
| 15 | | | | |
| 16 | | | | |
| 17 | | | | |
| 18 | | | | |
| 19 | | | | |
| 20 | | | | |
| 21 | | | | |
| 22 | | | | |
| 23 | | | | |
| 24 | | | | |
| 25 | | | | |
| 26 | | | | |
| 26 | | | | |
| 28 | | | | |
| 29 | | | | |
| 30 | | | | |

Flux
| | | | | | |
| --- | --- | --- | --- | --- | --- |
| 1 | | | | | |
| 2 | | | | | |
| 3 | | | | | |
| 4 | | | | | |
| 5 | | | | | |
| 6 | | | | | |
| 7 | | | | | |
| 8 | | | | | |
| 8 | | | | | |
| 10 | | | | | |
| 10 | | | | | |
| 10 | | | | | |
| 13 | | | | | |
| 13 | | | | | |
| 15 | | | | | |
| 16 | | | | | |
| 17 | | | | | |
| 18 | | | | | |
| 18 | | | | | |
| 20 | | | | | |
| 20 | | | | | |
| 20 | | | | | |
| 23 | | | | | |
| 24 | | | | | |
| 24 | | | | | |
| 24 | | | | | |
| 24 | | | | | |
| 24 | | | | | |
| 24 | | | | | |
| 30 | | | | | |
À propos de moi
....where is the dark I came to find?....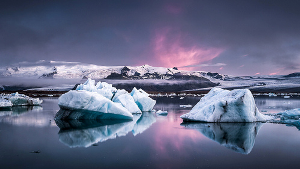 …Я не просил тебя видеть…
…Я никого не просил меня спасти…

…Я не выбирал тебя…
…Я никого не выбирал…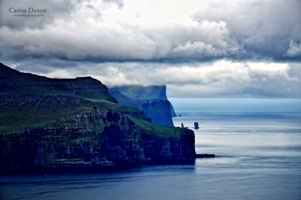 I am the wind that breathes on the sea
I am the wave, wave on the ocean
I am the ray, the eye of the sun
I am a tomb, cold in darkness
I am star, the tear of the sun
I am a wonder, a wonder in flower
I am the spear as it cries out for blood
The word of great power
I am the depts of a great pool
I am the song of the blackbird

Who but I can cast light upon the meeting of the mountains?
Who but I will cry aloud the changes in the moon?
Who but I can find the place where hides away the sun?
AiliIath Nerenn

From the breeze on the mountain to the lake of deep blue
From the waterfall down to the sea
Never changing or ending on the voice of the wind
Sing the dark song of Erenn to me...
by Amergin Glangel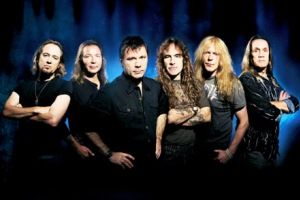 Seven deadly sins
Seven ways to win
Seven holy paths to hell
And your trip begins...
We barricade ourselves in holes of temperament
This is the dawning of a new age
A heart that beats the wrong way
Insanity's crescendo!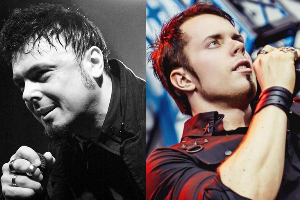 When you play with fire
You must anticipate some burns
Chasing for desire
It's just a different way to learn...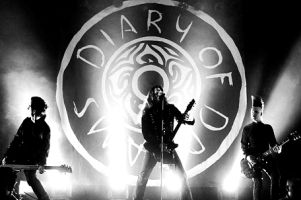 Eternal ice as far as eyes can see
Deserted wind, an inspiration need
This white horizon, so sure a lonely guard
Oath to preserve, admire graceful art...
Everything has a reason for its happening
Can't you tell it's your own spell and
Everyone has to dance this dance like anyone
Can't break free of destiny!
Night is falling over my home
The land of snow and sorrow, oh carry me away from the cold
And I fall asleep, I will dream the last dream
All I was, is gone now and sorrow is all I feel...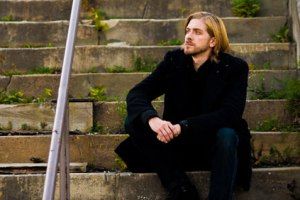 Look me in the eyes, don't believe a word they say
For life is good, life is glory, though we live one life only
Tell me, in real time, don't hesitate to profess
Love me in the flesh, don't wait 'till death to sing my praise.
Þetta er það lengsta sem ég fer.
Aldrei aftur samur maður er.
Ljöta leiðin heillar nú á ný,
daginn sem ég lífið aftur flý.

Ef ég vinn í þetta eina sinn,
er það samt dauði minn.
Trú min er að allt fari ej vel.
Þessu er lokið hja mér.

Dag sem nótt hjartað var órótt.
Þrotið þol lamað bros.
Áfram ríð, hjartað pumpar tárum.
Dag sem nótt ég geng nú einn.

Grafin bein grotna í jörðunni,
eins og leyndarmálin þín
sem þú hélst forðum burt frá mér.
En blóðið þyngr´en þögnin er.

Svikin orð, grót í kjafti þér,
rista dýpra en nokkur sár.
Brotin bönd aldrei verða söm.
Lygar eins og nöðrubit.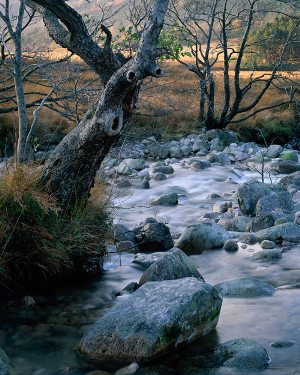 Kuuletko kuinka laulaa käärme vieressä lauluaan?
Kuinka puista lehdet tulikivinä putoaa?
Kuinka kulkevat nuo munkit hiljaa lyijyä viittanaan?

Kuuletko kuinka taittaa kyyhky sinessä siipiään?
Kuinka kuoro levollisten taivasta ylistää?
Kuinka karitsat nuo ovat armon niittyjä astuneet?
Kun korvistani ovat viimeisetkin sirkat katovuotein kadonneet

Valvotko valkean aamun?
Valvotko viluiten?
Valvotko kunnes kukko kolmasti laulaa?
Vierellä valkean kaavun
vierellään vain hämäryys
Hetkeä ennen kun sinua kutsuu, kun sinua kutsuu...

Näetkö kuinka korkein kirkko järvestä kohoaa?
Kuinka vastarannalla seurakunta vajoaa?
Ja kuinka ympärillä huiput vuorten meitä suojelee?
Kun silmäkuopistani ovat onnen kuulat nuo myrskyluudat
pois jo pois lakaisseet

Valvotko valkean aamun?
Valvotko viluiten?
Valvotko kunnes kukko kolmasti laulaa?
Vierellä valkean kaavun
vierellään vain hämäryys
Hetkeä ennen kun sinua kutsuu, kun sinua kutsuu...iäisyys

SINCE JULY 5TH, '13