RSS
Partager
15 sept. 2008, 3h05m
"I like Frenchmen very much,
because even when they insult you
they do it so nicely."
(Josephine Baker)
I think it's no secret that I love France, that I would kill to live in Paris, that I adore the French language (although unfortunately I don't speak it too fluent because I'm too lazy) - and that I have a - for me - quite untypical crush on so many French artists. I wouldn't call it "obsession", but maybe it's nearly something like that, who knows. So as I listened to a lot of what is generally called
chansons francaises
(oh-how I hate it that last.fm won't accept the cedilla...) I thought of writing a journal entry for quite some time now, but I wasn't sure which form I should use. I think I will just present (as in "list") those artists I like the most, accompanied by their album I think is the best so far, the one I think is the most representative - or just the only one I know.
In addition to this journal entry I created
a playlist
to make all of those wonderful singers easily accessable (for the subscribers, of course) without having to use a radio station, especially because I of course only chosed two or three songs I think are good to show the variety of each of the people I talk about as well as of the whole
nouvelle scene francaise
(oh-how I hate it that last.fm won't accept the accent - and the cedilla...).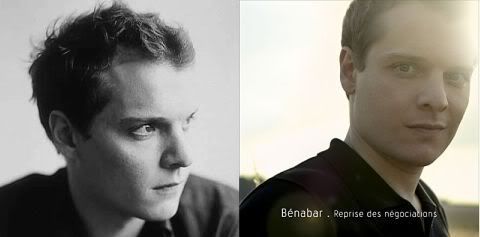 I just love
Bénabar
! Bruno Nicolini makes what I consider to be quite typical "chansons modernes", sung with a wonderful voice and interpreted with a lot of gorgeous humour. His third album
Les risques du métier
was a big success and made him quite famous, but with
Reprise des négociations
he sings himself like a piercing bolt of amor right through my heart.
Bruxelles
and
Le Méchant de James Bond
are two of my absolute favourites of his songs, the first one being one of the VERY FEW that make me want to dance and jump on my bed, the second one just being beautiful.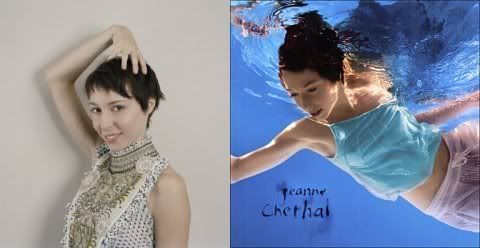 For me personally
Jeanne Cherhal
was always the artist I had to think of immediately when I read or heard about the term "nouvelle scène française". Her songs are fresh, very modern, a little bit playful, but without being childish although she seems to tend to don't take herself too serious.
Unfortunately and sadly the only available song is
La Valse Des Etiquettes
. I really would like to show you the charme of "Canicule" and "Rondes larmes", both from her latest album
L'Eau
...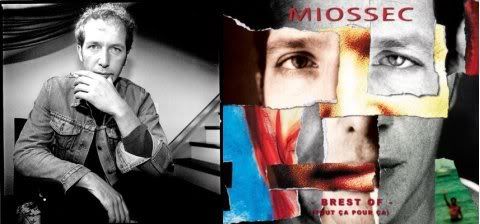 Miossec
, although known to me by name for a few years now, is a quite new discovery for me musically, because I never heard a song by him (or at least I can't remember) until I got his compilation album "- BREST OF - (Tout ça pour ça)" (named after his town of birth) at the end of last year. I'm already in love, and although I know most of his albums now I still recommend his "Best of" as it shows perfectly the variety of his styles.
Christophe Miossec too is not really available at last.fm yet, and the only song streamable is
Chanson Pour Nathalie
. I would say, though, that you should listen to the new versions of "La fidélité" and "Que devient ton poing quand tu tends les doigts", both of which are just... great!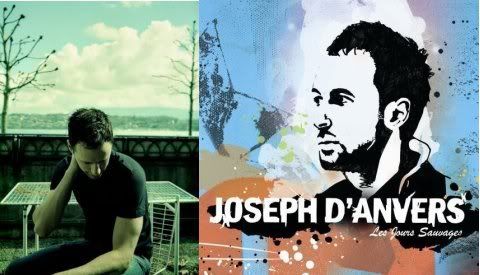 Joseph D'Anvers
, who released two album so far, if I'm not informed badly, caught me totally off guard with his song "Entre Mes Mains" from his second release "Les Jours Sauvages". His music has a lot of "Rock'n'Roll" to it, but not too much, as that would surely make me abhor it, and also the slightly "jazzy" tunes he uses sometimes really add something more intimate to his pop-rock style.
So far only his debut
Les choses en face
is streamable, from which I recommend
Comme un souffle
and
Nos jours heureux
.
Claire Diterzi
's third album
Tableau de Chasse
was somewhat of a revelation for me. Her voice is phanatastic, her modern, mature, sometimes even avantgardish compositions are often so experimental without loosing their popsong-like structure that I seriously was a bit spechless at first listening.
I remember that
L'odalisque
reminded me a bit of
Le Mystère Des Voix Bulgares
... The second song I force you to listen to is the absolutely gorgeous
La vieille chanteuse
!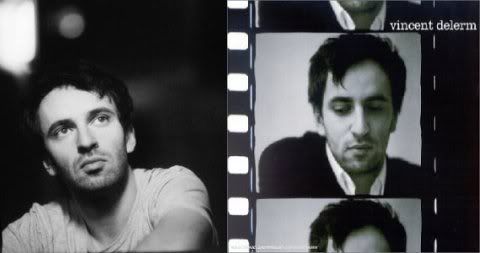 Vincent Delerm
, son of the famous French author Philippe Delerm (who you might probably know for his work "La Première gorgée de bière et autres plaisirs minuscules", "The Small Pleasures of Life" in English), gained a lot of positive critics for his self-titled debut album
Vincent Delerm
, which I think is still his best one, although many people seem to tend to prefer his third release
Les Piqûres D'Araignée
(which is horribly tagged by the way...). Delerm writes beautiful humoristical and sometimes cynical songs he usually interpretes alone with his voice and a minimum of instrumentation besides the piano.
I absolutely recommend "Fanny Ardant et moi" and "Le monologue shakespearien" (his most popular song is "Tes parents" though), but, sadly enough, there are none of his songs available.
Pauline Croze
is always the second female artist after
Jeanne Cherhal
I associate with the "nouvelle scène française". The first time I heard of her was when I watched a short documentation about
Miossec
on the Franco-German TV network "Arte" where the fact was mentionned that she was an opening act for him.
Her eponymous debut album
Pauline Croze
, that came out in 2005, features the two beautiful songs
Larmes
and
Dans la chaleur des nuits de pleine lune
.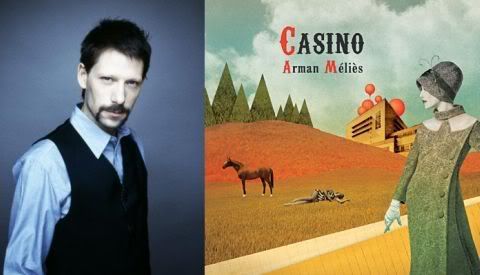 Oh my god how I just adore
Arman Méliès
! Not only does he look heartbreakingly beautiful on the pictures for his latest release
Casino
, but this album itself is nothing less than a pure gem of a record. I really liked his last release
Les Tortures Volontaires
, but
Casino
just left me ruined. I don't know what he made with his voice between those two records, but whatever it was it had an astonishing effect. The arrangements for his new songs are absolutely phantastic, that being said: those are melancholic folk-pop-chansons of the highest order, and I can't recommend it enough!
His latest releases aren't streamable - however, you should listen to "Le Soupir du Monde" and the title song "Casino" anyway - so I dare you to give this unbelievably talented artist a try by listening to
Encore une fois
and
La conjuration des phalènes
!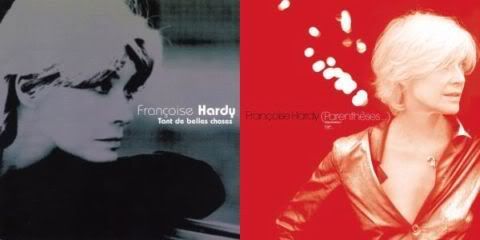 I think now it's time to talk a little about
Françoise Hardy
, the QUEEN. First I thought about don't mention her at all as I surely cannot say something new and as she is already known to most of you anyway, but as I have to realise quite often that so many people don't know her latest works and only listen to the songs from her Yé-Yé-period I believe that this could be a good place to recomend what I consider to be her very best works to date:
Tant De Belles Choses
and, her latest one, (
Parenthèses
...). Don't get me wrong, I love nearly all of her songs, and many of them have their own little place close to my heart, but, as difficult it may be to compare her early and her later compositions, I believe that these two albums simply are near to what one would call perfect.
Of course the messages she transports with her albums are always quite simpel, but never profane or banal - but I have to admit that this may just be the case for me because they are presented in French... From the 2004 record I recommend the wonderful
Soir De Gala
and the title song
Tant De Belles Choses.
, the main refrain line of which is just too beautiful to be Kitsch:
"L'amour est plus fort que la mort."
Her latest album (
Parenthèses
...), released in 2006, features twelve songs (some being wellknown, some being rarities), interpreted as duos with quite an impressive selection of singers and musicians:
Alain Souchon
, Françoise's husband
Jacques Dutronc
, their son
Thomas Dutronc
,
Benjamin Biolay
(the last two of which I have yet to write about),
Rodolphe Burger
,
Henry Salvador
, Julio Iglesias, even
Alain Delon
- and the wonderful classical pianoplayer
Hélène Grimaud
, who accompanies Françoise on the insanely pretty
La Valse Des Regrets
.
Keren Meloul, who makes music as
Rose
, released her self-tiled debut album
Rose
in 2006, and I wish I could have been able to listen to her earlier - I discovered her music, which I embraced very deeply, somewhen in the beginning of this year.
She writes pretty, light, soft and gentle folkish chansons with mature, poetic and intimate lyrics, like
Saisons
and
Sombre Con
, which are my absolute favourites.
Another artist who is already very precious to me is
Daphné
. I was a bit unsure what to think about her when I listened to her debut
L'émeraude
, as it is a little bit too experimental "pseudo-trip-hop'ish" for my liking, but I was intrigued from the first time by her voice. When her second album
Carmin
came out in 2007 and I heard the first song (I think it was
Les Phénix
) I was so very happy that I haven't "dismissed" her. That whole album is just pretty, but the most pretty song of all is
Le Petit Navire
! Really, you will LOVE it! The second one I chosed is
L'Homme Piano
.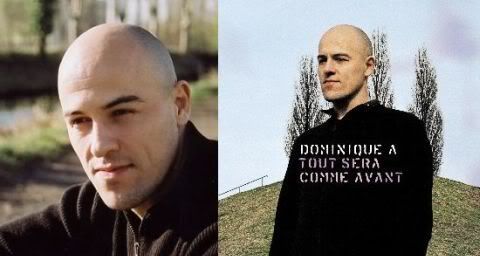 Although Dominique Ané, who releases his music as
Dominique A
, is a very influential musician who has worked with lots of different singers, musicians and producers he is probably best known for his collaborations with
Yann Tiersen
for
Monochrome
,
Les Bras De Mer
(from the album
Le Phare
) and
Bagatelle
(from
L'absente
). He has a very varied style and wrote less "classical" chansons but minimalist rock songs in the beginnin of his career, but turned to a more gentle form later.
The album which I like the most at the moment is
Tout Sera Comme Avant
, which features the beautiful
Elle Parle À Des Gens Qui Ne Sont Pas Là
and
Bowling
.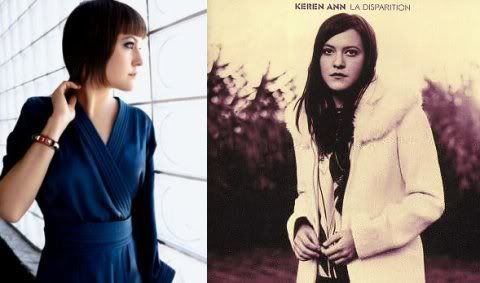 For a long time I wasn't really interested in discovering
Keren Ann
, I have to admit, although I knew her before since 2000, when she released her solo debut. It's not too surprising though that I gave her a try when I realised that she worked together with
Benjamin Biolay
, the arrangements of which for her records gave him the possibility to finally earn a contract himself. The second album
La Disparition
is the one that made me fall in love with her music because of her soft, fragile and caressing voice, singing over beautifully gentle melodies. Besides, it's an album on which you hardly find songs that are sung in English.
Surannée
and
Les Rivieres de Janvier
are the two songs I like the most, especially the first one (the second one should actually be "Les rivières de janvier", so I apologize for forcing you to listen to an incorrectly tagged song).
So as I already wrote about
Benjamin Biolay
two times I should mention his gorgeous double-CD album
Négatif
now. At first I thought that I have to chose his debut
Rose Kennedy
, which is really beautiful (especially
Les Cerfs Volants
and
Les Joggers Sur La Plage
), but it actually were songs like
Little Darlin'
and
Glory Hole
that made him so precious for me. His dark, melancholic voice and his phantastic arrangements, the way he uses strings and discrete brass instruments in some songs are just an incredibly pretty mixture.
Daniel Darc
, the former singer of the New Wave band
Taxi Girl
released his beautiful album
Crèvecœur
in 2004. Most of the people seem to enjoy this years album
Amours Suprêmes
(the title is a reference to
A Love Supreme
by
John Coltrane
) more, but I still prefer the gentle, slightly melancholic, soft, romantic songs on
Crèvecœur
.
I suggest you listen to
Rouge Rose
and
Je Me Souviens, Je Me Rappelle
.
I love
Emily Loizeau
! I was presented with a special edition of her brilliant debut album
L'Autre Bout Du Monde
out of the blue the year it came out, and adored her ever since. I higly recommend "Jasseron", her duett with
Franck Monnet
, and "Comment dire", but as the only songs available are the title song
L'Autre Bout Du Monde
and
Je Suis Jalouse
I will put those two in the list - and I can live with that quite well, as both pieces are wonderful compositions and beautifully sung - simply great!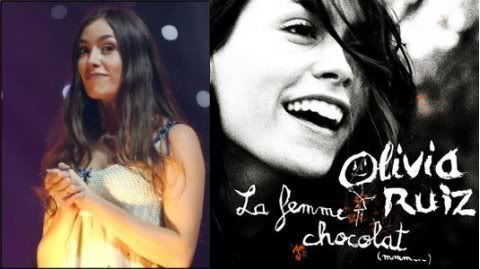 Olivia Ruiz
released her debut album
J'Aime Pas L'Amour
in 2003 after she was featured in the French TV show "Star Academy". Though she released her last album
Chocolat Show
, a concert recording, last year it is still her second one,
La Femme Chocolat
, which is considered her best, and I can't disagree. It features the gorgeous
Non-Dits
, a duett with
Christian Olivier
, as well as the even more gorgeous title track
La Femme Chocolat
, both of which were also singles.
So I have to admit that I listen to
Calogero
sometimes. I say "admit" because I would have never guessed that I could ever like something of that type of music he makes, as it is just pop, to put it simple, and I usually abhor modern popmusic. But his second, self-titled album
Calogero
is really nice, especially in situations that are strenuous and you want to force an easening effect. The hit-single
En apesanteur
and
Prouver L'Amour
are the two songs I like the most from that album, although
Prendre Racine
, another single, is beautiful too.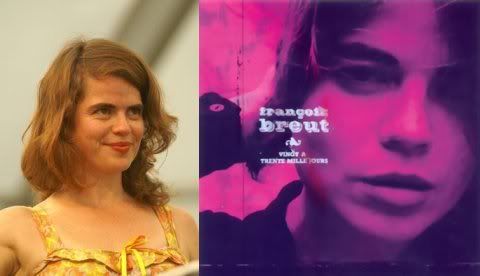 I really can't understand why
Françoiz Breut
is nearly unknown in any other country than France. Formerly known as
Françoiz Brrr
, she met
Dominique A
somewhen in the beginning of the 90s, who helped her starting a career as a singer. Her self-titled album
Françoiz Breut
was released in 1997, and the secon one, the phantastic
Vingt à trente mille jours
, three years later. Her songs are often a little bit experimental, with somber and melancholic melodies, combined with her wonderfully pretty voice. Both her debut and her second album feature the unbelievably, insanely, gorgeously beautiful
Si tu disais
, and you are really fortunate because it is streamable on last.fm. I promise you will love that song! The only other song is
La Rue ne te reprendra pas
, what makes me a bit sad because I would love to show you "Silhouette minuscule"...
Bertrand Betsch
's music is just perfect for activities like cleaning the apartment, washing the dishes, watering the plants, or dancing through the rooms. In 2005 he released his album
Pas De Bras, Pas De Chocolat
, a nicely easening record full of fresh pop-chansons like the title song, but I decided to recommend
Pas de bras (disco version)
, because it is just even more happy; the second song I chosed is
L'Ancienne Peau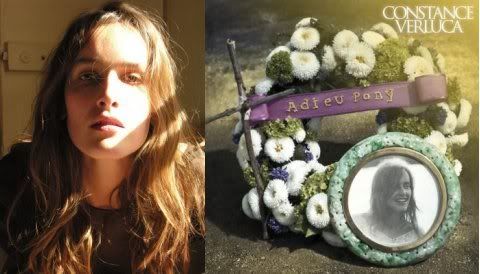 Constance Verluca
is one of my latest discoveries. Her last years debut album
Adieu Pony
features such a wonderful mixture of songs and sounds so very French that I felt in love immediately. Of course it is my own subjective notion of the cliche of what does sound "French" that made me love it, but hey, at least I do, right?
I really would like to put "Judas" and "C'est Faux" into my playlist, but sadly Constance isn't streamable yet.
Thomas Fersen
released his first album
le bal des oiseaux
in 1993 which gave him success over night and let him earn the title "Révélation masculine" in '94. Since then he released six other albums, a triple live album, a best-of and a DVD, changing his musical style from one album to the next, playing rock and folk-rock as well as blues and somewhat jazzy chansons. At the moment my favourite of his works is his 2005 release
Le Pavillon Des Fous
, from which I would recommend "Hyacinthe" and "La Chapelle de la Joie", but he is one of those artists who are not available here.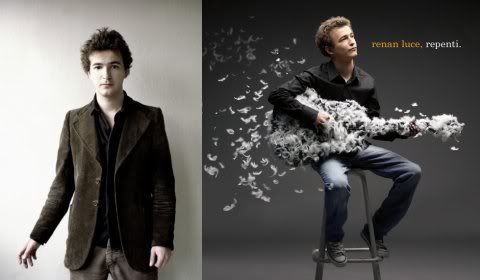 Another one of my more newer discoveries is
Renan Luce
, a nice young singer who released his first album
Repenti
two years ago in 2006. The two songs I recommend are
Monsieur Marcel
and
La Lettre
, which is his most favourite song so far together with
Les Voisines
.
I think the best way to label the music by
La Grande Sophie
as pop-rock, or maybe rock-pop (is there a difference actually? Maybe rock with pop elements and pop with rock elements, or the like...). Her debut "La Grande Sophie s'agrandit" came out in 1997, but she first became really famous with her second record
Le Porte-bonheur
in 2001. The one album I like the most though is her fourth one,
La Suite...
, that was released in 2005. It's a nice listening experience for situation when, for example,
Bertrand Betsch
is too "poppy" for me and
Constance Verluca
or
Rose
too "folky". I don't listent to Sophie too often though, as I'm not often in the mood for light-rock-music like hers (of course that does surely not mean that she has not made pure popsongs)... Anyway, I say you should listen to "Psy psychanalyste", but this song is so badly tagged that it hurts my eyes, so I chosed
La Suite, Le Milieu, La Fin
and
Les Bonnes Résolutions
for you.
And here we have
Thomas Dutronc
, the son of
Françoise Hardy
and
Jacques Dutronc
. He released one album so far,
Comme Un Manouche Sans Guitare
, in 2007, and the whole record is full of happy, sunny, gypsy-folky-jazzy-whatever songs, the most beautiful one being
J'Aime Plus Paris
and
Solitaires
, a duett with
Marie Modiano
.
Adrienne Pauly
, who exclusively acted in films for about eight years until she discovered her love for the piano released her eponymous first album
Adrienne Pauly
in 2006 and earned two nominations for the "Victoires de la Musique" for "Artist -" and "Album Discovery of the Year". Her album is a nice light French-rock work with wonderful songs like "Pourqoi" and "L'amour avec un con". But unfortunately we have here again an artist who is nearly unavailable - with the exception being the song
J'veux Un Mec (Radio Mix)
.
Marie Laforêt
definetely is my PRINCESS, considering Françoise Hardy the QUEEN. She played in 39 movies, the last role in this years "Les Bureaux de Dieu", and she released so many records, albums, compilations, best-ofs etc (at least more than 30, I think), and sung so many songs, that it is really difficult to decide which work to chose. I think that
Les vendanges de l'amour
is perfect though. Of course it is as difficult to decide which song could possibly the most representative, but as I donÄ't think that I'm in the position to judge this I just chosed two of her chansons which I believe are simply pretty: the song of the same name as the album,
Les vendanges de l'amour
, and
A Demain My Darling
.
I think the name
Alain Bashung
is known to most of the people who are at least slightly interested in the - let's call it "somewhat pseudo-intellectual" - European musical culture. He released 13 albums, three live CDs and a compilation since his debut in 1977 and earned quite a lot "Victoires de la Musique" - three in 1999 for his album
Fantaisie Militaire
and one additional afterwards in 2005 for having composed the best album of the last 20 years.
Although the two songs that are considered the best ones from this album are
La Nuit Je Mens
and
Aucun Express
(I think) I chosed
Au Pavillon Des Lauriers
and
Sommes-Nous
instead, simply because I like them the most.
This shall be enough for now, this whole journal entry is already way too long. But as I really want to write something about all the other French artists I have in mind, wonderful people like
Henri Salvador
,
Clarika
,
CALI
,
Alain Souchon
,
Arthur H
,
Véronique Sanson
and so many others, most of which I really love, I surely will write another entry soon.
Envois approuvés
Nouvelle scene francaise
,
The Readers
,
Melancholic
,
Late Night Cruising Sensations
,
Polyglots
,
Existentialism NOW!
,
Sound of the Universe
,
Genius Loci
,
Musiques Emotionnelles
,
Library Lust
,
Ω Radio
,
SP Music Club
Commentaires