petra, 30Dernière visite : Samedi soir
1

2

5

1

6

4

écoutes depuis le 15 jan. 2007

Flux

Flux
À propos de moi
''i never lose sight of the fact that just being is fun.''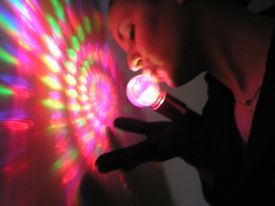 it starts with – dreams are for those who are not strong enough for reality. it ends with – reality is for those who are not strong enough to endure their dreams ... imagination is reality. dreams, thoughts and delusions are no less real than the "outside" world. what we call reality is no more than a consensus. is proof always in the pudding?
synesthesia. surrealism. painted movies. lynch. books. rollercoaster people capable of seeing leaves in a lake. music. winter. lyserg-säure-diäthylamid. and ... ya know, all the things that make life wild at heart and weird on top :)
a superb song based around a jerky, syncopated bassline, puncuated by some violin that suggests the flight of a particulary deranged bumblebee. I say 'I' for me.
if it's going to be a world with no time for sentiment, grant, it's not a world that I want to live in. ; )