Dylan, 22, Homme, Canada
mau5itup.blogspot.comDernière visite : mars 2013
4

3

5

9

0

écoutes depuis le 17 nov. 2007

Flux

Flux
| | | | | | |
| --- | --- | --- | --- | --- | --- |
| 1 | | | | | |
| 2 | | | | | |
| 3 | | | | | |
| 4 | | | | | |
| 5 | | | | | |
| 6 | | | | | |
| 7 | | | | | |
| 8 | | | | | |
| 9 | | | | | |
| 10 | | | | | |
| 11 | | | | | |
| 12 | | | | | |
| 13 | | | | | |
| 14 | | | | | |
| 15 | | | | | |
À propos de moi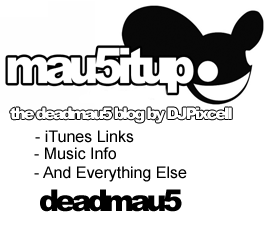 **Stats not accurate, did not have the 'software' till about June 2008**
>>5555 SONG; Deadmau5 – Mentasm<<
>>10000 SONG; Sir Mix-a-Lot – Baby Got Back<<
>>15000 SONG; Daft Punk – Da Funk/Daftendirekt<<
>>20000 SONG; Deadmau5 - Strobe<<
>>30000 SONG; The White Stripes - Icky Thump<<
Im originally from Toronto, Canada.
I love practicly all types of Electronica, and I'm into a lot of other genres. I can listen to several songs from each genre, lol probably except classical, and country.
I am very interested in the Graphic Design area, and I plan to expand on my skills in this area. I am interested in photo editing, logo design, and video editing.
Activité récente
DPF

Écoute en ce moment
Voir plus