RSS
Partager
2 déc. 2011, 23h59m
inb4 underage b&.
almost everything post-1970 that i've heard i've found on rateyourmusic and /mu/ and p4k ;_;
1996
Belle and Sebastian
If You're Feeling Sinister
This album. This album is a great album. Maybe my favourite album of all time but I shouldn't say that. i use millions of stupid hyperbole. I have a 30+ listens of this even though I found it relatively recently. I want to get the rest of their shit but I don't have space and I'm not getting a new hard drive until Christmas. I love the lyrics on this album. Very, very, clever wordplay. I'll be honest, I did discover them through (500) Days of Summer, and then remembered seeing this entry level stuff on /mu/. Looking forward to the rest of their stuff.
"And you can't understand why all the other boys are falling for the new tall elegant rich kids./You can bet it is a bitch, kid."
"I'll settle down with some old story/about a boy who's just like me/thought there was love in everything and everyone you're so naive!"
"You shone louder, longer, you put my shine to shame."
other notable albums: Endtroducing....., Dusk at Cubist Castle
1997
Built to Spill
Perfect From Now On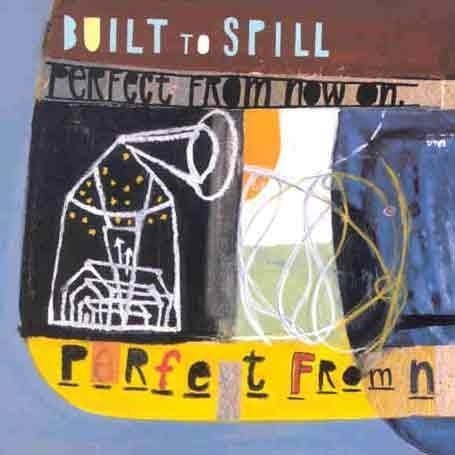 I discovered this band through a last.fm recommendation, probably based on my love for Yo La Tengo, Pavement, and Guided by Voices. This album blows me away with the seemless changes between parts of songs that sound like two totally different songs. The change in Stop the Show where the guitar stars doing the arpeggios and he sings 'After a while you know the style and that's enough to know it sucks!' is a great moment and never fails to make me smile. There's also something about the organ melody in Part 2 (About Someone Else) that gets me. I've never been able to explain this feeling that I find sometimes in music. It's almost a withdrawn sound, and the other best example I can find of it is The Strokes's Is This It, which would rank as my favourite album of 2001 if not for Amnesiac. Just a subtleness to it. Beautiful.
"There's a mean bone in my body/that's connected to the problems that I won't take for an answer."
"God is whoever you're performing for."
other notable albums: Ladies and Gentlemen We Are Floating in Space, I Can Hear the Heart Beating as One
1998
Tortoise
TNT
I don't have too much music from 1998. Looking at the RYM top 10, I've heard 6 but since deleted 4. This is a lesser known one but a great post-rock album. The Suspension Bridge at Iguazú Falls is my highlight.
other notable albums: aeroplane ;_;
1999
The Magnetic Fields
69 Love Songs
1999, that's more like it. This year has more albums I like than any other from the 90s, save for 1994 (Bee Thousand, Jar of Flies, There's Nothing Wrong With Love!). This album I have listened to not quite as much as other favourites such as Since I Left You or If You're Feeling Sinister, but it's sheer length has ranked it as my top album on last.fm. There's only a single song I don't care for (Blue You), and everything else is witty, melodic, catchy, insightful, and occasionally extremely depressing. I could list 20 songs that are perfect from the album, but a few of the many highlights would be Epitaph for My Heart, I Don't Want to Get Over You, and The Death of Ferdinand de Saussure. In Come Back From San Fransisco, the line 'damn you/i've never stayed up as late as this' refers to the girl talking to her boyfriend at night with the three hour time delay. Additionally, Queen of the Savages is the same story from the boyfriend's perspective. Awesome.
"I'm just a great composer/and not a violent man/but I lost my composure/and I shot Ferdinand."
"What if the clowns couldn't be clouds/and all the painted faces gave into plaintive frowns."
other notable albums: Emergency & I, Agaetis byrjun
2000:
Yo La Tengo
And Then Nothing Turned Itself Inside-Out
This isn't the best YLT album but it's the best album of 2000 in my opinion. I love this band, they're almost genre-defying. Slowcore is the closest thing I can put them in, but they're a lot happier and at times have more rock. Last Days of Disco, From Black to Blue, and Night Falls on Hoboken can bring you to tears, though.
other notable albums: Kid A
2001:
The Avalanches
Since I Left You
I love this album. With If You're Feeling Sinister and Hometown, it's my 'favourite' album. I love the way it never stops. I love the way it's made only from samples. I love picking out a piece of a song that I've heard and trying to figure out what it is. I love the wobbly piano at the beginning of Tonight and the whispered Etoh. I love how it all changes at the end of the album and now he's the one who is left high and dry.
other notable albums: Amnesiac, Is This It
2002:
Carissa's Wierd
Songs about Leaving
This album is sad and it makes me sad. I love breakup albums despite never having one. Blood on the Tracks, For Emma Forever Ago, How I Loved You. It all really gets to me and this album does it better than any of the others. Standout tracks are They'll Only Miss You When You Leave, and Sophisticated Fuck Princess Leave Me Alone. I'm also confident that Between the Buried and Me took the melody and lyrics from Low Budget Slow Motion Soundtrack Song for the Leaving Scene.
"I'll just keep waiting for you."
"Please leave me the hell alone."
other notable albums: You Forgot it in People, Sea Change
2003:
David Francey
Skating Rink
This is a great winter album. Maybe I would choose differently at a different time of year, because this gets a lot of play after the snow falls. Great folk album here, entirely acoustic with awesome storytelling.
other notable albums: The Earth is Not a Cold Dead Place, Give Up, Who Will Cut Our Hair When We're Gone?
2004:
Arcade Fire
Funeral
Another awesome winter that I adore walking through the snow listening to. So much has been written about this album, I don't know what I can add. I like how this album talks about death . I read the back story and a ton of the member's family passed away during the making of the album. Despite the very sad lyrical undertones, the album still sounds very happy all the way through. I like how the drums are so active throughout the songs. The songs just have so much energy because of that backing drum beat, and the outros are very well done especially in Crown of Love and In the Backseat where the violin enters in as the instruments are fading out. The breakdown at the end of Wake Up makes me extremely sad. I used to always think he was saying 'You better look out for love!' and frankly I think that's a better lyric.
"And sometimes/we remember bedrooms/the bedrooms of our parents/the bedrooms of our friends/and then we think of our parents/well whatever happened to them?"
"You've got to be the one, there's got to be a way/your name is the only one that I can say!"
other notable albums: You're a Women, I'm a Machine
2005:
Arctic Monkeys
Whatever People Say I Am, That's What I'm Not
I get a lot of hate on /mu/ for liking this album as much as I do. I discovered this somehow when I was 12 or 13, I think, and the album stuck with me. I love this guy's accent. It's the kind of voice that makes you question your sexuality. There's great lyrics in a lot of these songs (I will admit I think there's a song or two of filler) and the drumming in particular is fantastic throughout. A Certain Romance holds steady as one of my favourite album closers.
"This town's a different town today./This town's a different town to what it was last night./You couldn't have done that on a Sunday."
"Over there there's broken bones/there's only music so that there's new ringtones."
other notable albums: The Campfire Headphase, Illinoise!
2006:
Emancipator
Soon it Will be Cold Enough
Hey! Another winter album. Great trip-hop, the title track is the highlight for me. Don't have a whole lot to say about this album sadly. Another 'walking-in-the-sky' album for sure.
other notable albums: Eingya
2007:
LCD Soundsystem
Sound Of Silver
I also found this band before I went onto music boards. I'm also not sure how I found this. James Murphy is a cool guy, I've always looked up to him. He recently got a supporting role in an independent movie, and I'm looking forward to seeing that for sure. This was my first introduction to 'electronic' music, although I wouldn't consider it electronic anymore. I used to like the way that Get Innocuous repeated itself over and over and over until it reached where the asian chick would say the line and the bass dropped. Cool shit. Someone Great and All my Friends were both teenage angst-anthems for me so they hold a special place in my heart. It broke my heart when I found out they broke up, and I watched their whole last concert on Youtube before it got taken down.
"When you're drunk and the kids look impossibly tan/you think over and over 'Hey I'm finally dead!'"
other notable albums: The Con, Colors, Mirrored
2008:
Los Campesinos!
Hold On Now, Youngster...
I had a song stuck in my head, Radiohead's Bodysnatchers. In an attempt to google the lyrics and find it I searched '1 blink for yes'. That led me to Sweet Dreams Sweet Cheeks from this album and introduced me to one of my favourite bands. As with the Arctic Monkeys, I love his tongue-in-cheek lyrics and the upbeat songs, but this album is a lot better than the Arctic Monkeys just because of the much broader scope of the lyrics. The rest of LC!'s discography has been great, but nothing as good as this. The new album ranks second in my opinion.
"And it's sad that you think that they're all just scenesters/and even if we were it's not the scene you're thinking of."
"And then on the way home, it always seems like a good idea to go paddling in the fountain, and that's because it IS a good idea!"
other notable albums: For Emma, Forever Ago, Deathconciousness
2009:
The Rural Alberta Advantage
Hometowns
This album really gives me a sense of familiarity, being a Calgarian. Is it just me or is there a much higher amount of music written by Albertians or about Calgary? Bon Iver's Calgary, Tegan and Sara, Feist all come to mind. In any case, I love this album because it tells stories about places and things I know. A song about Lethbridge? That's crazy. I don't think I would like this album nearly as much if I didn't live here, unfortunately, and that's a shame because for some of the songs that don't focus on the province (Don't Haunt This Place, In the Summertime) have great lyrics and especially amazing drums. Their second album, while still good, was a bit of a let down to me.
"We invariably/left the prairies/in my heart/since we never moved an inch."
"When we're middle aged/you tell me that you loved me like a renegade."
other notable albums: Hospice, The Pains of Being Pure at Heart, Sainthood
2010:
Best Coast
Crazy for You
I know a lot of people who just hate this album. I think they're just expecting more from this album, instead of just taking it as what it is - a summer fun time happy teenage angst weed smoking album. That's all it is, but I don't mind because in my second listen I was already singing along to the whole thing. It's just straight-up catchy, and songs like I Want To and When I'm With You stay in my head all week after listening. I have a lot of music from 2010 as it's around when I started getting into music deeper, so I almost feel bad for picking something like this. Oh well.
"I lost my job I miss my mom I wish my cat could talk."
other notable albums: The Monitor, Teen Dream, Varuna, Halcyon Digest
2011:
Destroyer
Kaputt
When I first saw this band's name, I thought they were a metal band and shrugged it off. I'm not sure what made me download them. I don't hate metal, but I certainly don't enjoy most of it either. I hear a lot of people use the word 'cheesey' to describe this album but I never saw that. Sure the lyrics may not be as deep as other 2011 albums, but just like Best Coast, it's too catchy for me to dislike. Bay of Pigs and Suicide Demo for Kara Walker are highlights for me, both featuring an extended ambient intro. I've heard 75+ albums from 2011 and this one stands out as the best. I didn't pick Smile because that would've just been a cop out.
other notable albums: Looping State of Mind, Belong, laika still wants go home, Laminate Pet Animal
Commentaires