Leaders :
Il n'y a personne ! Vous voulez devenir leader ? Rendez-vous dans notre
section d'assistance groupes
pour voir ce que vous pouvez faire.
Politique d'adhésion :
Ouvert
Créé le :
26 avr. 2008
Description :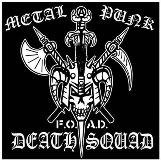 Every metal maniac who's possessed by bandz like English Dogs, G.I.S.M., Broken Bones, Black Uniforms, Amebix, Discharge, Disclose, Deviated Instinct, Genöcide, Axegrinder, Rattus, Hellbastard etc...

Every punk/crust maniac who's possessed by bandz like Hellhammer, Warfare, Celtic Frost, early Bathory, early Sodom, Darkthrone, Motorhead, Sacrilege (Uk), Virus, early Voivod etc...

Everyone who are just fan of both punk and metal)

And of course everyone who are into mighty bands of novadays: G.A.T.E.S., BLUDWULF, Toxic Holocaust, Barbatos, Children Of Technology, Hotbild, Tiger Junkies, Inepsy, Wastelander, Nuclear Fröst, War Ripper e t.c.

This squad is for PUNK_METAL WARRIORS!
Support heavy, crust, thrash, crossover, oldschool black and oldschool death metal, dis-core and UK82, scandinavian hardcore, japanese thrash punk/hardcore and finncore!